SLOTH'S TREEHOUSE INN, by Carrie Hasler and Christina Wald, San Diego Zoo Wildlife Alliance Press, Oct. 11, 2022, Hardcover, $17.99 (ages 4-8)
A sloth struggles to find space for all his rainforest friends in Sloth's Treehouse Inn, by Carrie Hasler and Christina Wald.
Rising through the lush canopy of trees, the Treehouse Inn is a place where rainforest animals of the Amazon seek shelter and take it easy. Its very fine innkeeper, Santiago the sloth, always takes good care of each of his guests.
From howler monkeys to butterfly chrysalises, Santiago seems to find the perfect spot for every animal among the branches and leaves. He fluffs their pillows at night, has teatime in the afternoon, and reads bedtime stories.
But, with so many trees in the rainforest being cut down, more and more animals seek shelter at the Treehouse Inn. Santiago soon finds his inn is overcrowded, and all the animals begin to squabble. Can he find room for everyone? Or will he have to turn guests away? —Synopsis provided by San Diego Zoo Wildlife Alliance Press
Sloth's Treehouse Inn is a friendly imagining of rainforest creatures working together to make space in a crowded tree. Though their interactions would likely be less pleasant in real life, Carrie Hasler's timely story will get kids thinking. The final two pages of the book go into more detail about the loss of habitat and how kids can help.
At the center of Hasler's story is a sweet sloth with the best of intentions. Her words are calm and inviting and pair perfectly with Christina Wald's charming illustrations. Wald's use of bright colors draws readers in, and her expressive animals reflect the story. Kids will really enjoy spotting creatures in her incredibly detailed two-page spread of Santiago's Inn. And they'll get to color their own version on the endpapers.
Sloth's Treehouse Inn is a tender tale that will get kids excited about conservation.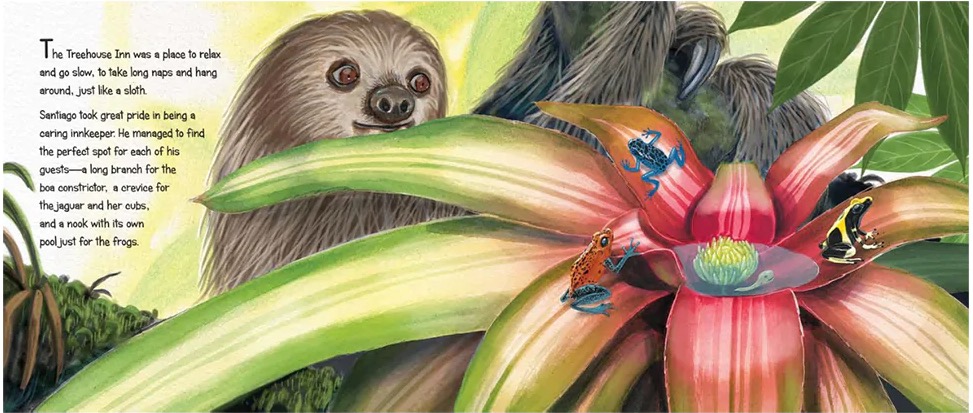 * San Diego Zoo Wildlife Alliance Press is the book publishing division of San Diego Zoo Wildlife Alliance, a nonprofit international conservation leader, committed to inspiring a passion for nature and working toward a world where all life thrives. Through its publishing efforts, San Diego Zoo Wildlife Alliance Press seeks to motivate and inspire multiple generations to care about wildlife, the natural world and conservation.
Copyright © 2022 Cracking the Cover. Unless otherwise noted, all books — digital and physical — have been provided by publishers in exchange for honest and unbiased reviews. All thoughts and opinions are those of the reviewer.