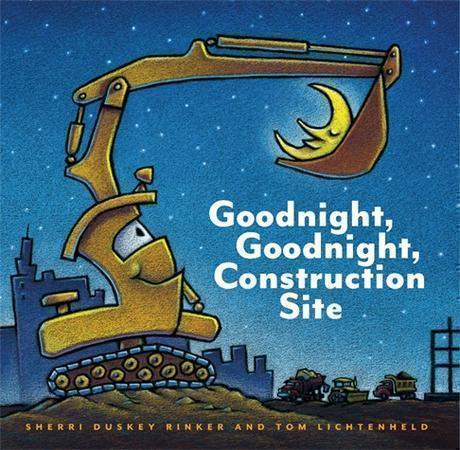 "GOODNIGHT, GOODNIGHT CONSTRUCTION SITE," by Sherri Duskey Rinker, illustrated by Tom Lichtenheld, Chronicle Books, May 4, 2011, $16.99 (ages4-8)
Everyone gets tired, even tough trucks down on the construction site. So as the day nears an end and the sun begins to set, the trucks get ready to say goodnight.
One by one they'll go to bed so they're ready for "another day of rough-and-tough construction play."
First. Crane Truck raises one last beam — it's almost dark. After a full day of spinning and churning Cement Mixer pours his load and takes a bath before dreaming sweet and twirly dreams. Dump Truck hauls loads big and small before dimming his lights and shutting his doors. Nobody's as tough as Bulldozer, but when the time comes, he stops in his tracks. And finally, Excavator, who shapes the land, snuggles up without a sound.
Bold and charming illustrations are paired with equally charming rhyming text. Any kid who loves trucks will find "Goodnight, Goodnight Construction Site" appealing. And it will appeal to parents as an interesting and engaging way to wind down at bedtime.
Chronicle Books is offering free activity sheets in conjunction with the release of "Goodnight, Goodnight, Construction Site." You can find them here.
Goodnight, Goodnight, Construction Site
© 2011 – 2017, Cracking the Cover. All rights reserved. Unless otherwise noted, all books — digital and physical — have been provided for free by publishers in exchange for honest and unbiased reviews. All thoughts and opinions are those of the reviewer.