Each year, Cracking the Cover compiles a list of books that make great gifts. The following are middle grade books published in and/or reviewed in 2022. Synopsis are written by the corresponding publishers. Reviews are by Jessica. Scroll down for the complete list or click or tap the following links to directly visit a section AGES 6 & UP • AGES 8 AND UP • AGES 9 AND UP • AGES 10 AND UP 
AGES 6 & UP
*Folktales
Filled with wisdom about love and acceptance, and warnings against folly, these translated stories—many unknown in the United States — of donkeys and roosters, kings, sheikhs, and paupers are illustrated by cut-paper artist Geertje Aalders. —Synopsis provided by Candlewick
Folktales and fables have been around for thousands of years. Every child grows up with them. And each one varies slightly depending on where it originates and who is telling it. The Three Princes of Serendip is a lovely collection new to the majority of Americans. Beautifully told and illustrated, this book deserves a place on your bookshelf.
---
AGES 8 AND UP
*Sci-Fi
Logan Foster has pretty much given up on the idea of ever being adopted. Everything changes when Gil and Margie arrive. Although they aren't exactly perfect themselves, they genuinely seem to care. But it doesn't take Logan long to notice some very odd things about them. No matter what Logan could have imagined, nothing prepared him for the truth: His parents are actually superheroes, and they're being hunted down by dastardly forces. Logan's found himself caught in the middle in a massive battle and the very fate of the world may hang in the balance. —Synopsis provided by HarperCollins
Logan's story unfolds as he writes his story for the sibling he hasn't seen since he was 3. This first-person approach is a brilliant move on author Shawn Peters' part. Readers get a true sense of how Logan thinks and why he acts the way he does. It's a great character study against the backdrop of superheroes and supervillains.
The Unforgettable Logan Foster is the first book in a planned series that is sure to appeal to kids and adults alike. It's one of those books that would be just as fun to read aloud as it is to read it to yourself.
THE LEGEND OF THE DREAM GIANTS, by Dustin Hansen, Shadow Mountain, March 8, 2022, Hardcover, $18.99 (ages 8-12)
*Fantasy/Fairytale
For many years, Berg has lived alone. Sometimes, when Berg feels lonely, he will risk entering a village to trade a smooth river rock or a feather for food. He's really searching for companionship; but with every attempt he makes, people chase him away, thinking he is a monster. In his travels, Berg meets a little girl, Anya. To his amazement and delight wants to be his friend. The mayor also befriends Berg and enlists him to guard the city. But Anya suspects the mayor has other plans for the young giant. Fearing the city isn't safe, she warns Berg to flee. Confused and torn between his two friends, the young giant has to figure out where he can place his trust. —Synopsis provided by Shadow Mountain
Author Dustin Hansen combines grayscale drawings and text to create a story within a story. The Legend of the Dream Giants is an excellent read that will appeal to middle readers of all backgrounds. But it will also appeal to older readers, especially those who like to contemplate. It would also work well in a classroom setting, with lots of room to dive off into different subjects and explorations.
*Contemporary
A group of students become unlikely friends during Introduction to Clay class. Oscar, a football star, just lost his little sister to cancer. Ellie's been dragged away from Philadelphia by her single mom to a new life in West Beacon, a tiny Pennsylvania coal town that's smaller than Ellie's old school. Noah's spent his whole life as a homeschooler and just started West Beacon Middle School as a result of his parents' train wreck of a divorce. In true friendship, they discover that some injuries may never heal, some things can never be unbroken — and that's okay too. —Synopsis provided by Dial Books
In Honor of Broken Things has heart. It has humor. And it asks readers to look beyond themselves. The book feels almost like a letter to Paul Acampora's readers, assuring them that like his characters, broken things can be beautiful.
Each of the characters are well-developed and feel as if they're already your friends. The pacing is strong, and though Acampora tackles difficult topics, the book never feels preachy or too easy.
CRESS WATERCRESS, by Gregory Maguire and David Litchfield, Candlewick, March 29, 2022, Hardcover, $19.99 (ages 8-12)
Gregory Maguire turns his trademark wit and wisdom to an animal adventure about growing up, moving on, and finding community. When Papa doesn't return from a nocturnal honey-gathering expedition, Cress holds out hope, but her mother assumes the worst. It's a dangerous world for rabbits, after all. Mama moves what's left of the Watercress family to the basement unit of the Broken Arms, a run-down apartment oak with a suspect owl landlord, a nosy mouse super, a rowdy family of squirrels, and a pair of songbirds who broadcast everyone's business. Can a dead tree full of annoying neighbors, and no Papa, ever be home?  —Synopsis provided by Candlewick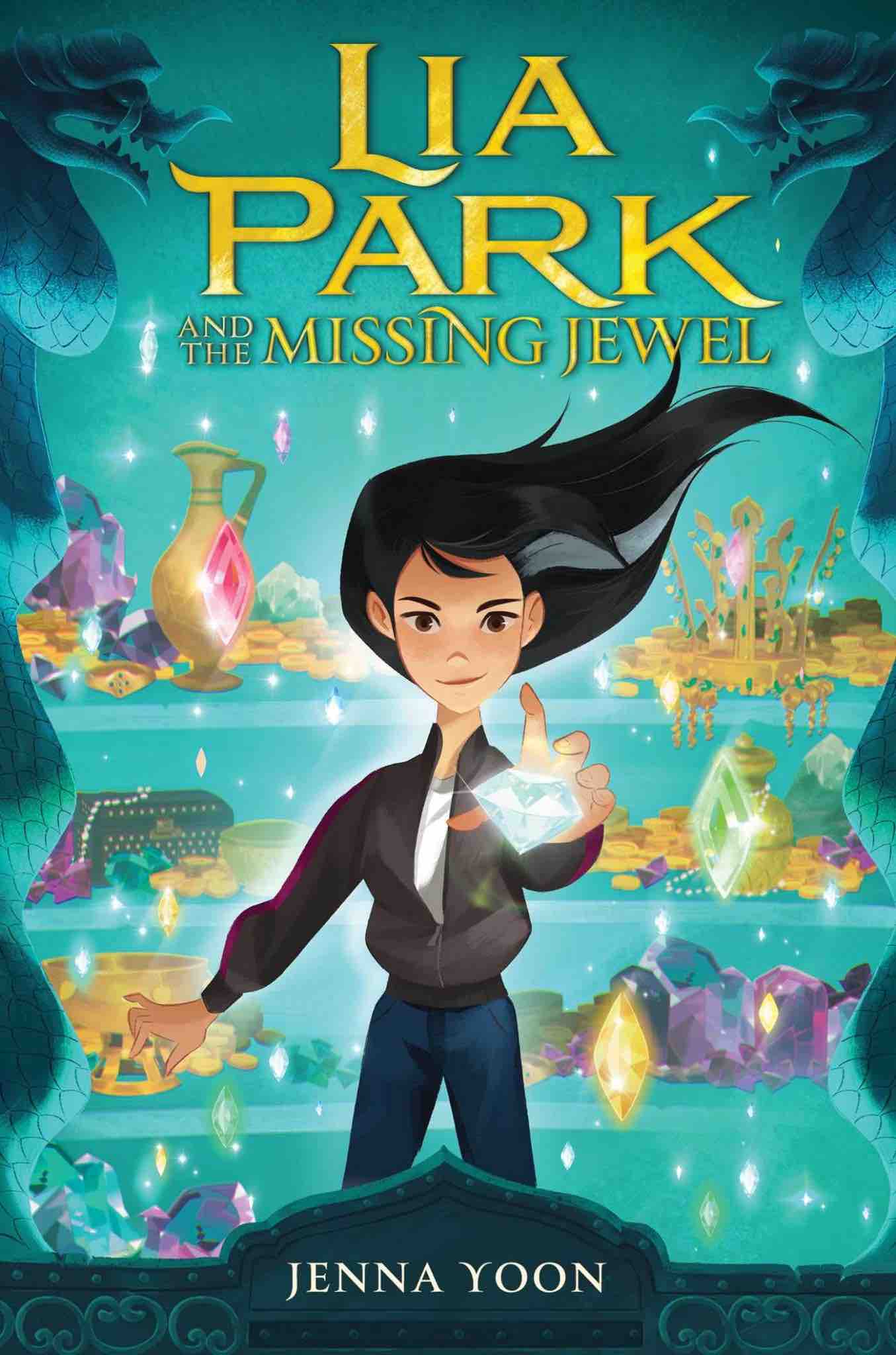 LIA PARK AND THE MISSING JEWEL, by Jenna Yoon, Aladdin, May 3, 2022, Hardcover, $17.99 (ages 8-12)
*Fantasy
Twelve-year old Lia Park just wants to fit in. Her parents work with a mysterious organization that makes them ridiculously overprotective. So, when she gets invited to the biggest birthday party of the year — and her parents say she can't go — Lia sneaks out. But her first act of rebellion not only breaks her parents' rules, but also an ancient protection spell, allowing an evil diviner spirit to kidnap and ransom her parents for a powerful jewel that her family has guarded for years. With just the clothes on her back and some very rusty magical skills, Lia finds herself chasing mysterious clues to save her parents —Synopsis provided by Aladdin
Lia Park and the Missing Jewel begins in, and jumps through, the "real world," giving readers a starting place from which they can explore magical elements. It's from this place that the author Jenna Yoon's world unfolds. Yoon's writing is clear and accessible. She expertly weaves Korean words and culture throughout, making her novel all the more interesting.
THE NATURAL GENIUS OF ANTS, by Betty Culley, Crown Books for Young Readers, May 10, 2022, Hardcover, $16.99 (ages 8-12)
*Contemporary
Harvard is used to his father coming home from the hospital and telling him about all the babies he helped. But since he made the mistake at work, Dad has been quieter than usual. And now he is taking Harvard and his little brother, Roger, to Kettle Hole, Maine, for the summer. Harvard hopes this trip isn't another mistake. In the small town where he grew up, Dad seems more himself. Especially once the family decides to start an ant farm — just like Dad had as a kid! But when the mail-order ants are D.O.A., Harvard doesn't want Dad to experience any more sadness. Luckily, his new friend Neveah has the brilliant idea to use the ants crawling around the kitchen instead. But these insects don't come with directions. So, the kids have a lot to learn — about the ants, each other, and how to forgive ourselves when things go wrong. —Synopsis provided by Crown Books for Young Readers
At the center of the story is Harvard, a likeable character who just wants to make sure his dad gets better. Many readers will relate to having a parent experiencing sadness/depression. And Harvard's doggedness to make things better should resonate beyond his particular situation. The Natural Genius of Ants is a heartfelt novel that weaves science into daily life.
SINGING WITH ELEPHANTS, by Margarita Engle, Viking Books for Young Readers, May 31, 2022, Hardcover, $16.99 (ages 8-12)
*Novel in Verse
Cuban-born 11-year-old Oriol lives in Santa Barbara, California, where she struggles to belong. But most of the time that's okay, because she enjoys helping her parents care for the many injured animals at their veterinary clinic. Then Gabriela Mistral, the first Latin American winner of a Nobel Prize in Literature, moves to town, and aspiring writer Oriol finds herself opening up. As she begins to create a world of words for herself, Oriol learns it will take courage to stay true to herself and do what she thinks is right. —Synopsis provided by Viking Books for Young Readers
When a novel in verse is written well it can transport you. Each word or phrase is carefully chosen. The prose is smooth, with room to breathe. And it's in those pauses that the text truly transforms. Singing with Elephants is one of those books that you feel better for having read it. Though a quick read, there are layers upon layers, making a big impact.
*Mystery
Meet the Sinister-Winterbottoms: brave Theo, her timid twin, Alexander, and their older sister, Wil. They're stuck for the summer with their Aunt Saffronia, who doesn't know how often children need to eat and can't use a smartphone, and whose feet never quite seem to touch the floor when she glides — er — walks. When Aunt Saffronia suggests a week pass to the Fathoms of Fun Waterpark, they hastily agree. But the park is even stranger than Aunt Saffronia. Something mysterious is happening at Fathoms of Fun, and it's up to the twins to get to the bottom of it. But are Theo and Alexander out of their depth? —Synopsis provided by Delacorte Press
This is one book where the setting — the Fathoms of Fun Waterpark — is just as important as the characters. White deftly transports readers to this creepy world and allows the park and its inhabitants to carry some of the load. Wretched Waterpark is a fast-paced adventure that should have wide-spread appeal, particularly for fans of the Lemony Snickett series.
SPINELESS, by Samantha San Miguel, Union Square Kids, June 7, 2022, Hardcover, $16.99 (ages 8-12)
*Historical Adventure/ Mystery
When his asthma lands him at a health resort in the wilds of Gilded Age South Florida, Algie Emsworth is over the moon. The scientific treasure trove of unexplored swamps may launch his dream career as a naturalist. But even Algie is startled when he happens upon a brand-new species and her brood in the karst springs surrounding the resort. Algie quickly realizes he must keep his discovery a secret. An apparent curse has also descended upon the hotel, bringing with it a deadly red tide. But when the pool starts filling with ink and guests start getting mysterious, sucker-shaped wounds, Algie must pluck up his courage to find the truth about the goings-on at the grand hotel — and save the new species from destruction. —Synopsis provided by Union Square Kids
From the first chapter, it's clear that Spineless is going to be a grand adventure. You're not even 20 pages in before Algie's getting into trouble, and oh does he get into some delightful trouble! Author Samantha San Miguel's writing is smooth and inviting. Her excellent world-building skills drop you right into the Floridian swamps. You can practically feel the humidity roll over you as Algie and his friends explore. Miguel's strong pacing emphasizes certain plot twists and leaves you wanting for more.        
*Adventure
As assistant to Mangkon's most celebrated mapmaker, 12-year-old Sai plays the part of a well-bred young lady with a glittering future. In reality, her father is a conman — and in a kingdom where the status of one's ancestors dictates their social position, the truth could ruin her. Sai seizes the chance to join an expedition to chart the southern seas, but she isn't the only one aboard with secrets. When Sai learns that the ship might be heading for the fabled Sunderlands — a land of dragons, dangers, and riches beyond imagining — she must weigh the cost of her dreams. —Synopsis provided by Candlewick Press
This tale is as much of a personal journey as it is a physical one. Sai's story begins with her hiding who she really is. Her goal is to gain a footing in society, but as things progress, her focus changes. And when she embraces herself for who she is, she shines. The Last Mapmaker is a fast-moving, thought-provoking adventure. It offers the perfect summer getaway without leaving the comfort of home. It's one of my Top 10 middle-grade reads this year.
 *Nonfiction
Pull up a chair and dig into this world atlas full of food facts, information about crops and farming, easy-to-read maps, recipes, and games from around the world. On the menu: vegetables, grains, meats, dairy products, and foods harvested from the water.  Highlights include appetizing attractions, cool places to eat, and food festivals, and sustainable eating is promoted throughout. —Synopsis provided by National Geographic
This atlas opens with a "how to" section and is then followed by chapters featuring continents, oceans, feeding the world, and backmatter. Each chapter contains subjects ranging from farming for foods and festivals and feasts to great grains and dairy delights. And each category is associated with a color and icon. Each spread features maps, graphics, full-color pictures and bite-sized facts. The very nature of this book encourages readers to flip through and read as little or as much as they want. The Ultimate Food Atlas is exactly the sort of book I'd hand to any kid who is curious about the world.
FENRIS & MOTT, by Greg van Eekhout, HarperCollins, Aug. 2, 2022, Hardcover, $16.99 (ages 8-12)
*Fantasy
When Mott finds a puppy abandoned in a recycling bin, she's ready to do everything she can to protect him. What she doesn't realize, however, is that this is the legendary wolf Fenris, who's prophesied to bring about the end of the world by eating the moon. Now Mott has found herself in charge of making sure the hungry pup doesn't see all of California as an appetizer, while also hiding him from the Norse gods who are hot on his trail, determined to see the prophecy come true. Mott vows to protect Fenris, rescue him from his destiny, and prevent the world from ending. But will she be able to keep her promise? Or has she bitten off more than she can chew? —Synopsis provided by HarperCollins
Fenris & Mott is the sort of book that will appeal to all adventure-loving readers. There's action, there's mystery, things explode, and there's an adorable pup. At 208 pages, Fenris & Mott is a shorter, and more accessible middle-grade read that would be fun to read aloud independently or in a classroom setting.
HUMMINGBIRD, by Natalie Lloyd, Scholastic Press, Aug. 2, 2022, Hardcover, $17.99 (ages 8-12)
 *Magical Realism
Olive is tired of being seen as "fragile" just because she has osteogenesis imperfecta (otherwise known as brittle bone disease) so she's thrilled when she finally convinces her parents to let her attend Macklemore Elementary. Olive can't wait to go to a traditional school until a disastrous first day dashes her hopes of ever fitting in. Then Olive hears whispers about a magical, wish-granting hummingbird that supposedly lives near Macklemore. It'll be the solution to all her problems! If she can find the bird and prove herself worthy, the creature will make her most desperate, secret wish come true. When it becomes clear that she can't solve the mystery on her own, Olive teams up with some unlikely allies who help her learn the truth about the bird. And on the way, she just might learn that our fragile places lead us to the most wonderful magic of all . . . —Synopsis provided by Scholastic Press
Hummingbird is magical realism at its best. Author Natalie Lloyd introduces magic into her settings that feel real. Of course, a hummingbird grants wishes. How could it not? But it's not just the themes that make this book magic. It's Lloyd's use of first-person prose mixed with Olive's free-verse thoughts that truly take it over the top.
*Fairy Tale/Fantasy
A spunky, feminist take on the myth of Gaia, the Greek goddess of the Earth. Long before the age of the Olympian gods, Gaia created the world in all its beauty. But from Gaia also came the Titans, who ran wild and free through this world — until her husband Ouranos turned on Gaia and declared himself the ruler of all she'd created. Her son Cronus then rose to power, but soon he too became hungry for more power — so much so that he swallowed his own children. But Gaia managed to hide the youngest son, Zeus, from Cronus. Zeus grew up and defeated Cronus and saved his brothers and sisters. Gaia thought this would be the end of all the needless war, but Zeus was not satisfied — he swore to rid the world of anyone who challenged his power. Gaia was furious. She wanted no part in the world of Zeus. She would not fight his destruction with more destruction. It might be too late for Zeus, but it wasn't too late for the mortals — or for the earth itself. Follow the goddess of earth through her struggles with gods and mortals as she discovers her strength and eventually finds the peace she has always longed for. —Synopsis provided by Harry N. Abrams
*Nonfiction
What is racism? What is antiracism? Why are both important to learn about? In this book, systemic racism and the antiracist tools to fight it are easily accessible to young readers. This book teaches young children the words, language, and methods to recognize racism and injustice — and what to do when they encounter it at home, at school, and in the media they watch, play, and read. —Synopsis provided by Versify
The Antiracist Kid is an excellent tool in helping kids — and adults — identify discrimination and how to stand up to it. Written in clear, concise and comfortable prose, each idea or point is easy to identify and understand.
At 130 pages, The Antiracist Kid is fairly short, but kids/adults will likely spend time discussing/thinking about the topics in greater detail. Illustrator Nicole Miles helps break up information with fun illustrations, and the text itself is broken up into short paragraphs, bullet points and calls to action.
TWO DEGREES, by Alan Gratz, Scholastic Press, Oct. 4, 2022, Hardcover, $17.99 (ages 8-12)
*Contemporary
Fire. Ice. Flood. Three climate disasters. Four kids fighting for their lives.
Akira, Owen, George, and Natalie are all swept up in the devastating effects of climate change. They are also connected in ways that will shock them — and could alter their destinies forever. —Synopsis provided by Scholastic Press
Alan Gratz is an immersive writer. From the moment you start reading to the moment you stop, you are right there with his characters — breathing in smoke, shivering in the cold and holding on for dear life.
Two Degrees is so successful because Gratz doesn't just kids about climate change, Gratz drops them straight into it. Kids from all walks of life understand natural disasters — wildfires, hurricanes, tornadoes, drought etc. hit just about everyone in the United States. The story is relatable and helps readers understand how widespread the problem is.
A ROVER'S STORY, by Jasmine Warga, Balzer + Bray, Oct. 4, 2022, Hardcover, $17.99 (ages 8-12)
*Science Fiction
Meet Resilience, a Mars rover determined to live up to his name. Res was built to explore Mars. He was not built to have human emotions. But as he learns new things from the NASA scientists who assemble him, he begins to develop human-like feelings. Maybe there's a problem with his programming….
Human emotions or not, launch day comes, and Res blasts off to Mars, accompanied by a friendly drone helicopter named Fly. But Res quickly discovers that Mars is a dangerous place filled with dust storms and giant cliffs. As he navigates Mars's difficult landscape, Res is tested in ways that go beyond space exploration. —Synopsis provided by Balzer + Bray
A Rover's Story is a moving middle-grade novel that you won't stop thinking about. Author Jasmine Warga's ability to not only show readers Earth, Mars and beyond from a rover's point of view but to make that view compelling and exciting is truly impressive. She masterfully mixes science and imagination. Her little rover has heart.
A Rover's Story is an excellent option for future engineers, explorers and lovers of space.
*Fantasy
With her thirteenth birthday just around the corner, Giada Bellantuono has to make a big decision: Will she join the family business and become a healer or follow her dreams? But even though she knows her calling is to heal vulnerable animals, using her powers to treat magical creatures is decidedly not allowed.
When a group of witches kidnaps her beloved older brother, Rocco, and her parents are away, Giada is the only person left who can rescue him. Swept into the magical underground city of Malafi, Giada will need the help of her new companions to save her brother — or risk losing him forever. —Synopsis provided by Inkyard Press
Author Meg Cannistra transports readers to the Amalfi Coast in Italy. Through her deft hand all the sights, smells and sounds jump off the page. There's a freshness to Cannistra's writing that adds to the overall liveliness of her book. How to Heal a Gryphon is a fresh middle-grade fantasy that should appeal to a wide cross-section of readers. There may be a few readers who stumble over the Italian words, but overall, it's an accessible, enjoyable read.
FULL OF LIFE, EXPLORING EARTH'S BIODIVERSITY, by Isabel Thomas and Sara Gillingham, Phaidon Press, Oct. 5, 2022, Hardcover, $24.95 (ages 8-12)
*Nonfiction
This guide to Earth's Tree of Life — the reference tool used by scientists to organize the incredible variety of living things on our planet — helps young readers understand how every living creature, from the tiniest germ to the biggest blue whale, is part of one big family tree.
Layouts feature fascinating facts and stories behind some of the most extraordinary species on Earth, from familiar plants and animals to newly discovered microorganisms and viruses. With a comprehensive introduction, conclusion, and glossary, this is an introduction to the 2 million+ life forms on our planet. —Synopsis provided by Phaidon Press
Full of Life, Exploring Earth's Biodiversity is one of those books that's specifically written for children that adults will want to own, too.
Full of Life, Exploring Earth's Biodiversity is divided into 11 color-coded sections ranging from True Bacteria and Archaea to a glossary and index. Though divided up into large and small sections of text, this book is text heavy. The fantastic graphic illustrations help keep things in balance, but that will probably make it more appealing for more advanced middle readers.
*Graphic Novel
From the New York Times bestselling creator of the Hazardous Tales series comes an exciting activity book that puts kids' writing, drawing, and researching to the test! Do you have what it takes to be a Hazardous Cartoonist Make your own way through history! Readers will tackle seventy-one comic-creating challenges, with help from some of their favorite characters from the series! With each challenge, young cartoonists will learn new skills, from sound effects and character creation to building their own ten-page comic. —Synopsis provided by Harry N. Abrams
Let's Make History! is the perfect book for fans of Hale's Hazardous Tales books. Not only does it prompt readers to draw, but it offers up the squares and pages on which they can create. I know my 8-year-old will be glued to it. The fun and imaginative drawing prompts will get kids writing their own thrilling, shocking, gruesome, and totally true histories!
*Fantasy/ Graphic Novel Hybrid
The Quest Kids are ready for their first real quest. All they have to do is find the Golden-Fleeced Rage Beast, shave it, and make a really nice golden tracksuit to appease a furious dragon. Simple, right? Meet the Quest Kids crew: Gil, a wizard (well, wizard in training . . . the beard isn't his); Terra, a 700-year-old elf kid; Boulder, a rock troll who is more of a cook than a fighter; Ash, a flatulent pig-dog-maybe-lizard hybrid; and, Ned, the intrepid and overly optimistic leader with his own personal quest to find his missing parents.  —Synopsis provided by Union Square Kids
The biggest selling point Quest Kids and the Dragon Pants of Gold has going for it, is its novel/graphic novel hybrid setup. Not only do kids love the "comic-type" illustrations, but it gives them an accessible taste of reading novels, too, making it a win-win situation.
Quest Kids and the Dragon Pants of Gold has it all — comedy, adventure, illustrations. There is a bit of bathroom humor, which parents may find obnoxious, but it's pretty harmless and is the sort of stuff kids this age find hilarious. Fingers crossed this will turn into a series.
NEW KIDS AND UNDERDOGS, by Margaret Finnegan, Atheneum Books for Young Readers, Oct. 25, 2022, Hardcover, $17.99 (ages 8-12)
*Contemporary
Robyn Kellen has been the new kid six times. She's developed foolproof rules to help her get by: Blend in, don't go looking for trouble, and move on. Unfortunately, Robyn's mom has a rule, too: Robyn must do an after-school activity. When Robyn discovers a dog agility class, she thinks she's found the perfect thing — but then her dogs, Sundae and Fudge, are rejected from the class. Sundae won't do anything without Fudge, and Fudge is deaf and blind. Luckily, the instructor's grandson, Nestor offers Robyn a deal: If she helps him with math, he'll train Sundae and Fudge. Problem is, Robyn isn't so great at math herself, so she's forced to recruit the class outcast, Alejandra, to help. Suddenly, Robyn finds herself surrounded by people who do anything but blend in. But as Robyn learns how to adapt the rules of agility for Sundae and Fudge, she will find that some rules are worth breaking altogether. —Synopsis provided by Atheneum Books for Young Readers
There are a lot of things to love about New Kids and Underdogs, but I think my favorite is author Margaret Finnegan's ability to draw in a large range of readers with something cool — dog agility training — all while exploring nuances of classroom/playground dynamics, self-confidence and friendship. New Kids and Underdogs is a thoughtful novel that moves quickly and is a joy to read.
LILY AND THE NIGHT CREATURES, by Nick Lake and Emily Gravett, Simon & Schuster Books for Young Readers, Aug. 30, 2022, Hardcover, $17.99 (ages 8-12)
*Fantasy/Mystery
Lily is used to hospitals — she's spent more time in them than out of them thanks to her recent health issues. But when her mother goes into labor, her parents drop her off at her grandmother's house and rush to the hospital without her. Lily doesn't want the new baby to replace her and she certainly doesn't want to be sick anymore.
Most frustrating of all, she forgot to pack Willo, her favorite toy. Under her grandma's not-so-watchful supervision, Lily sneaks back home to get Willo. Expecting to find an empty house, she is surprised to find her parents there. But something isn't right… They look just like her mom and dad until she gets closer and sees their coal black eyes. And they refuse to let her in — it's their house now. —Simon & Schuster Books for Young Readers
FREESTYLE, by Gale Galligan, Graphix, Oct. 18, 2022, Paperback $12.99 (ages 8-12)
*Graphic Novel
Cory's dance crew is getting ready for a major competition. It's the last one before they graduate eighth grade and go their separate ways to high schools all over New York City, so they have to make it count! The group starts to have problems as their crew captain gets increasingly intense about nailing the routine, and things go from bad to worse when Cory's parents ground him for not taking his grades seriously. He gets stuck with a new tutor, Sunna, who he dismisses as a boring nerd… until he catches her secretly practicing cool yo-yo tricks. Cory wants to learn the art of yo-yo, and as his friendship with Sunna grows, he ends up missing practice and bailing on his crew — and they are not happy about it. With mounting pressure coming from all sides, how is Cory supposed to balance the expectations of his parents, school, dance, and his new friend? —Synopsis provided by Graphix
---
AGES 9 AND UP
*Nonfiction
Johnstown, Pennsylvania, in 1889 is a busy factory city, where best friends Daniel Fagan, William James, and George Hoffman love to hike the mountain and spy on the rich folks at their exclusive lakeside club. Monica Fagan, Joe Dixon, and Gertrude Quinn dream of traveling the world, starting a business, and going to the city's Decoration Day parade.
 Some of them have heard the rumors about the dam that holds the lake needing repairs and the club members who refuse to fix it. But no one wants to believe the danger they could be in, until the heavy spring rains come, and the dam collapses, plunging the city into chaos. On that fateful day, Daniel, William, George, Monica, Joe, and Gertrude find themselves caught in the wreckage. Who will live to tell their stories? —Synopsis provided by Scholastic Paperbacks
Flooded is a compelling novel-in-verse that explores events leading up to, and the aftermath of, the Johnstown flood. Burg's writing is sparse and exceptional, allowing for the pauses and phrasing to become part of the narrative. Each chapter features one of the six people listed above. By focusing on the six, it is easier to imagine the 2,000 who died. Each voice ring loud, clear and true, adding to the emotion and strength of the book.
*Contemporary
When Mac first opens his classroom copy of Jane Yolen's The Devil's Arithmetic and finds some words blacked out, he thinks it must be a mistake. But then when he and his friends discover what the missing words are, he's outraged. Someone in his school is trying to prevent kids from reading the full story. Even though his unreliable dad tells him to not get so emotional about a book, Mac has been raised by his mom and grandad to call out things that are wrong. He and his friends head to the principal's office to protest the censorship… but her response doesn't take them seriously. So many adults want Mac to keep his words to himself. Mac's about to see the power of letting them out. —Synopsis provided by Scholastic Press
As important as the black rectangles are to this book, it's not just about rectangles. It's about family dynamics, mental health, friendship, adult-child relationships, trust, maturity and so much more.
King writes directly to her audience. She celebrates their intelligence through warm and accessible prose. Her writing is clear and inviting. Her characters are relatable. And her use of humor adds brightness. Attack of the Black Rectangles is an excellent read that is also timely. I highly recommend it.
THE RAT QUEEN, by Pete Hautman, Candlewick, Oct. 11, 2022, Hardcover, $18.99m(ages 9-12)
For Annie's tenth birthday, her papa gives her a pad of paper, some colored pencils, and the Klimas family secret. It's called the nuodeema burna, or eater of sins. Every time Annie misbehaves, she has to write down her transgression and stick the paper into a hidey-hole in the floor of their house. But Annie's inheritance has a dark side: with each paper fed to the burna, she feels less guilty about the mean things she says and does. As a plague of rats threatens her small suburban town and the mystery of her birthright grows, Annie — caught in a cycle of purging her misdeeds — begins to stop growing. It is only when she travels to her family's home country of Litvania to learn more about the burna that Annie uncovers the magnitude of the truth. Gripping and emotionally complex, Pete Hautman's inventive yarn for middle-grade readers draws on magical realism to explore coming of age and the path to moral responsibility. —Synopsis provided by Candlewick
---
AGES 10 AND UP
NORTHWIND, by Gary Paulsen, Farrar, Straus and Giroux (BYR), Jan. 11, 2022, Hardcover, $17.99 (ages 10 and up)
*Historical Fiction/ Adventure
When a deadly plague reaches the small fish camp where he lives, an orphan named Leif is forced to take to the water in a cedar canoe. He flees northward, following a wild, fjord-riven shore, navigating from one danger to the next, unsure of his destination. Yet the deeper into his journey he paddles, the closer he comes to his truest self as he connects to "the heartbeat of the ocean . . . the pulse of the sea." —Synopsis provided by Farrar, Straus Giroux
Gary Paulsen was a master storyteller. His ability to capture a person's essence was remarkable. And that was never truer than in Northwind. It's a character study of Leif, who spends the majority of the novel surrounded by nature rather than humans. His interactions with the natural world are full of danger and surprise.
Northwind is a beautiful narrative that draws you in from the beginning. Gary's writing is elegant and sparse. You feel as if you are in the boat alongside Leif, paddling through the cold, blue waters. Though Gary wrote for young readers, his words will resonate with adults, too. Northwind is among my top books by Gary. It should be on your to-read list if you haven't already read it.
*Biography
At the turn of the 20th century, Lise Meitner dreamed of becoming a scientist. In her time, girls were not supposed to want careers, much less ones in science. But Lise was smart — and determined. She earned a PhD in physics, then became the first woman physics professor at the University of Berlin. The work was thrilling, but Nazi Germany was a dangerous place for a Jewish woman. When the risks grew too great, Lise escaped to Sweden, where she continued the experiments that she and her laboratory partner had worked on for years. Her efforts led to the discovery of nuclear fission and altered the course of history. —Synopsis provided by Atheneum Books for Young Readers
Jeannine Atkins is a master storyteller, and she tells her stories through verse. Lines like "Elements seem like the alphabet of the world!" and "Science becomes a need, like hunger." are just a peek at the wonderful pictures she creates with words. Hidden Powers is a fantastic read that will appeal to a large group of readers.
LOYALTY, by Avi, Clarion Books, Feb. 8, 2022, Hardcover, $16.99 (ages 10 and up)
*Historical Fiction
When his father is killed by rebel vigilantes, Noah flees with his family to Boston. Intent on avenging his father, Noah becomes a spy for the British and firsthand witness to the power of partisan rumor to distort facts, the hypocrisy of men who demand freedom while enslaving others, and the human connections that bind people together regardless of stated allegiances. Awash in contradictory information and participating in key events leading to the American Revolution, Noah must forge his own understanding of right and wrong and determine for himself where his loyalty truly lies. —Synopsis provided by Clarion Books
Loyalty is a master class in examining an event from multiple viewpoints. Noah finds himself smack in the middle of British and colonists, and from where he sits, both sides are lacking. He's forced to find what works best for him and realize that what's best for him isn't necessarily best for those he's closest to.
As always, Avi's writing is engrossing. There's a reason for the author's Newberry Award and two Newberry Honors. Loyalty is an excellent look at the American Revolution.
OMAR RISING, by Aisha Saeed, Nancy Paulsen Books, Feb. 1, 2022, Hardcover, $17.99 (ages 10 and up)
*Contemporary
Omar knows his scholarship to Ghalib Academy Boarding School is a game changer, providing him — the son of a servant — with an opportunity to improve his station in life. He can't wait to experience all the school has to offer, especially science club and hopefully the soccer team; but when he arrives, his hopes are dashed.
First-year scholarship students aren't allowed to join clubs or teams. At first Omar is dejected — but then he gets angry when he learns something even worse — the school deliberately "weeds out" kids like him by requiring them to get significantly higher grades than kids who can pay tuition, making it nearly impossible for scholarship students to graduate. With the help of his tightknit new group of friends he sets out to do what seems impossible: change a rigged system. —Synopsis provided by Nancy Paulsen Books
Omar Rising is a hopeful look at youth using their voices for change. Author Aisha Saeed carefully balances optimism vs. reality, creating a compelling read that will speak to readers from all backgrounds.
Though Omar Rising is a companion novel to Amal Unbound, it stands alone and can be read separately. However, based on the quality of both, I suggest reading them in succession.
WORSER, by Jennifer Ziegler, Margaret Ferguson Books, March 15, 2022, Hardcover, $17.99 (ages 9-12)
*Contemporary
William Wyatt Orser is a wordsmith who acquired the ironically ungrammatical nickname of "Worser" so long ago that few people at school know to call him anything else. Worser grew up with his mom in a comfortable routine suffering the bare minimum of social interactions with others. But recently all that has changed. His mom had a stroke that left her nonverbal, and his Aunt Iris has moved in with her cats, art projects, loud music, and even louder clothes. Home for Worser is no longer a refuge from the unsympathetic world at school that it has been all his life.
Feeling lost, lonely, and overwhelmed, Worser searches for a new sanctuary and ends up finding the Literary Club. But relationships can be precarious, and it is up to Worser to turn the page in his own story to make something that endures so that he is no longer seen as Worser and earns a new nickname, Worder. —Synopsis provided by Margaret Ferguson Books
Worser is one of those books that you sort of just fall into and don't want to put down. At first, the main character is uncomfortably honest, but you quickly come to love his blunt nature. It is who he is, and that's part of what makes him endearing.
There are many high points in Worser, but for me, it was the title character's love of words that really set it apart. The very thing that sets him apart, also opens an entirely new world for him. And the exploration of friendship through this lens is truly delightful.
*Medieval Magic
Fished from the river as an infant and raised by a roving band of street urchins who call themselves the Crowns, 8-year-old Duck keeps her head down and her mouth shut. It's a rollicking life, always thieving, always on the run — until the ragtag Crowns infiltrate an abandoned cathedral in the city of Odierne and decide to set down roots. It's all part of the bold new plan hatched by the Crowns' fearless leader, Gnat: One of their very own will pose as an apprentice to the local baker, relieving Master Griselde of bread and coin to fill the bellies and line the pockets of all the Crowns. But no sooner is Duck apprenticed to the kindly Griselde than Duck's allegiances start to blur. Who is she really — a Crown or an apprentice baker? And who does she want to be? —Synopsis provided by Candlewick
With warm prose and excellent worldbuilding, author Lindsay Eager immediately puts readers at ease. She immerses readers in a world of sights and smells paired with friendship, love and learning to love oneself. The Patron Thief of Bread is hands down one of my favorite books of 2022.
RIDE ON, by Faith Erin Hicks, First Second, Aug. 16, 2022, Paperback, $14.99 (ages 10-14)
*Contemporary/ Graphic Novel
Victoria has always loved horses. But riding in competitions is high stakes, high stress, and shockingly expensive. And Victoria has lost her taste for it and needs a new start ― at new stables. A place where she doesn't have to worry about anything other than riding. No competition, no drama, no friends. Edgewood Stables seems ideal. There are plenty of horses to ride, and Victoria is perfectly happy giving the other riders the cold shoulder. But can she truly be happy with no friends? —Synopsis provided by First Second
It's easy to tell a good story told through well-illustrated frames and thoughtfully crafted dialogue. It's key that these elements work seamlessly together, and in Ride On they do.
Victoria and her supporting characters are all well-developed. Hicks explores each of them separately and together. I will say that Norrie is obnoxious. She grows on you, but give her time.
Ride On is a great option for middle readers looking for a new graphic novel. It should especially appeal to fans of horses.
DOGS OF THE DEADLANDS, by Anthony McGowan, Rock the Boat; US edition, Sept. 13, 2022, Hardcover, $17.99 (ages 10 and up)
*Historical Fiction
Chernobyl, 1986. Without humans, how will dogs survive?
As humans fled the nuclear disaster, they were forced to leave their pets behind. Without people, nature began to return to the woods surrounding the power plant — lynx, bear, and wolves. But the overgrown forest is no place for dogs. Can Zoya, and her pups Misha and Luka, learn to survive in the deadlands? And will Zoya ever find her way home to her beloved owner? —Synopsis provided by Rock the Boat
Dogs of the Deadlands is a fast-moving read featuring short chapters and black-and-white illustrations sprinkled throughout. It's a compelling novel that forces readers to think beyond human implications. It's an excellent read that should appeal to a fairly large audience and could be a good classroom option.
 *Historical Fiction
Growing up in horse-and-buggy Oakland, Julia enjoys daring fence walks, climbing the tallest trees, and constantly testing her mother's patience with her lack of interest in domestic duties and social events. At a time when "brainy" girls are the object of ridicule, Julia excels in school and consistently outsmarts her brothers — but she has an even greater battle ahead. When she enrolls at university to study engineering, the male students taunt her, and the professors belittle her.
Through it all, however, Julia holds on to her dream of becoming an architect. She faces each challenge head-on, firmly standing up to those who believe a woman's place is in the home. Fortunately, the world has yet to meet anyone like the indomitable Miss Morgan. —Synopsis provided by SparkPress
Author Susan J. Austin's prose is smooth and inviting. She expertly sets each scene, dropping readers onto a bridge, into a classroom and onto the streets of northern California. From clothing to food to architecture, everything is spot on. Drawing Outside the Lines feels familiar and new at the same time. There's a warmth to it that invites you in and a compelling story that makes you want to stay.
*Science Fiction/Dystopiam
Centuries ago, Earth's plants turned deadly, and humanity took to space to cultivate new homes. Myra Hodger is in her first year at an elite school on the Moon, and she's crumbling under the pressure. She doesn't fit in and, worse, the tattoos that signal her Number Whisperer magic aren't developing. In her heart, she knows she doesn't have a Creer, and soon everyone else will, too.
Wandering the halls while cutting class, she discovers a secret lab hidden behind one of the unused classrooms and, beyond that, a secret garden overflowing with plants. As she learns more about the garden, Myra begins to wonder if she does have a Creer after all — One that could help solve the food shortages the government doesn't want anyone to know about. —Synopsis provided by Pixel+Ink
Moongarden is Frances Hodgson Burnett's The Secret Garden not only reimagined but transformed. Yes, there's nods to source material, but make no mistake, Moongarden is unique.
Moongarden is a sci-fi, STEM, dystopian smorgasbord. Barry deftly weaves this together with themes of mystery, conspiracy, social pressures and friendship. It's a fantastic start to Barry's Plotting the Stars series, and I can't wait to read the next book!
Copyright © 2022 Cracking the Cover. Unless otherwise noted, all books — digital and physical — have been provided by publishers in exchange for honest and unbiased reviews. All thoughts and opinions are those of the reviewer.