Each year, Cracking the Cover compiles a list of books that make great gifts. The following are young adult books published in and/or reviewed in 2022. They are listed by genre and in order of publication date. Synopsis are provided by the respective publishers. Scroll down for the complete list or click or tap the following links to directly visit a section.  FANTASY • ADVENTURE • CONTEMPORARY • SCI-FI • HISTORICAL FICTION • NONFICTION 
FANTASY
MEDUSA, by Jessie Burton and Olivia Lomenech Gill, Bloomsbury YA, Jan. 11, 2022, Hardcover, $19.99 (young adult)
*Fantasy/Mythology
Exiled to a far-flung island by the whims of the gods, Medusa has little company except the snakes that adorn her head instead of hair. But when a charmed, beautiful boy called Perseus arrives on the island, her lonely existence is disrupted with the force of a supernova, unleashing desire, love, betrayal . . . and destiny itself. —Synopsis provided Bloomsbury YA
This reimagining of the Greek myth centers on a vulnerable girl who is nothing but a plaything for the gods. Burton's ability to balance Medusa's feelings alongside the narrative is impressive. She shows incredible restraint and her pacing is impeccable. Equally stunning is Olivia Lomenech Gill's full-color illustrations, which take the story to the next level. Gill's illustrations are full of movement and emotion.
Due to some mature topics, Medusa is intended for readers ages 14 and up. It's a thought-provoking read that will stick with readers well after completion.
 *Sci-fi/Fantasy
On a frozen wasteland of a planet, a girl is on the run with a wolf who is born to be a killer but bound to be her guide. As they fight to escape ice goblins, giant bears, and a ruthless leader intent on trapping them both, one question drives them relentlessly forward: where do you turn when there is nowhere to hide? —Synopsis provided by Wednesday Books
Author Meg Long deftly sets the scene, allowing readers to not only get to know Sena but Tendor long before the race begins. The ebb and flow of pacing is strong throughout and Sena is a strong protagonist. What set the story over the top for me was the lack of romance. It's a refreshing take that leaves room for a different type of relationship growth.
*Fantasy/Folktale
Deadly storms have ravaged Mina's homeland for generations. Her people believe the Sea God curses them with death and despair. In an attempt to appease him, each year a maiden is thrown into the sea to serve as the Sea God's bride, in the hopes of ending the suffering.
Shim Cheong, the beloved of Mina's older brother Joon, may be the true bride. But on the night Cheong is to be sacrificed, Joon follows Cheong out to sea. To save her brother, Mina throws herself into the water in Cheong's stead.
Swept away to the Spirit Realm, Mina seeks out the Sea God, only to find him caught in an enchanted sleep. With the help of a mysterious young man named Shin, Mina sets out to wake the Sea God and bring an end to the killer storms once and for all. —Synopsis provided by Feiwel & Friends
The Girl Who Fell Beneath the Sea is billed as a "feminist retelling of the classic Korean folktale The Tale of Shim Cheong. Oh's beautiful prose immediately immerses you in a new world/time/place. Her world-building is so spot-on that you don't actually realize its being constructed around you. The tone is clear and precise while still having a dreamlike quality and there's one surprise after another.
STEALING INFINITY, by Alyson Noël, Entangled: Teen, June 28, 2022, Hardcover, $18.99 (young adult, ages 14 and up)
*Sci-Fi/Fantasy
A girl's life is upended when she's suddenly shipped off to a remote boarding school in Alyson Noël Stealing Infinity.
Gray Wolf Academy is a remote island school completely off the grid. It's a school for time travelers. Tripping, they call it. It is filled with elaborate costumes and rare artifacts, where every move is strategic and the halls are filled with shadows and secrets. —Synopsis provided by Entangled Teen
Time travel. Tarot cards. Numerology. Art. History. Mystery. Intrigue. Romance. Adventure. Stealing Infinity has them all. At the center of the story is Natasha, a once-popular high school senior whose life changed forever when her father disappeared. Her father's disappearance has always felt like a betrayal, but the more time she spends at Gray Wolf, her perspective shifts. Told in first-person, readers get a direct view at Tasha's thoughts, experiences and motivations.
Stealing Infinity has a grittier feel to it and certain elements, including that of an attempted rape make it suitable for older, more mature teens.
WILD IS THE WITCH, by Rachel Griffin, Sourcebooks Fire, Aug. 2, 2022, Hardcover, $18.99 (young adult, ages 14 and up)
*Contemporary Fantasy
After a night of magic turns deadly, Iris Gray vows to never let another person learn she's a witch. Now, Iris hides who she really is and vents her frustrations by writing curses she never intends to cast. And while she loves working at the wildlife refuge she runs with her mother, she loathes Pike Alder, the aspiring ornithologist who interns with them.
When Pike makes a particularly hurtful comment, Iris concocts a cruel curse for him. But just as she's about to dispel it, an owl swoops down and steals the curse before flying far away from the refuge. Forced to work together, Iris and Pike trek through the wilderness in search of the bird that could cost Pike his life. —Synopsis provided by Sourcebooks Fire
Most of Wild is the Witch takes place in the wilderness with only Iris and Pike to keep readers company. And yet, that's where the book feels the most expansive. The wilderness itself becomes one of the characters and its interactions are just as important as those between Iris and Pike. Wild is the Witch is a fast-paced contemporary fantasy that you won't want to put down.
THE LIAR'S CROWN, by Abigail Owen, Entangled Teen, Aug. 30, 2022, Hardcover, $18.99 (young adult, ages 14 and up/ new adult)
*Fantasy
As a hidden twin princess, born second, I have only one purpose ― to sacrifice my life for my sister if death comes for her. Now the queen is dead and the ageless King Eidolon has sent my sister a gift and a proposal to wed. I don't trust him, so I do what I was born to do and secretly take her place on the eve of the coronation. Which is why, when a figure made of shadow kidnaps the new queen, he gets me by mistake.
As I try to escape, all the lies start to unravel. And not just my lies. The Shadowraith who took me has secrets of his own. Winter is at the walls. Darkness is looming. And the only way to save my sister and our dominion is to kill Eidolon…and the Shadowraith who has stolen my heart. —Synopsis provided by Entangled Teen
At the center of The Liar's Crown is Meren (the backup twin) and Reven (the Shadowraith). And while Meren is the storyteller, both are well-developed and compelling. Owen's worldbuilding, too, is impressive. She quickly transports readers to another time and place. The magic in her world is complex, but accessible.
The sexual content in this book is steamy. It's about as close to graphic as you can get without being graphic, making this appropriate for older, more mature teens and new adults
*Fantasy
In an oceanic world swarming with vicious beasts, the Landers ― the ruling elite — have indentured 16-year-old Koral's family to provide the maristags for the Glory Race, a deadly chariot tournament reserved for the upper class. The winning contender receives gold and glory. When the last maristag of the year escapes and Koral has no new maristag to sell, Koral's only choice is to do what no one in the world has ever dared: cheat her way into the Glory Race.
But every step of the way is unpredictable as Koral races against competitors who have trained for this their whole lives and who have no intention of letting a low-caste girl steal their glory. —Synopsis provided by Sourcebooks Fire
Monsters Born and Made has definite Hunger Games vibes. From the actual Glory Race to daily life, you'll definitely see similarities. And yet, author Tanvi Berwah's creation feels unique. It is full of action, mystery and adventure. The book is fast-moving, and the ending has a great gut-punch.
LIGHTLARK, by Alex Aster, Harry N. Abrams, Aug. 23, 2022, Hardcover, $19.99 (young adult)
*Dark Fantasy
Every 100 years, the island of Lightlark appears to host the Centennial, a deadly game that only the rulers of six realms are invited to play. The invitation is a summons — a call to embrace victory and ruin, baubles and blood. The Centennial offers the six rulers one final chance to break the curses that have plagued their realms for centuries. Each ruler has something to hide. Each realm's curse is uniquely wicked. To destroy the curses, one ruler must die.
Isla Crown is the young ruler of Wildling — a realm of temptresses cursed to kill anyone they fall in love with. They are feared and despised, and are counting on Isla to end their suffering by succeeding at the Centennial. To survive, Isla must lie, cheat, and betray…even as love complicates everything. —Synopsis provided by Harry N. Abrams
ADVENTURE
*Adventure
Jerusalem, 1192. The Third Crusade rages on. Rahma al-Hud loyally followed her elder sister Zeena into the war over the Holy Land. On their journey to Jerusalem, Rahma and Zeena come across a motley collection of fellow travelers. The teens all find solace, purpose and camaraderie ― as well as a healthy bit of mischief ― in each other's company. It falls to the merry band of misfits to use every scrap of cunning and wit to perhaps finally restore peace to the land. —Synopsis provided by Feiwel & Friends
In Traveler's Along the Way, Robin Hood isn't an English man in green tights. Instead, Rahma al-Hud is a young woman with a green hood that does everything in her power to bring peace to the Holy Land. Travelers Along the Way is set during the Crusades, and Safi doesn't shy away from the setting. She tackles numerous faiths, countries and ethnicities with ease. Nothing feels forced or heavy handed. She sets each scene with tastes, sights and sounds that truly transport you. Whether walking into a humble abode or skirting around enemy territory, you feel as if you're part of Rahma's crew.
*Adventure/Historical Fiction
After being snubbed by her college's archaeology department, Sam is hell-bent on proving her worth. So, when an opportunity presents itself to solve the meaning behind a symbol found inside a cave in Greece, Sam is all over it, and she's bringing Bennett and Jo with her. Once on the island of Crete, Sam finds a treasure she never expected.
Soon Sam, Bennett, and Jo are embroiled in a wild hunt to keep someone from raising an ancient goddess from her slumber. An unexpected heist, a terrifying trek through a labyrinth, and a fight to the death with the Minotaur itself lead to a final standoff she and her friends won't soon forget. —Synopsis provided by Disney-Hyperion
Rise of the Snake Goddess takes place in the ancient ruins of the Greek islands in the 1920s. It's a time of great discoveries, and Sam wants a chance to make one of her own. The book plays out like a Hollywood movie — Indiana Jones anyone — with action and adventure, mythology and mystery, and some romance all tied together into a neat package.
CONTEMPORARY
DEBATING DARCY, by Sayantani DasGupta, Scholastic Inc., April 19, 2022, Hardcover, $18.99 (young adult)
*Contemporary Romance
A life-long speech competitor, Leela loves nothing more than crushing the competition, all while wearing a smile. But when she meets the incorrigible Firoze Darcy, a debater from an elitist private school, Leela can't stand him. But why attempt to tolerate Firoze when Leela can one-up him? The situation is more complicated than Leela anticipated, though, and her participation in the tournament reveals that she might have tragically misjudged the debaters and more than just her own winning streak is at stake…her heart is, too. —Synopsis provided by Scholastic Inc.
Debating Darcy is as much a character study as it is a story. Leela is a strong protagonist who thinks she has all the answers. She's smart and clever and isn't afraid to work toward her goals, and Firoze is a worthy dueling partner Debating Darcy is a fairly quick read that is as thought-provoking as it is humorous.
SCI-FI
*Sci-Fi
Astrid has something she thinks of as a small superpower: She has a perfect sense of time. And she's not going to waste a single second. Then there's Max Martin, a nerdy boy from high school. Things with Max were never simple, and he doesn't keep to her schedule. He disappears in the middle of dates and cancels last-minute with stupid excuses.
When a supervillain breaks into her bedroom one night, Astrid has to face the facts: Her boyfriend, Max, is a superhero. Double-majoring as a pre-med was hard, but now Astrid will have to balance a double-life. This wasn't part of her plan. —Synopsis provided by Katherine Tegen Books
When everything comes together, How to Date a Superhero (And Not Die Trying) truly takes flight. The pacing truly reflects the characters and how the characters act within the world Fernandez has created. It's not a perfect novel, but it's an enjoyable one that will make you ask, "What if superheroes were real?"
HISTORICAL FICTION
*Historical Fiction
Anatomy: A Love Story, by Dana Schwartz, follows a young woman as she fights to become a surgeon in Georgian-era Edinburgh.
Hazel Sinnett is a lady who wants to be a surgeon. Jack Currer is a resurrection man who's just trying to survive. After she gets kicked out of Dr. Beecham's lectures for being the wrong gender, Hazel realizes that Jack might be more helpful than she first thought. Because if Hazel can pass the medical examination on her own, Beecham will allow her to continue her medical career. Without official lessons, though, Hazel will need more than just her books ― she'll need corpses to study.
That's where Jack comes in. But Jack has his own problems: his friends are disappearing off the streets, and the dreaded Roman Fever, is back with a vengeance. Now, Hazel and Jack must work together to uncover the secrets buried not just in unmarked graves, but in the very heart of Edinburgh society. —Synopsis provided by Wednesday Books
This Gothic novel is dark, nuanced and compelling from beginning to end. Author Dana Schwartz deftly combines anatomical science and romance. She seamlessly slips between the two, creating a relationship that's both believable and mysterious. Anatomy: A Love Story has a shadowy, sort of Frankenstein feel to it. It's one of those books that you'll want to read curled up under a blanket.
MY FINE FELLOW, by Jennieke Cohen, HarperTeen, Jan. 11, 2022, Hardcover, $17.99 (young adult)
*Historical Fiction
It's 1830s England, and Culinarians — doyens who consult with society's elite to create gorgeous food and confections — are the crème de la crème of high society.
Helena Higgins, top of her class at the Royal Academy, knows stardom awaits her if she can produce greatness in her final year. Penelope Pickering is going to prove the value her Filipina heritage and her dishes. Elijah Little has nothing to his name but a truly excellent instinct for flavors, and he knows with training he can break into the highest echelon of society.
When Penelope and Helena meet Elijah, a golden opportunity arises: to pull off a project never seen before, and turn Elijah from a street vendor to a gentleman chef. —Synopsis provided by HarperTeen
The real star of My Fine Fellow is the food. It's clear that author Jennieke Cohen is a fan of the culinary world. Much like the ingredients in Cohen's dishes, her characters each provide necessary elements needed to balance one another. A trio can be a tricky combination, but the author handles them with a skilled hand.
A SECRET PRINCESS, by Margaret Stohl and Melissa de la Cruz, G.P. Putnam's Sons Books for Young Readers, June 28, 2022, Hardcover, $18.99 (young adult)
*Historical Fiction
Best friends Mary Lennox, Sara Crewe, and Cedric Erroll are best friends. And thank goodness, since their boarding school is basically insufferable. When one of the friends suffers a personal tragedy, a plan — and a secret — change everything for the trio . . . for good.  —Synopsis provided by G.P. Putnam's Sons Books for Young Readers
Reading this mashup was a mixture of cool and weird (which isn't a bad thing). It's fun seeing these characters interact, and it truly feels as if Stohl and de la Cruz know their characters intimately. Each voice rings true, and actions and their actions are believable. The authors remained true to the source material while adeptly exploring their own story.
*Historical Mystery
Enola Holmes, the much younger sister of Sherlock, is now living independently in London and working as a finder of persons and things. But that is not the normal lot of young women in Victorian England. Such is the case of Enola's friend, Lady Cecily Alastair. When Enola is brusquely turned away at the door of the Alastair home it soon becomes apparent that Lady Cecily needs her help.
Affecting a bold escape, Enola takes Lady Cecily to her secret office only to be quickly found by the person hired by Lady Cecily's mother to find the missing girl — Sherlock Holmes himself. But the girl has already disappeared again, now loose on her own in the unforgiving city of London. Once again, for Enola, the game is afoot. —Synopsis provided by Wednesday Books
Enola Holmes and the Elegant Escapade reads like a series of small mysteries buried inside a larger one. This setup gives readers little wins along the way while building to the final scene. Enola Holmes and the Elegant Escapade is an engaging read that should appeal to readers young and old. It's a fast read — I read it in one sitting —that made me wish Springer's books were around when I was younger.
THE SILENT STARS GO BY, by Sally Nicholls, Walker Books US, Sept. 20, 2022, Hardcover, $17.99 (young adult, ages 14 and up)
*Historical Romance
It's Christmastime, 1919. Three years before, 17-year-old Margot Allan, a respectable vicar's daughter, fell passionately in love. But she lost her fiancé, Harry, to the Great War. In turn, she gained a desperate secret, one with the power to ruin her life and her family's reputation, a secret she guards at all costs.
Now Margot's family is gathering at the vicarage for the first time since the War ended. And Harry, it turns out, isn't dead. He's alive and well, and looking for answers. Can their love survive the truth? —Synopsis provided by Walker Books US
The Silent Stars Go By is told from Margot's perspective. She's spent the past two years trying to make amends for her "mistake" and move forward. But how can you move forward when everything is a reminder? And she's not the only one struggling. Her older brother's return from war has been anything but easy. And Margot's next-younger sister is resigning herself to a life alone.
Nicholls' exploration of these complexities is rich and layered. Her characters are human and relatable. And their crisscrossing plotlines intermix spectacularly.
*Historical Fiction/Paranormal
Powerful mediums Edie and Violet are part of a traveling Spiritualist show, a tight-knit group of young women who demonstrate their real talents under the guise of communing with spirits. But when Violet's act goes terribly wrong one night, Edie learns that the dark spirit responsible for their mother's death has crossed into the land of the living. Only by trusting in one another can the twins uncover a killer who will stop at nothing to cheat death. —Synopsis provided by Union Square & Co.
In The Second Death of Edie and Violet Bond, Glaze has created a gripping historical fantasy that perfectly pairs "real life" with the supernatural. Glaze's prose is warm and inviting with a touch of other-worldliness. Her world-building is strong and her pacing adds to the tension.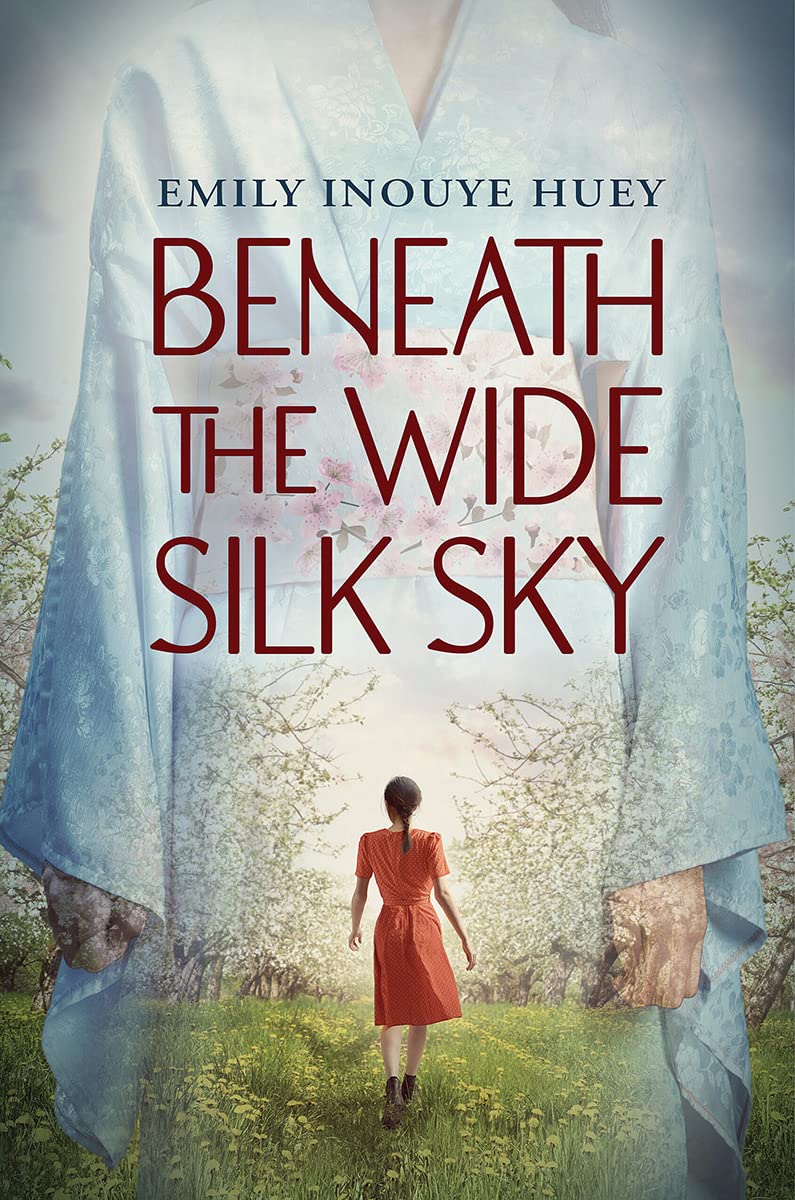 BENEATH THE WIDE SILK SKY, by Emily Inouye Huey, Scholastic Press, Oct. 18, 2022, Hardcover, $19.99 (young adult)
*Historical Fiction
With the recent death of her mother, Sam's focus is the farm, which her family will lose if they can't make one last payment. There's no time for her secret and unrealistic hope of becoming a photographer. But Sam doesn't know that an even bigger threat looms on the horizon.
On December 7, 1941, Japanese airplanes attack the US naval base at Pearl Harbor. Fury towards Japanese Americans ignites across the country. As Sam's family wrestles with intensifying discrimination and even violence, Sam forges a friendship with her neighbor Hiro Tanaka. When he offers Sam a way to resume her photography, she realizes she can document the bigotry around her. When the United States announces that those of Japanese descent will be forced into "relocation camps," Sam knows she must act or lose her voice forever. —Synopsis provided by Scholastic Press
If ever there was a book that was going to stick with you, Beneath the Wide Silk Sky would be it. In it, Emily Inouye Huey explores racism, family complexities and the power of friendship.In Beneath the Wide Silk Sky, a gorgeous cover sets the tone for what I consider one of the best YA novels I've read this year. Huey's lyrical prose draws you into a moving story that you won't soon forget.
NONFICTION
*Nonfocition
With recipes ranging from Biang Biang Mian (Hand-Pulled Noodles) to Steak Tacos with Charred Corn Salsa, Arepas to Congee, French Fries and Cheeseburger Sliders to Apple-Cider Donuts, this book features helpful sidebars to ensure that teens can learn more about why a recipe works, and how to take their recipes to the next level. —Synopsis provided by America's Test Kitchen Kids
There are a few things that immediately stand out when flipping through The Complete Cookbook for Teen Chefs. 1) It's chock full of photographs that not only show the finished recipes but how-to images, as well. 2) Each recipe is clearly labeled beginner, intermediate or advanced. 3) It's designed to teach as well as provide recipes. This is a comprehensive cookbook that features yummy food and is just as fun for adults as it is for teens. It's a great gift option for those looking for more independence in the kitchen.
Copyright © 2022 Cracking the Cover. Unless otherwise noted, all books — digital and physical — have been provided by publishers in exchange for honest and unbiased reviews. All thoughts and opinions are those of the reviewer.