Learn about one of the major players in the fight for equality in Love is Loud: How Diane Nash Led the Civil Rights Movement.
Diane grew up in the southside of Chicago in the 1940s. As a university student, she visited the Tennessee State Fair in 1959. Shocked to see a bathroom sign that read For Colored Women, Diane learned that segregation in the South went beyond schools — it was part of daily life. She decided to fight back, not with anger or violence, but with strong words of truth and action.
Finding a group of like-minded students, including student preacher John Lewis, Diane took command of the Nashville Movement. They sat at the lunch counters where only white people were allowed and got arrested, day after day. Leading thousands of marchers to the courthouse, Diane convinced the mayor to integrate lunch counters. Then, she took on the Freedom Rides to integrate bus travel, garnering support from Martin Luther King Jr. and then the president himself — John F. Kennedy. —Synopsis provided by Simon & Schuster/ Paula Wiseman Books
Love is Loud follows Diane Nash's life from birth until the late 1960s. What most people don't know — as author Sandra Neil Wallace writes in her author's note — is how key Diane was to the Civil Rights Movement. As a woman, Diane faced both racial and gender discrimination. She may not have been asked to give speeches, but she led major campaigns during the era.
Wallace writes Love is Loud as if talking directly to Diane: "You grow so strong and so determined, so convinced about love. As snow swirls above you and paper hearts fill shop windows that February day, you lead the way to Nashville's lunch counters." This approach lends an immediacy and importance to Diane's story, and propels the action forward.
Wallace's smooth prose is paired with Brian Collier's water and collage illustrations. Collier's use of color and texture make the images pop.
Back matter includes author and illustrator notes, a time line, a bibliography and ways readers can learn more about Diane. Two photographs of the leader — integrating a lunch counter and leading a silent march — give readers a glimpse of time and place.
Love is Loud is a beautiful picture book biography that's fascinating year-round but is perfect for discussing black and women's history.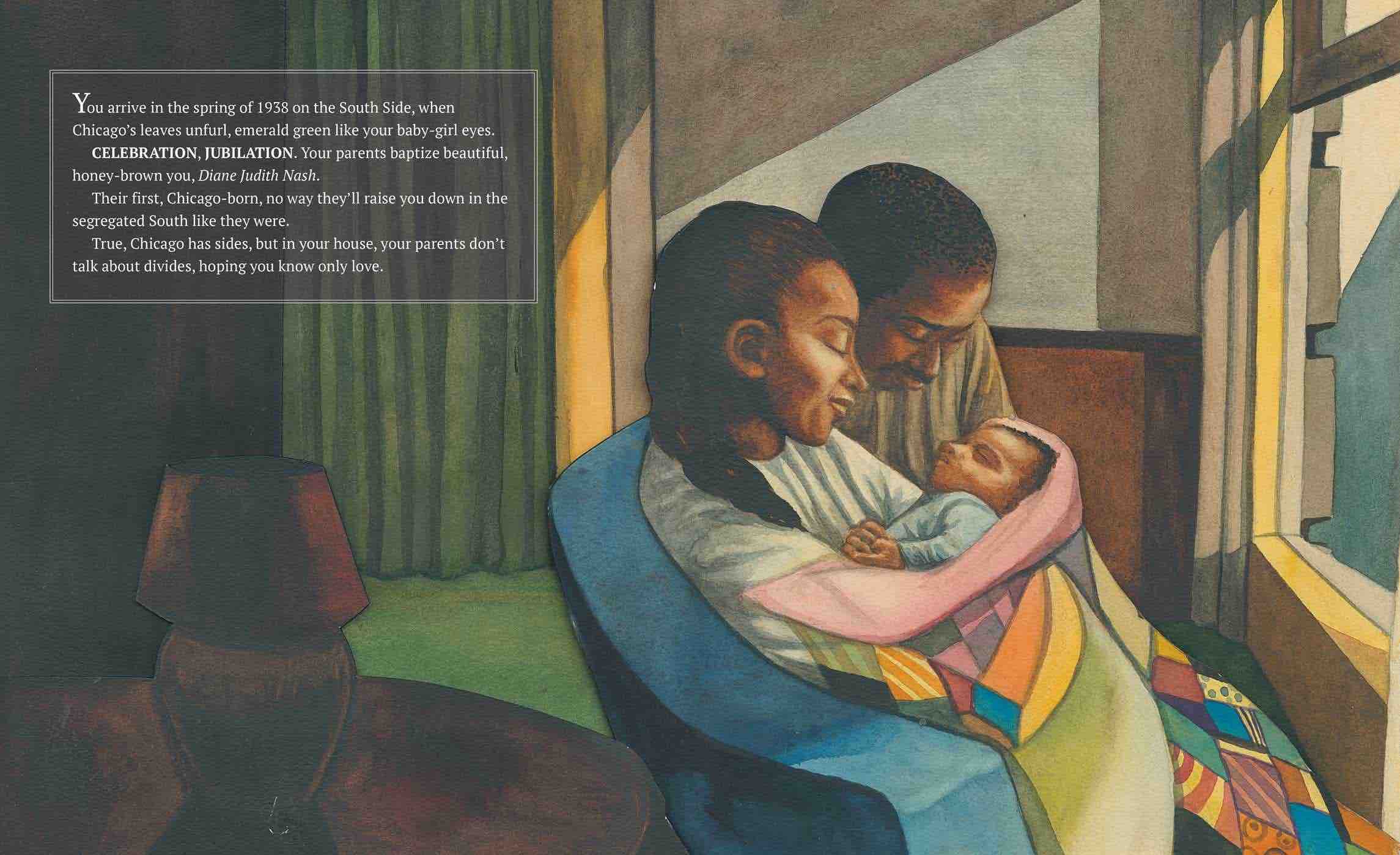 Copyright © 2023 Cracking the Cover. Unless otherwise noted, all books — digital and physical — have been provided by publishers in exchange for honest and unbiased reviews. All thoughts and opinions are those of the reviewer.