Learn more about groundbreaking astronomer and astrophysicist Cecilia Payne in The Fire of Stars, by Kirsten W. Larson and Katherine Roy.
Astronomer and astrophysicist Cecilia Payne was the first person to discover what burns at the heart of stars. But she didn't start out as the groundbreaking scientist she would eventually become. She started out as a girl full of curiosity, hoping one day to unlock the mysteries of the universe.
This biography parallels the kindling of Cecilia Payne's own curiosity and her scientific career with the process of a star's birth, from mere possibility in an expanse of space to an eventual, breathtaking explosion of light. —Synopsis provided by Chronicle Books
The Fire of Stars is a gorgeous picture book biography. Kirsten W. Larson's text is lovely. Her poem of an emerging star juxtaposed with Cecilia's journey is a genius move. Katherine Roy's accompanying illustrations further enhance the comparison. Roy's art is full of color and energy. It's beautiful.
A short, straight-forward biography of Cecilia, a timeline, and a fantastic, step-by-step look at how a star is born are included at the end of the book.
The Fire of Stars is an inspiring read that will appeal to fans of biographies as well as aspiring astronomers, scientists and engineers.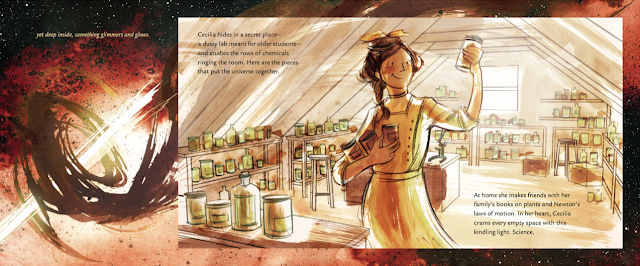 Copyright © 2023 Cracking the Cover. Unless otherwise noted, all books — digital and physical — have been provided by publishers in exchange for honest and unbiased reviews. All thoughts and opinions are those of the reviewer.