Easter is a week away, and books are a great option for Easter baskets. Though not all Easter specific, the following books are great choices. The books are listed in order of suggested age and synopses are provided by respective publishers. Reviews are by Jessica.
Introduce babies to 11 colors in this large and snuggly cloth book with eight different textures perfect for early tactile learning and developing fine motor skills. Bright, eye-catching illustrations of cute animals feature the primary colors, as well as secondary ones like gray, pink, and orange. Plush and cloth book are made of soft non-toxic and machine-washable fabric. —Synopsis provided by Twirl
This fun fabric book is a fun option for the littlest readers. Since it's fabric, you don't have to worry about breaking pages or it going in their mouths. Directions say to hand wash (although from my own experience where a similar book was puked on, delicate wash and air-dry work, too). If this book had been around when my daughter was born, I would have bought it, and I won't hesitate gifting it as well.
---
From the beloved author of Everyone Poops, a charming tale of three little chicks who are ready to explore the big, wide world together! Running in sunshine and in the rain, over grassy fields and past friendly neighbors, these chicks are as eager for adventure as they are to run back home into the arms of their caring parents at the end of a long day. —Synopsis provided by Chronicle Books
This sweet little board book introduces young readers to the ideas of adventure and discovery and mixes it with the love that comes with being at home. Simple text and some "bigger" vocabulary words (energetically, together) make for a fun read-aloud. Kids will love the colorful chicks.
---
PICK A PERFECT EGG, by Patricia Toht and Jarvis, Candlewick, Feb. 14, 2023, Hardcover, $17.99 (ages 3-5)
Pick a perfect egg with care—
Choose a white one nestled there.
Gather more and softly stack them.
Just be cautious not to crack them!
Pairing Jarvis's illustrations with Patricia Toht's rhythmic text, this holiday ode hops through a busy springtime day all the way to Easter Sunday. From the farm where you've carefully selected your eggs — eggs perfect for drawing on with crayon, for plopping into dyes and bejeweling — follow along as preparations continue for the much-awaited festivities. Then on Sunday, open your door and search for eggs of a different kind, filled with foil-wrapped chocolate, spinning tops, and jelly beans. —Synopsis provided by Candlewick
This fun picture book celebrates eggs and the (secular) role they play in Easter celebrations. Energetic and colorful illustrations draw readers in, and rhyming text makes it a fun read-aloud for kids and adults.
---
As your little girl or boy grows up and learns to read and write, the two of you can catch special memories in this journal as you swap stories, compare ideas, and explore things you love with each other! Letters, drawings back and forth, and interactive lists invite mother and child to reflect, write, and doodle about all of the things in their life together. With this unique journal for young kids just learning to read and write, mother and child will illustrate or write:
Answers to thought provoking journal prompts and activities―Coloring and drawing activities; Circle your favorite prompts; many more fun activities!
Special memories―Here is a picture of something I worked really hard to learn; When I was little, I liked to
Personal perspectives―I wake up at; I go to sleep at; I dream about —Synopsis provided by Sourcebooks Explore
Though the suggested age range for this journal is 5-8, it will probably appeal to kids up to 10. My 9-year-old is very interested in doing this together, and she'll be able to be the one in charge, which will make her all the happier. These charming journals are approximately 140 pages, and feature fun prompts that cover everything from feelings to favorite pizza toppings and everything in between. It's a great opportunity to bond and learn a little more about each other.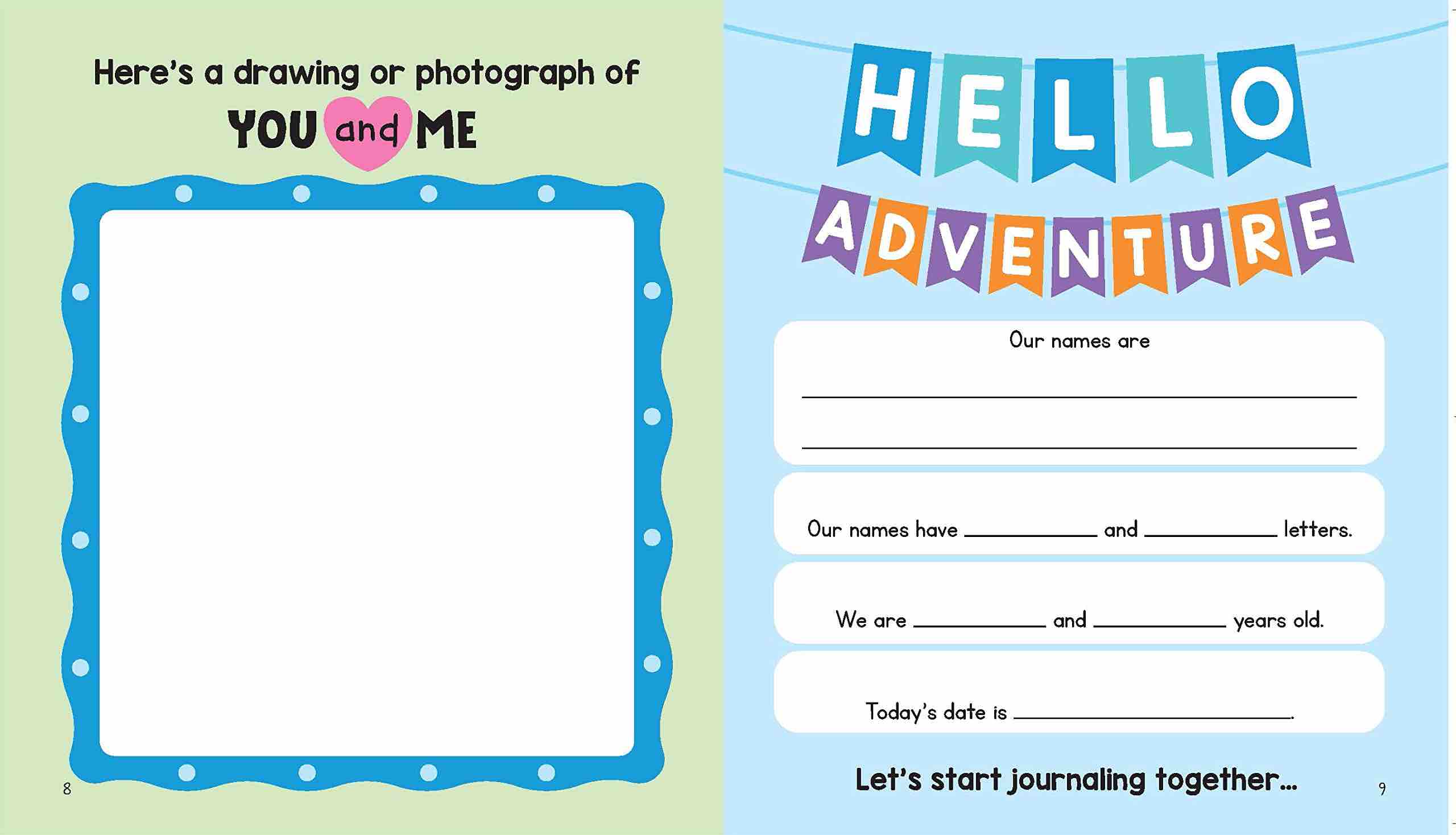 Copyright © 2023 Cracking the Cover. Unless otherwise noted, all books — digital and physical — have been provided by publishers in exchange for honest and unbiased reviews. All thoughts and opinions are those of the reviewer.