Earth Day is this Saturday (April 22), and what better way to celebrate our planet than by sharing books that honor this great big orb we call home. The following books are listed in order of suggested age and range from baby to middle reader.
WE ARE EARTHLINGS, by Rachel Qiuqi, Little Simon, March 7, 2023, Board Book, $8.99 (ages 0-4)
Earthlings come in all shapes and sizes in this gentle board book about caring for the planet we call home.
We are Earthlings!
We laugh. We play. We love.
We may not all look alike,
or breathe alike,
or sleep alike.
But we all live here, on Earth.
From the smallest ant to the largest whale, from a newborn baby to a grandparent, we are all Earthlings. And since we all live on Earth, we must take care of it, too. But how? We can help it grow. We can keep it clean. We can give it love. —Synopsis provided by Little Simon
This gentle board book features sweet illustrations and mostly basic text that opens the door to age-appropriate discussion and questions. For example, "This is how a bat sleeps. How does a human sleep? How about a dog or cat?" Further into the book, full paragraphs go into further detail on how we can help things grow and keep the planet clean. The book's shape — mimicking the Earth's — adds to its fun design.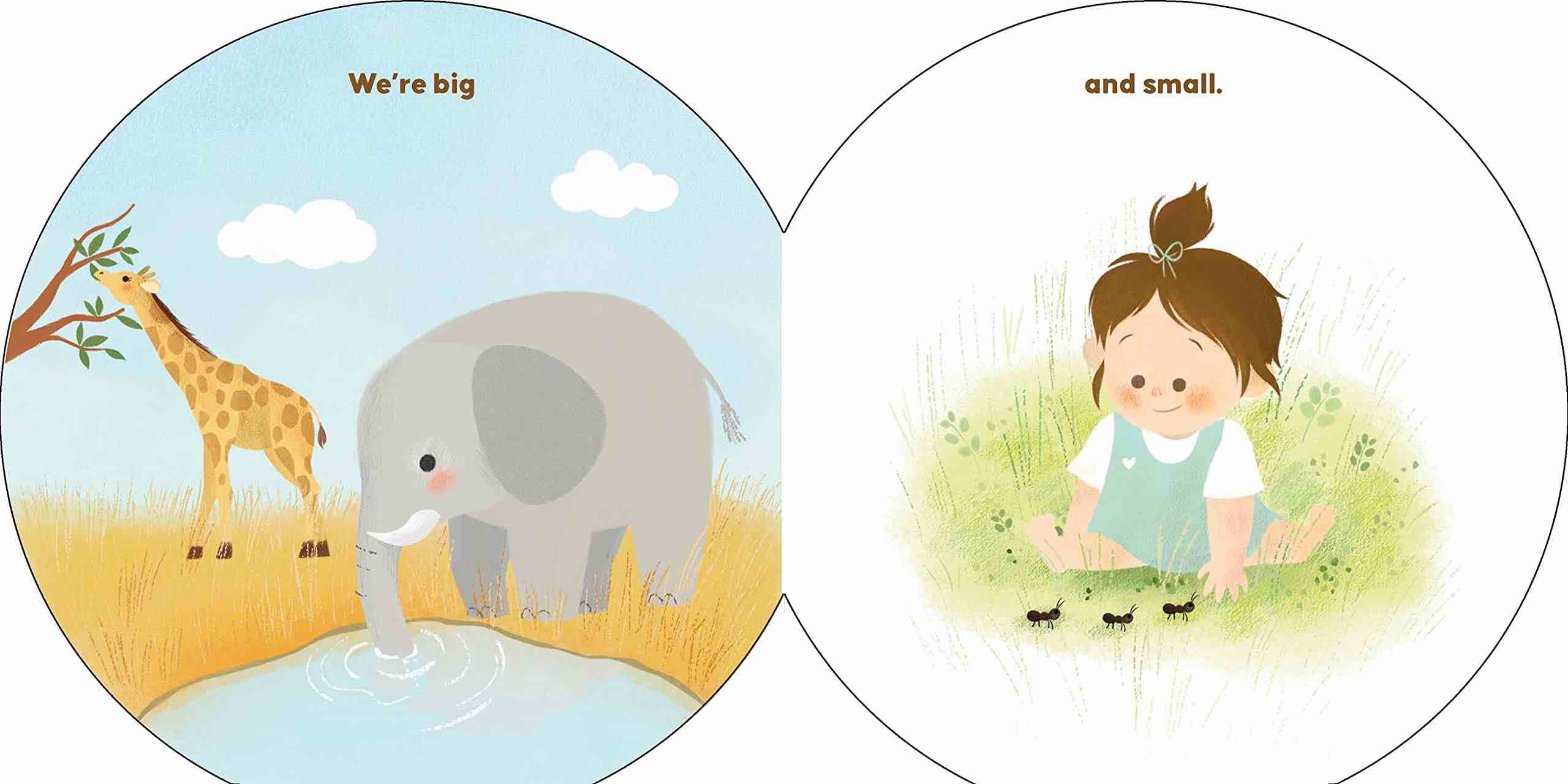 ---
THIS IS THE PLANET WHERE I LIVE, by K.L. Going and Debra Frasier, Beach Lane Books, March 21, 2023, Hardcover, $18.99 (ages 4-8)
This picture book celebrates and honors the interconnectedness of everything here on planet Earth. The planet where we live is full of people, animals, insects, birds, trees, clouds, rain, oceans — and everything is interconnected. —Synopsis provided by Beach Lane Books
This is the Planet Where I Live features fairly basic text — probably too easy for an 8-year-old — and stunning photo-collaged illustrations. Bold colors and graphic design pull you in, and detail sets you exploring. This book would be a fun read-aloud, especially in a classroom or creative setting.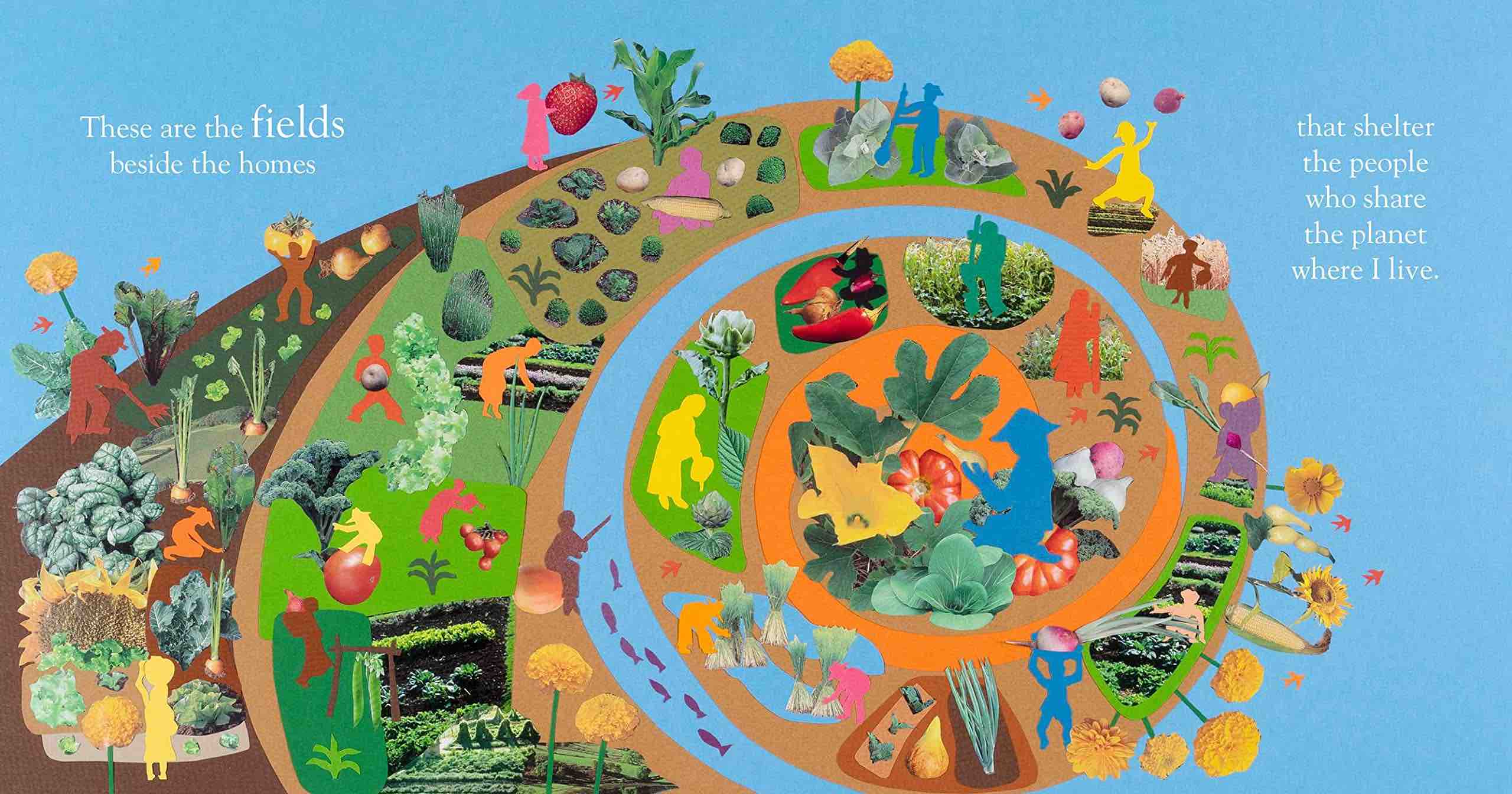 ---
Discover the true story of how a 1969 fire in one of the most polluted rivers in America sparked the national Earth Day movement in this nonfiction picture book by author Barry Wittenstein and illustrator Jessie Hartland.
After the Industrial Revolution in the 1880s, the Cayuhoga River in Cleveland, Ohio, caught fire almost 20 times, earning Cleveland the nickname "The Mistake on the Lake." Waste dumping had made fires so routine that local politicians and media didn't pay them any mind, and other Cleveland residents laughed off their combustible river and even wrote songs about it.
But when the river ignited again in June 1969, the national media picked up on the story and added fuel to the fire of the recent environmental movement. A year later, in 1970, President Nixon created the Environmental Protection Agency — leading to the Clean Water and Clean Air Acts — and the first Earth Day was celebrated. It was a celebration, it was a protest, and it was the beginning of a movement to save our planet. —Synopsis provided by Simon & Schuster/Paula Wiseman Books
What better way to celebrate Earth Day than to learn more about the events that sparked it. Wittenstein's text is smooth and accessible. His passion for the topic is clear and brings some immediacy to the topic. Hartland's stylized illustrations have a lovely folk-art feel to them that really help convey what's going on. An extensive author's note, environmental timeline, bibliography, and information to learn more are included at the end.

---
WHEN THE SKY GLOWS, by Nell Cross Beckerman and David Litchfield, Beach Lane Books, Sept. 13, 2022, Hardcover, $18.99 (ages 4-8)
Uncover the science behind the beautiful and vast array of natural events that make the sky glow all over the world in this enlightening nonfiction picture book. Sunrises and lightning storms, rainbows and volcanoes, meteors and eclipses — these events that light up the sky might seem like magic. But there is a scientific explanation for each. —Synopsis provided by Beach Lane Books
When the Sky Glows celebrates the natural phenomenon that make our planet Earth. Rolling text pushes the action forward, inviting readers to explore further in. Luminous illustrations echo the narrative, truly bringing the words to life.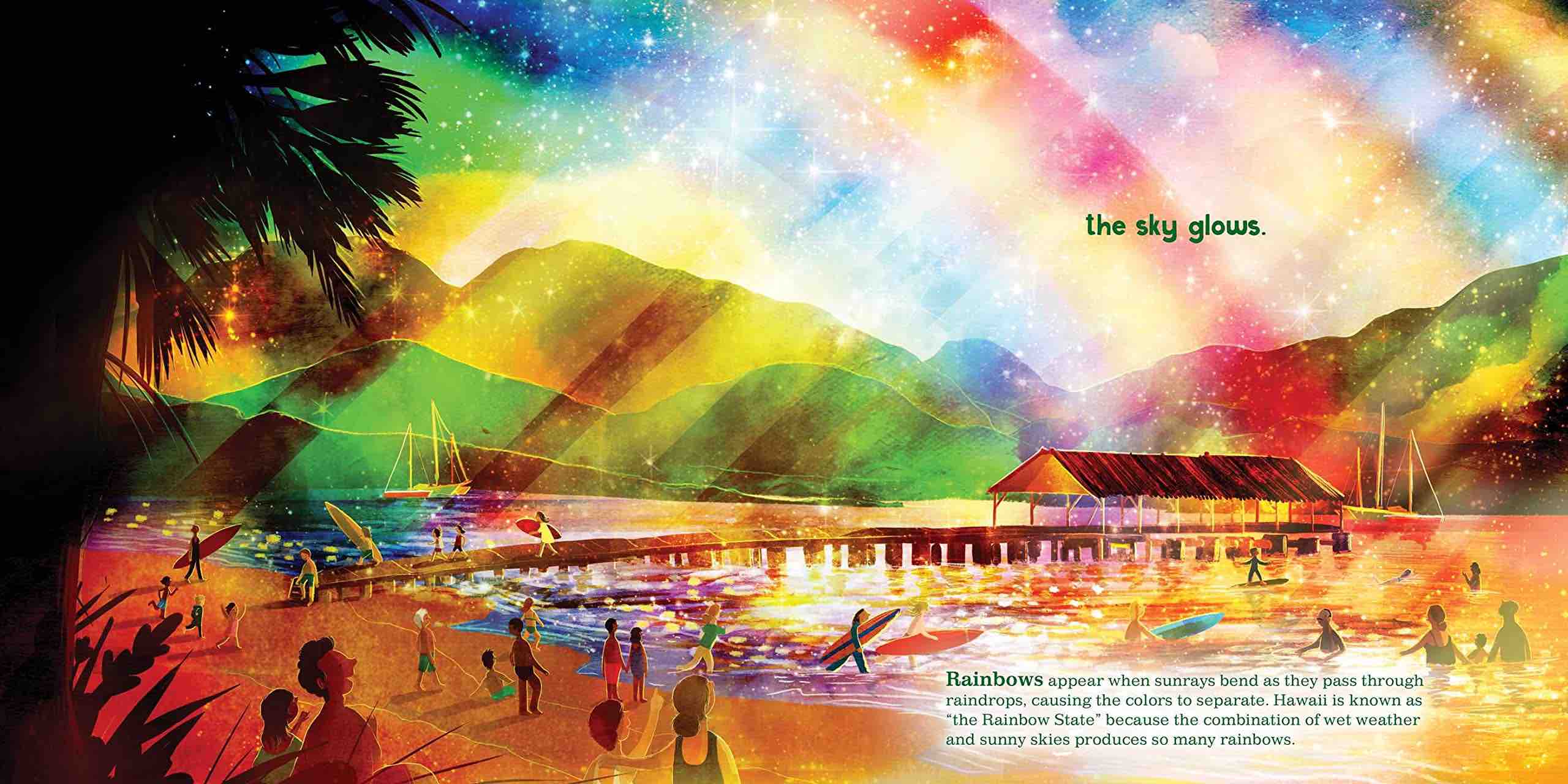 ---
Take a magical ride around the globe to see the wonders of a single moment in a story illuminating our precious and fragile natural world.
Our planet is always turning. It may be midnight in London, but in different time zones other living things are waking up, ready to hunt or feed or fight. As the clock strikes twelve, two sisters are spirited away on a journey to glimpse, in the span of a moment, extraordinary biodiversity: a mother polar bear and her cubs hunting seals in Svalbard, tiny turtles in India following the moon toward the sea, and enormous whale sharks gulping plankton in the Philippines. Quietly profound, this glowing tribute to the natural world — and reminder of its fragility — blends accessible science, lyricism, sweeping artwork, and a call for climate awareness into an ideal companion book for Earth Day, or any wondrous day on Earth. —Synopsis provided by Candlewick
One World calls to the reader to join in an adventure exploring the world. Bright and inviting text is fun to read aloud or independently. Detailed illustrations are full of movement and emotion. It's a gorgeous read that is sure to become a family favorite. An author's note, artist's note, explanation of climate change and things people can do to help are included at the end.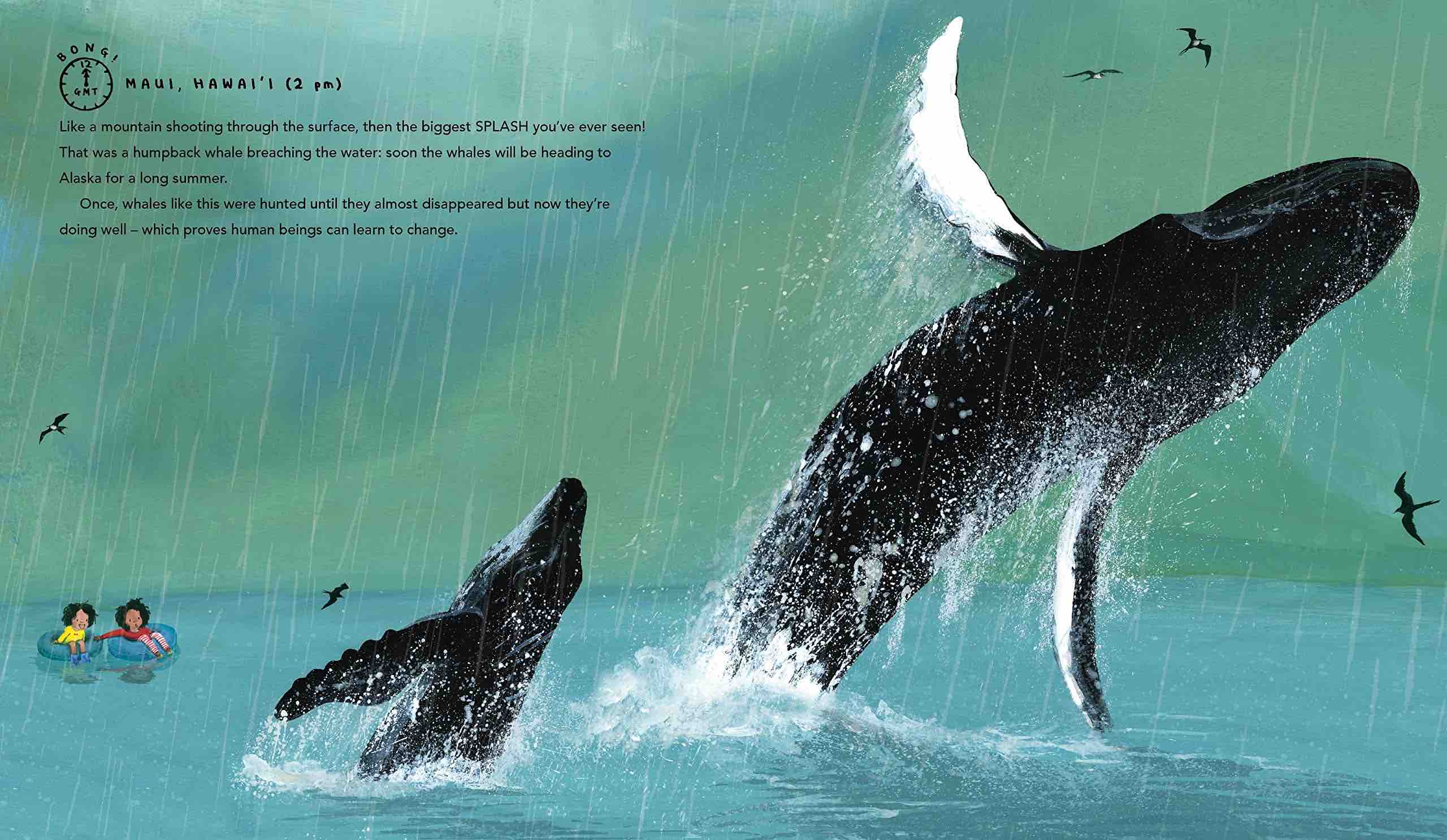 ---
Sixteen scientists. Protecting our planet. Making science more equitable.
Scientists who collect microbes from surfers' skin, who use radar sensors to gather data miles away, who combat inequality by pushing for cleaner air policies. Each with their own story, all working to make life better for future generations.
Celebrated author Dana Alison Levy profiles 16 people, all studying different elements of the earth's landscape, animals, and climate, who defy stereotypes of who can be a scientist. From analytical chemists to volcanologists, from global experts to recent graduates, these scientists share what they were like as young people, how they got where they are now, and what they — and the rest of us — can do to help the planet.
Based on extensive interviews and featuring infographics and personal photos, Breaking the Mold offers a snapshot of the people and organizations fighting to make science more equitable. Back matter includes advice for readers interested in science careers, DIY projects, paths to community involvement, and more.
Books for a Better Earth are designed to inspire children to become active, knowledgeable participants in caring for the planet they live on. —Synopsis provided by Holiday House
Breaking the Mold is a great option for kids who have moved past picture books and want to learn about climate change and science in greater detail. The utilization of color and white space helps set information apart, and color photographs help bring topics to life. Sidebars and info boxes provide further detail. And the text is informative and accessible. This is exactly the type of book my 9-year-old would peruse over and over again.
Copyright © 2023 Cracking the Cover. Unless otherwise noted, all books — digital and physical — have been provided by publishers in exchange for honest and unbiased reviews. All thoughts and opinions are those of the reviewer.