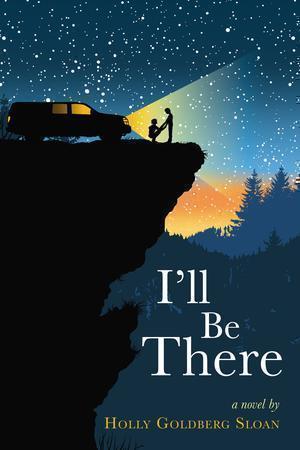 "I'LL BE THERE," by Holly Goldberg Sloan, Little, Brown Books for Young Readers, May 17, 2011, $17.99 (young adult)
If you're looking for a strong, character-driven new read, then "I'll Be There" by Holly Goldberg Sloan may just be the book for you.
Meet Sam Border, a teenager who's had to be a man for most of his young life. Sam's unstable father took him, and his little brother, Riddle, away from their mother when they were young. Constantly on the move, Sam never finished elementary school, but he loves to read anything he can get his hands on. Quiet and thoughtful, Sam loves music and has a unique and true talent for it.
You wouldn't think it possible, but Riddle is even quieter than Sam. While Sam is tall and strong, Riddle is small and sickly. He's had breathing problems since for as long as anyone can remember and has a far-off look about him. Sam isn't the only one with talent, however. Riddle has the amazing ability to draw the inside of things in intricate detail. The working parts of mechanisms are much easier to understand than the outside things around him.
Sam and Riddle are a pair. It's rare to see one without the other, and it's almost as if the two can read each other's minds. Riddle worships Sam and Sam would do anything to protect his brother.
Emily Bell considers herself ordinary. There's nothing particular that makes her stand out. She's an OK athlete, with a position on her high school soccer team, and she sings in her church choir, though more because her father is chorister than any particularly outstanding talent.
When Sam and Emily's paths cross, it's like destiny. There's an unexplainable connection between them unlike anything either has ever experienced. Two people have never come from more different backgrounds, but somehow they just "work."
Sam and Emily's connection goes beyond the two of them, and soon blossoms to include those they know and love best.
"I'll Be There" is a complex book on a number of levels. Like real life, the character's personal lives are just as complex and nuanced as the events that affect them.
This may be a debut novel for Holly Goldberg Sloan, but her previous experience writing and directing a number of successful family feature films definitely shows. There are some great cinematic moments here that will play out in a reader's mind like a movie on a big screen.
The story is compelling and there are some moments of extreme action and tension. Some story sequences feel a little contrived or too convenient, but Sloan's well-thought-out characters more than make up for these small flaws. Love 'em or hate 'em — reader's will definitely find both — "I'll Be There's" players are first rate.