CHEF EDNA: QUEEN OF SOUTHERN COOKING, EDNA LEWIS, by Melvina Noel and Cozbi A. Cabrera, Harry N. Abrams, April 18, 2023, Hardcover, $18.99 (ages 4-8)
Learn about an African American culinary legend in Chef Edna: Queen of Southern Cooking, Edna Lewis, written by Melvina Noel and illustrated by Cozbi A. Cabrera.
Edna loved to cook. Growing up on a farm in Freetown, Virginia, she learned the value of fresh, local, seasonal food from her Mama Daisy, how to measure ingredients for biscuits using coins, and to listen closely to her cakes to know when they were done. Edna carried these traditions with her all the way to New York, where she became a celebrated chef, who could even turn traditional French food into her signature Southern style. The author of several cookbooks and the recipient of numerous awards, Chef Edna introduced the world to the flavors of her home. —Synopsis provided by Harry N. Abrams
Author Melvina Noel first learned about Edna while researching lesser-known African Americans who have had a positive impact on society. And what an impact Edna had. From her bold and unique sense of style to her warm and comforting cooking, she was much sought after.
Noel's well-researched book echo's Edna's cooking — pure, lots of love and a feeling of home. Noel's mix of short and long sentences and paragraphs create a nice ebb and flow, adding interest and variety. Illustrator Cozbi A. Cabrera's luminous illustrations bring Noel's words to life. Her illustrations are full of texture and life.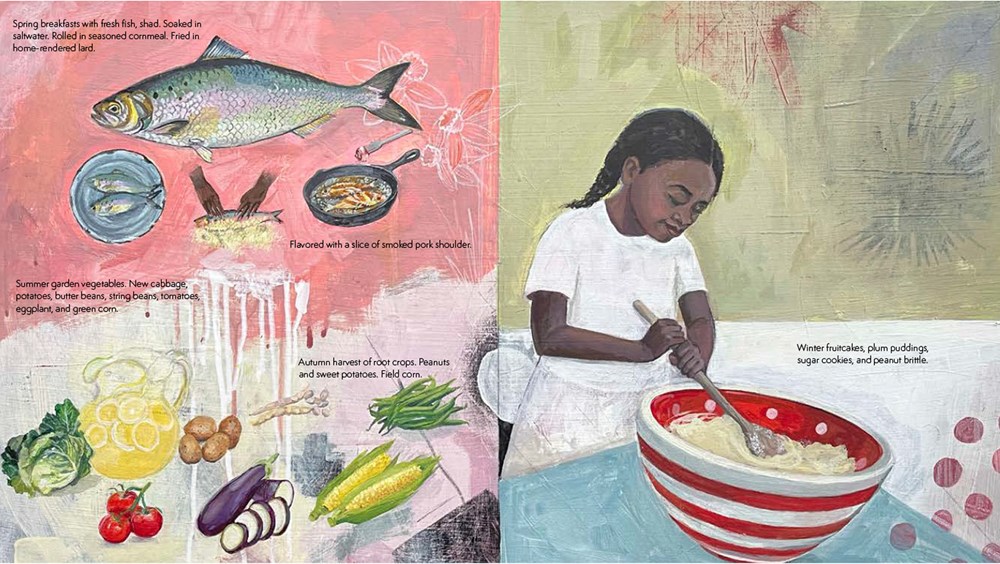 ---
About the creators:
Melvina Noel loves to write and to bake cakes. Thanks to Edna, she listens to her cakes to tell her when they are done. Noel lives in Virginia. This is her debut picture book.
Cozbi Cabrera is an award-winning illustrator whose gorgeous books-including Exquisite: The Poetry and Life of Gwendolyn Brooks, published by Abrams-have garnered a Coretta Scott King Honor as well as a Caldecott Honor for illustration. She lives in Illinois. Visit her website: cozbi.com, on Instagram and Twitter: @cozbi
Copyright © 2023 Cracking the Cover. Unless otherwise noted, all books — digital and physical — have been provided by publishers in exchange for honest and unbiased reviews. All thoughts and opinions are those of the reviewer.