RAMEN FOR EVERYONE, by Patricia Tanumihardja and Shiho Pate, Atheneum Books for Young Readers, March 14, 2023, Hardcover, $18.99 (ages 4-8)
A boy sets out to make ramen just like his dad — with mixed results — in Ramen for Everyone, by Patricia Tanumihardja and Shiho Pate.
Hiro loves ramen. Every Sunday, Hiro's dad makes delicious, perfect ramen for dinner, using a recipe passed down from his dad. There's nori seaweed, briny like the ocean; nitamago egg, the yolk golden like the sun; and chashu pork so tender, it melts in your mouth. Yum!
Hiro's dream is to make his own perfect bowl, and he's sure he can do it after watching his dad and taking notes. But when he gets started, things don't go according to plan. The seaweed crumbles! The eggs slip through his fingers! The pork falls apart! Hiro is worried he'll never be a real ramen chef…but thanks to his father's wise advice and his own creativity, Hiro discovers that every person's perfect bowl of ramen is unique. —Synopsis provided by Atheneum Books for Young Readers
Ramen for Everyone is a delightful picture book for kids who have any interest in food. Author Patricia Tanumihardja perfectly captures Hiro's passion for being in the kitchen. He wants to be just like his dad! He loves creating! He thinks he can replicate everything perfectly on his first try. His enthusiasm — and disappointment — resonate throughout.
Illustrator Shiho Pate's work is bright and expressive. Her step-by-step illustrations of how ramen is made are excellent. There's an almost comic-book style look to some of them that will really appeal to readers.
Ramen for Everyone is plain fun and  would make a great addition to any home library.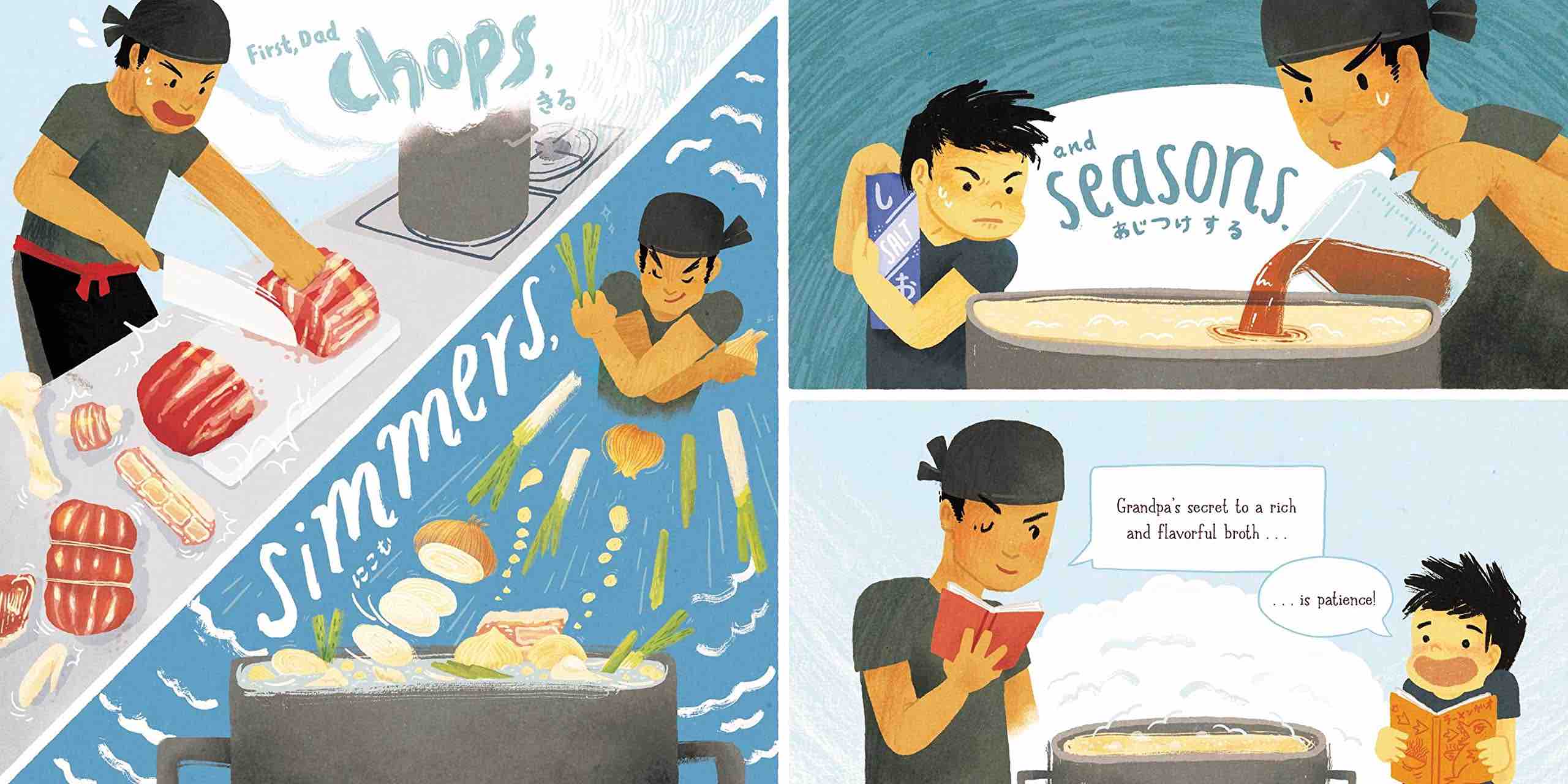 Copyright © 2023 Cracking the Cover. Unless otherwise noted, all books — digital and physical — have been provided by publishers in exchange for honest and unbiased reviews. All thoughts and opinions are those of the reviewer.