ANIMALS IN PANTS, by Suzy Levinson, Kristen and Kevin Howdeshell, Harry N. Abrams, April 11, 2023, Hardcover, $17.99 (ages 5-7)
Ever wonder what animals would look like and do if they wore pants? Wonder no more. Animals in Pants, by Suzy Levinson and Kristen and Kevin Howdeshell explores this silly idea.
CAT-ITUDE
This cat wears pants.
They're custom-made
in tiger-striped velour.
You can't ignore
a cat in pants.
That's what he wears them for.
 What? You've never seen animals in pants? A dog in yoga pants, a goat in overalls, a yak in slacks? Animals in Pants presents a parade of poems about animals wearing perfectly pressed pants. —Synopsis provided by Harry N. Abrams
If you're in the mood for some silliness, then Animals in Pants is a great choice. Suzy Levinson's bouncy poems are a joy to read aloud. Her concept really gets imaginations going, and would be fun to read aloud with or without pictures in a classroom.
That said, Kristen and Kevin Howdeshell's images really bring the poems to life. Their animals have great personality and movement. Their stylized illustrations and chosen color palate take the writing over the top.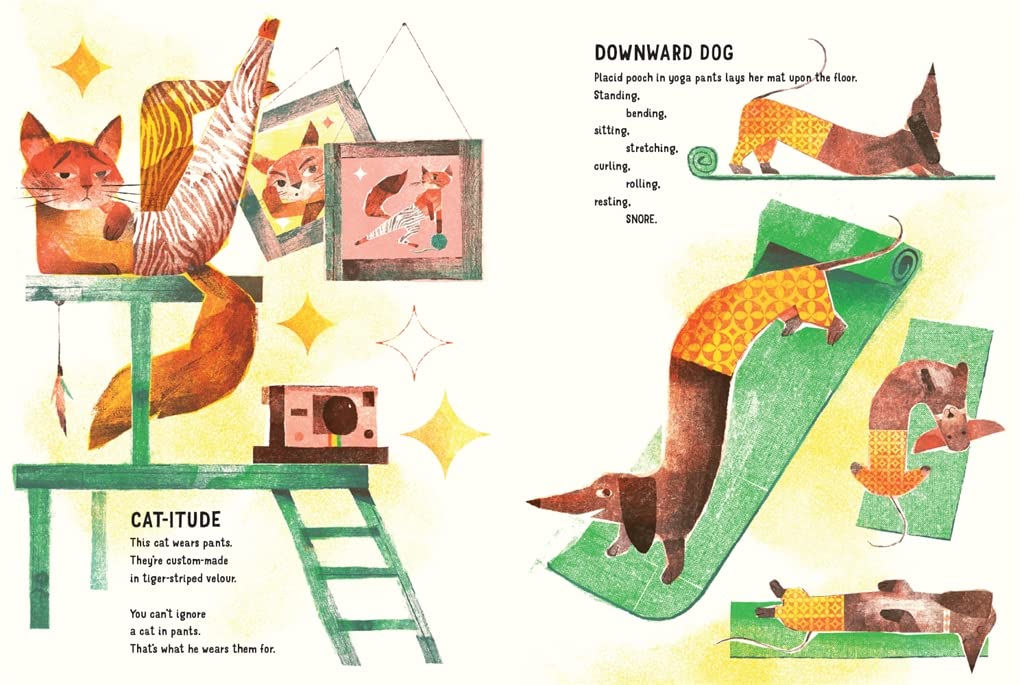 Copyright © 2023 Cracking the Cover. Unless otherwise noted, all books — digital and physical — have been provided by publishers in exchange for honest and unbiased reviews. All thoughts and opinions are those of the reviewer.