The most important year of author Derek Taylor Kent's life was when he was 11 years old.
"I had an amazing teacher named Ms. Russell who was incredibly encouraging and gave us tons of freedom to work on our own projects outside of class for extra credit," the "Scary School" author told me in an email interview. "My friends and I basically formed our own comedy troop and would write and perform skits just about every single day (we got a lot of extra credit)."
Ever since that year in sixth grade, Derek has always felt like that same 11-year-old kid when writing, "just trying my hardest to make my class laugh," he said. "I can still put myself in that mindset and really connect with the mentality and humor of that age group."
Derek remembers being the "writer" of his classes since the time he was 7. He looked forward to creative writing time and wrote the longest stories because he never wanted to stop.
"I was also the weird kid who, during 'free reading' time, would actually sit there and read the dictionary," he said. "That continued through school. I was always very shy, so writing was my outlet to connect with my classmates. I could always make them laugh with my silly stories.
It was at the age of 15 that Derek seriously began writing children's books and thinking of writing professionally. But it was the Harry Potter series, which Derek began reading in college, that really got him started writing novels. J.K. Rowling's unique world made him want to create his own.
Derek's latest book, "Scary School," which comes out June 21, is about a school where just surviving until lunch is considered a good day, and it's narrated by a recently deceased 11-year-old, who now goes by the name of Derek the Ghost. It's a tongue-in-cheek book that reminiscent of "Sideways Stories from Wayside School," which the author says was a huge influence.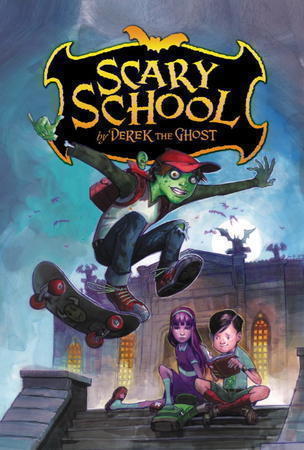 The idea for "Scary School" came while Derek was working on his first middle-grade novel, "Rudy and the Beast — Book 1: My Homework Ate My Dog." The original title was "Scary School — Book 1: My Homework Ate My Dog," but the "Scary School" part wasn't a big part of the book.
"I thought of the title and quickly realized it was a miracle that nobody had used it yet, so I thought I better use it before someone else does," he said.
"Rudy and the Beast" was sent to HarperCollins, which ultimately passed on the book. But the editor liked Derek's writing and told him she saw a market for a book called "Scary School." She suggested writing that book, making it more school-centric and lighter. Derek wisely took her advice.
"I wrote a new book called 'Scary School,' which when you think about it, kind of writes itself," Derek said. "If there were an actual 'scary' School that existed where kids went to school with horrible monsters, what kind of place would it be? It would be ridiculous. And that's where all the humor comes from."
But "Scary School" is not just Derek's book. It was really written, he said, by Derek the Ghost. "I'm technically just his ghost whisperer (dead Dereks can only speak to living Dereks). Derek the Ghost was an 11-year-old student at Scary School who died when an experiment in science class went terribly wrong. However, he came back as a ghost, and that means he still had something left to accomplish. He realized that it was his destiny to write about Scary School and all the terrible, wonderful things that go on there, so he haunts the hallways of Scary School writing down everything he sees."
In many ways "Scary School" is a satire of our current education system, but, Derek says, kids don't care about that. "Kids should really like it because throughout the series, we follow a class of kids who manage to find a way to not only survive, but thrive at Scary School facing increasingly improbably dangers and catastrophic events. It's not only the kids' ingenious ideas, but also their friendships and support of one another that makes them able to get through and overcome the daily horrors."
Though it's fiction, there are parts of "Scary School" that children will find themselves relating to. When Derek transferred schools going into the seventh grade, it was a big move. He attended the same elementary school for seven years, and spent the entire time with the same group of kids. Together, they were like family.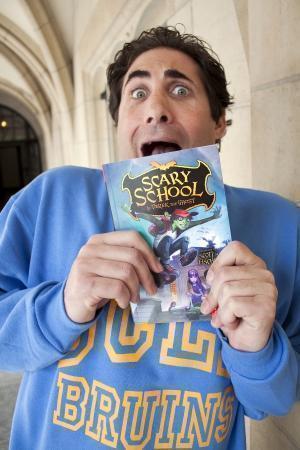 "Then I went to a new school where I didn't know anybody and it was very traumatic," he said. "I was scared to death every day, and so I really think I try to convey those feelings about being scared in school, which any kid, especially those who have to go to a new school, can relate to. 'Scary School' amplifies those feelings and hopefully puts things in perspective for the young reader — 'Hey, at least my teacher isn't a hungry vampire. Things could be worse.'"
First and foremost, Derek wants readers of his books to laugh a lot. After that, he hopes kids will be able to feel better about their own school situations when they compare it to the insanity that Scary School students go through. "There are also many valuable life lessons to be learned in each chapter, which, when you read the book, is big inside joke."
"Scary School" is a series. Derek has already finished Book 2 and is getting started on Book 3. Book 2 takes everything to a whole new level, Derek says. "While I had to focus on character introductions in Book 1, in Book 2, I was really able to take the favorite characters and put them into an absolutely crazy storyline that could only happen at Scary School."
Derek says to make sure to read the SECRET CHAPTER found only at the website — ScarySchool.com — to pick up where Book 1 leaves off.
Derek took a lot of time and care to answer all of my questions. Read a complete transcript of the Q&A, including Derek's favorite character in the series and books he remembers from his own experiences as a young reader.