Learn the stories behind some of the best-known works of art in Splat!: The Most Exciting Artists of All Time, by Mary Richards. 
Splat! is the history of art at its most exciting and outrageous. Organized by artist and covering key events and major movements such as the Renaissance and impressionism to surrealism and contemporary art, it is a valuable resource for young art lovers.
Each artist is introduced with bulleted facts including their country of origin, most famous works, the movement they belonged to, techniques they employed, and the greatest challenges they faced in creating their art. This overview offers further insight into who these artists were and how they changed the course of art history.
 Here are Michelangelo and the High Renaissance; Pieter Bruegel and his paintings of everyday peasant life; Édouard Manet and the shock of impressionism; and Marcel Duchamp and the Dada revolution. Children can also learn the life stories of artists, such as Caravaggio, Johannes Vermeer, Henri Rousseau, Vincent van Gogh, Wassily Kandinsky, and Frida Kahlo, who dared to imagine new ways of depicting the world. Illustrated in color throughout. —Synopsis provided by Thames & Hudson
Splat! is a great introduction to art through the ages. The book is ordered chronologically, helping readers to see how art has evolved through time. Author Mary Richards begins with a colorful timeline and a brief section on art in the beginning (cave paintings to painted churches), and then really gets started with Michelangelo. From there, she highlights 19 more artists and ends with a section on how artists are continuing now to push the boundaries.
Richards has done a fantastic job making the art and artist accessible through her smooth prose. Equally as important is the layout of each page. Bold choices in pagination — inclusion of white space and graphic elements — help draw your eye around the page while providing natural resting spots throughout.
My kid loves Splat! and enjoys flipping to her favorite sections. It's a great option for kids who already love art or are new to the subject. It's one of those books that you won't mind having out when company is around. It's lots of fun for all ages.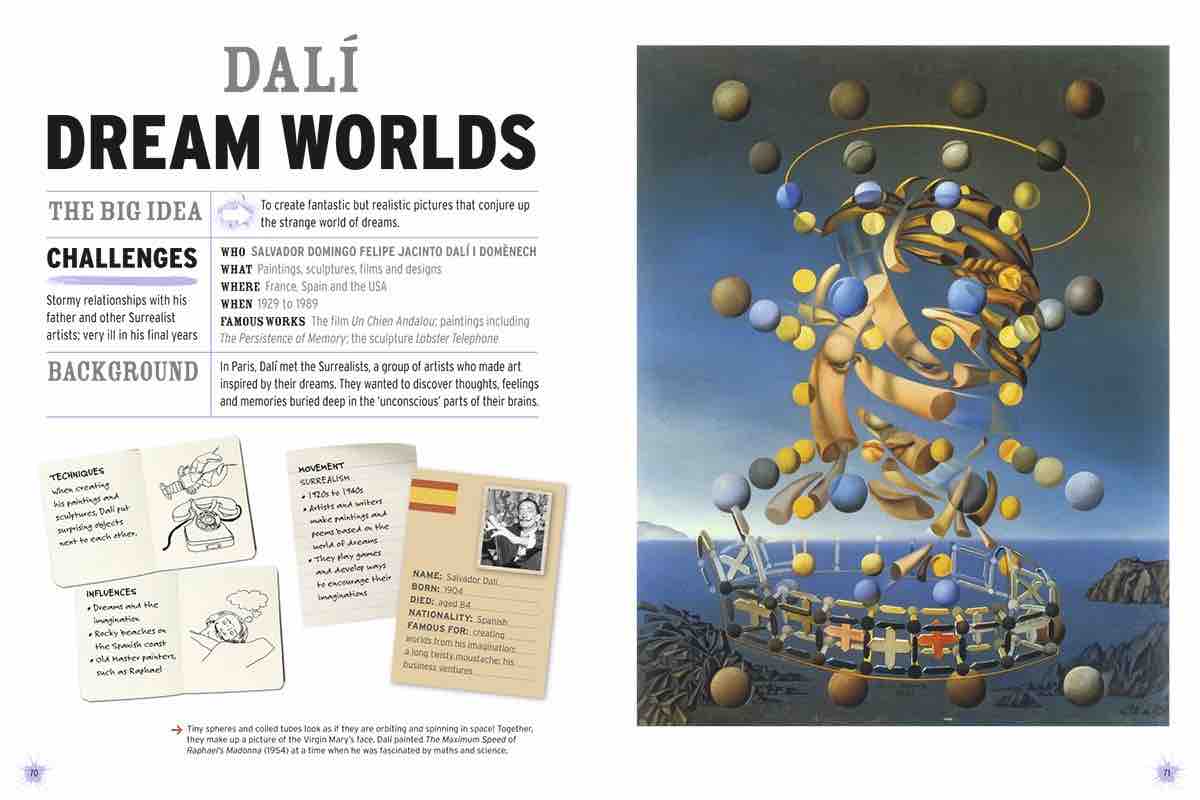 Copyright © 2023 Cracking the Cover. Unless otherwise noted, all books — digital and physical — have been provided by publishers in exchange for honest and unbiased reviews. All thoughts and opinions are those of the reviewer.