MEXIKID, by Pedro Martín, Dial Books, Aug. 1, 2023, Hardcover, $24.99, Paperback, $14.99 (ages 10 and up)
Author Pedro Martin shares the emotions and adventures behind moving his abuelito to the United Stated in his memoir, Mexikid.
Pedro Martin has grown up hearing stories about his abuelito — his legendary crime-fighting, grandfather who was once a part of the Mexican Revolution! But that doesn't mean Pedro is excited at the news that Abuelito is coming to live with their family. After all, Pedro has eight brothers and sisters and the house is crowded enough! Still, Pedro piles into the Winnebago with his family for a road trip to Mexico to bring Abuelito home, and what follows is the trip of a lifetime, one filled with laughs and heartache. Along the way, Pedro finally connects with his abuelito and learns what it means to grow up and find his grito. —Synopsis provided by Dial Books
Mexikid is a road trip like no other. From laugh-out-loud hijinks to gross-out moments and everything in between, it's a journey that readers won't soon forget.
Pedro is a dynamic storyteller. Because Mexikid is a memoir, Pedro's voice is there from the start. The story rings with authenticity. It almost feels like you're at a family gathering listening to the story around the dinner table.
The story unfolds through a blend of cartoon, comic-style illustrations that are bold and full of exuberance.
Mexikid is the story of a multi-generational, immigrant family that's full of love, laughter and bigger-than-life lore. It's a heartwarming read that readers will gobble up.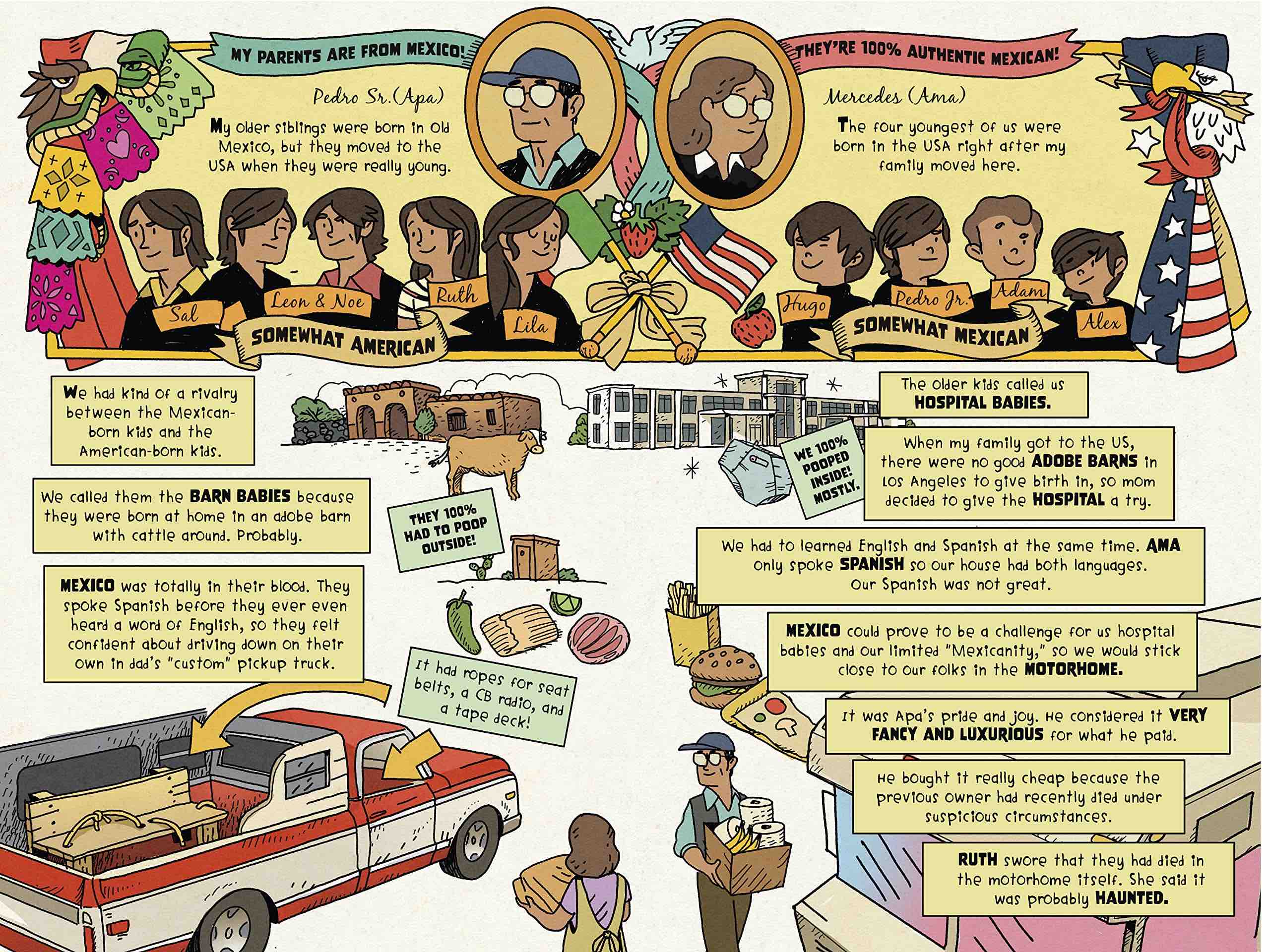 Copyright © 2023 Cracking the Cover. Unless otherwise noted, all books — digital and physical — have been provided by publishers in exchange for honest and unbiased reviews. All thoughts and opinions are those of the reviewer.