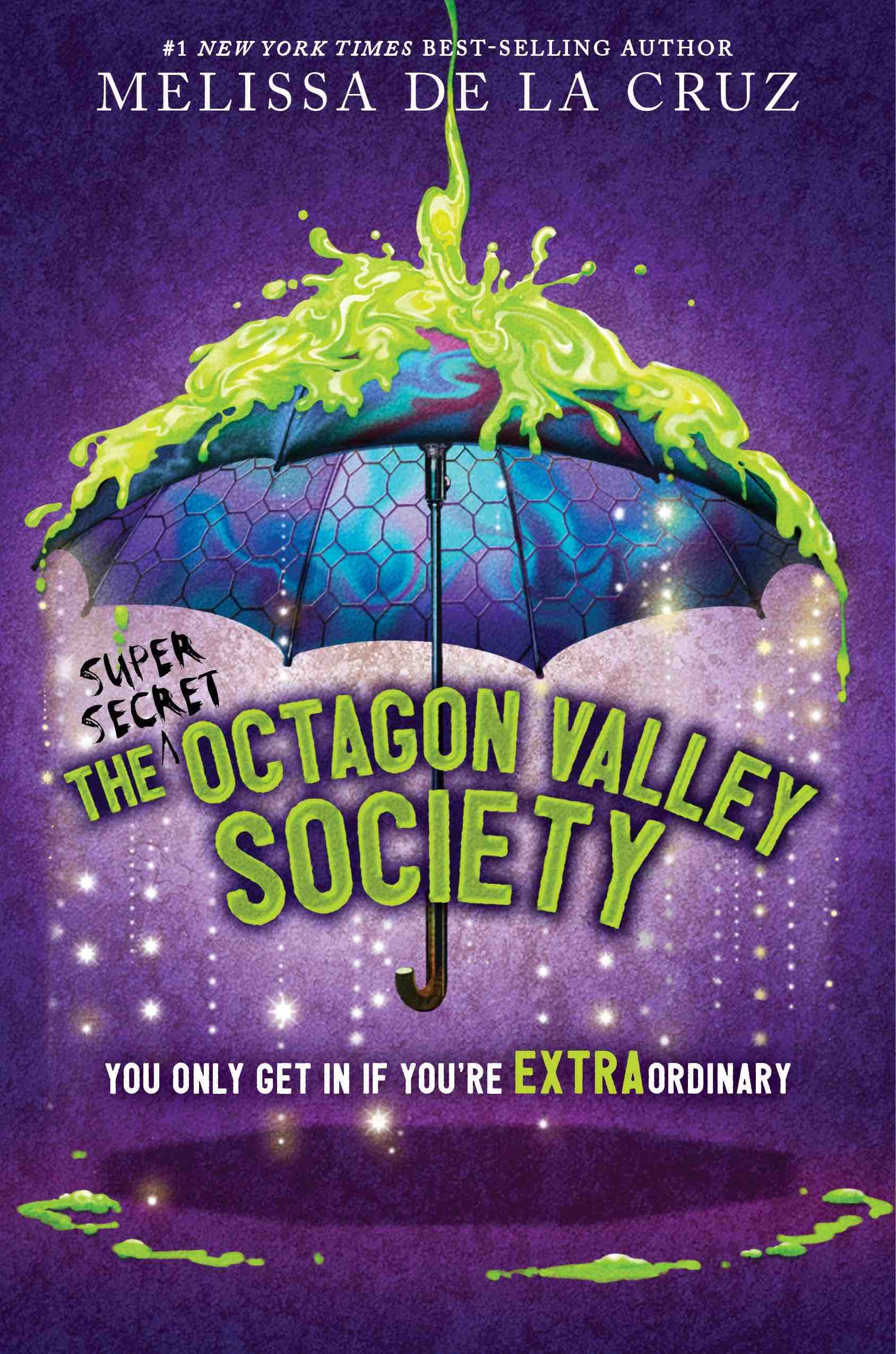 THE (SUPER SECRET) OCTAGON VALLEY SOCIETY, by Melissa de la Cruz, Disney Hyperion, Sept. 5, 2023, Hardcover, $17.99 (ages 8-12)
Eight kids find out if they are truly extra in The (Super Secret) Octagon Valley Society, a new middle-grade adventure by Melissa de la Cruz.
You only get in if you're EXTRAordinary….
After passing an intense exam, Edwin Edgefield becomes one of the lucky few to attend an exclusive weekend at the mysterious high-tech institute of the uber-famous-ultrabazillionaire-genius-recluse Onasander Octagon. Edwin hopes he'll meet other kids like him — kids who will accept him even though he's got a photographic memory, genius-level math skills, and some very specific personality quirks. But when he meets the other misfits (um, students), he starts to wonder if they're all in the right place. There's amateur rapper Li'l Kimmy, violin prodigy Julie, video game–obsessed Anton, teacher's pet Ting-Ting, mean girl Maureen, and surfer dude Dilip. And we're not even going to talk about Harold.
Are you sitting down? Because this is when things get really weird. Octagon's weekend events include an escape-room challenge, a zero-gravity chamber, a river full of piranhas, and . . . some ninjas?
Surviving Octagon Valley may require these outcasts to embrace their inner weird and become greater together than they ever could separately. Those who rise to the wacky occasion will be treated to the biggest, most spectacular surprise of their lives — a chance to be truly EXTRAordinary! —Synopsis provided by Disney Hyperion
The (Super Secret) Octagon Valley Society has a quirky, almost Willy Wonka-esque feel to it. With Onasander playing the part of an elusive genius who speaks in riddles. Of course, the stories are vastly different, but The (Super Secret) Octagon Valley Society has that sort of lovely dark humor laced throughout.
The (Super Secret) Octagon Valley Society unfolds through the voice of a slightly sarcastic narrator whose dry wit and wry observations push the story quickly forward. Though some are more fully realized than others, each of the kids has their own quirk, which adds to broad appeal.
Author Melissa de la Cruz has let her imagination go wild here, offering up new ideas, tech and problem-solving skills with each new room the kids enter. Her snappy prose is inviting and adds interest throughout.
This is clearly the first book in a planned series, with the author answering some lingering questions but setting things up for more adventures to come.
The (Super Secret) Octagon Valley Society is a fast, fun read that feels shorter than its 320 pages (though the physical size may scare some kids off). This is a book that would be fun to read aloud, especially in a classroom setting.
Copyright © 2023 Cracking the Cover. Unless otherwise noted, all books — digital and physical — have been provided by publishers in exchange for honest and unbiased reviews. All thoughts and opinions are those of the reviewer.