A young girl learns how to share the best part of herself during the festival of Diwali in The Light Within You, by Namita Moolani Mehra and Kamala Nair.
Diya is excited to be going to India for Diwali, the Festival of Lights. That means she'll get to spend time with Nani, her beloved grandma, who she hasn't seen since her family moved from India. Now India is 7,850 miles away…
Once Diya arrives in India, she immediately feels at home with Nani. Together they go shopping at the bazaar and prepare for the festival. As Diya and Nani celebrate Diwali together, Diya's heart soars. But all too soon, her trip will come to an end. Is there a way for Diya to take some of the light and magic of Diwali with her when she leaves? —Synopsis provided by Two Lions
The Light Within You is a celebration of family, traditions and the light we all carry inside of us. While preparing for and celebrating Diwali, Diya learns that when you believe in yourself, others can't help but notice. And though Diya discovers this during the most important holiday for Hindu families, the message is universal and should ring true to a larger audience.
Author Namita Moolani Mehra is both gentle and expressive. You almost hear Nani's voice in your head as you read along. Mehra captures the excitement of Diwali while tempering it with Diya's doubts and concerns. It's a well-balanced narrative that flows naturally.
Illustrator Kamala Nair takes Mehra's text to the next level, providing visual clues when discussing certain elements of the holiday. The high points, though, are Nair's depictions of Diya and Nani. The loving warmth practically shines off the pages.
An author's note giving a more detailed explanation of Diwali and a glossary of Indian words are a nice touch at the end of the book.
The Light Within You is a lovely picture book that will likely catch the eye of many young readers.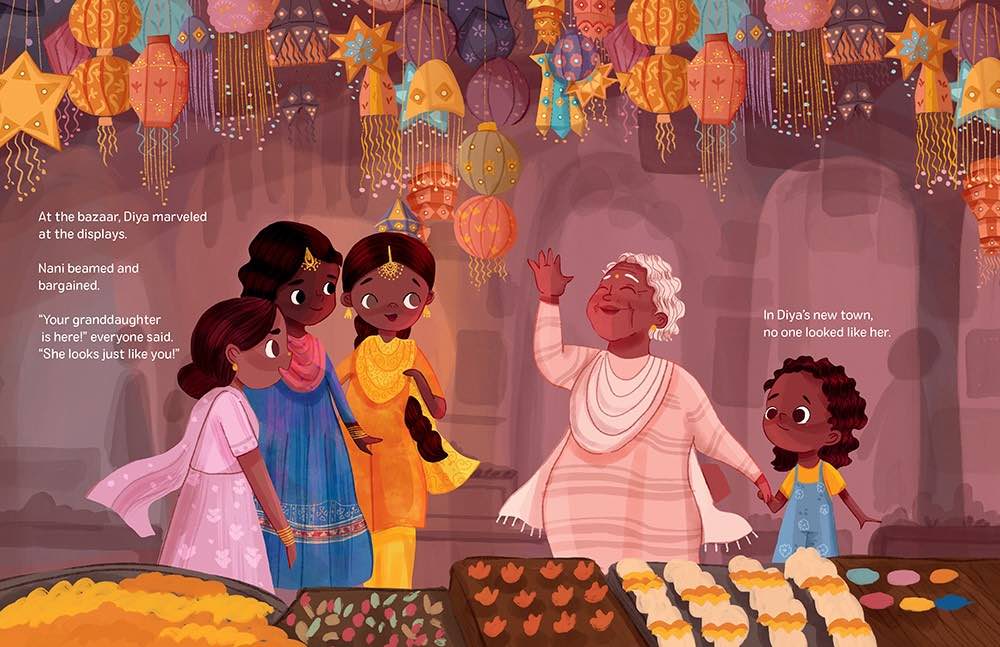 About the creators:
Namita Moolani Mehra is a children's book author, cookbook author, and food and parenting writer. She wrote the picture book Anni Dreams of Biryani, illustrated by Chaaya Prabhat, and the children's cookbooks The Magic Spicebox and Superfoods for Superheroes. Namita also runs a social-impact business called Indian Spicebox that helps fund hot meals for underprivileged children in India. Namita was born in a remote village in Nigeria, grew up in the UK and India, studied in Chicago, and worked in New York for over a decade. She currently lives in Singapore with her husband and two children. Learn more at www.namitamehra.com, and follow her on X @namstwit.
Kamala M. Nair grew up in Kerala, a small state on the southwestern coast of India surrounded by exotic wildlife, stunning beaches, lush green hills, and turquoise backwater. She is a professional architect and a children's book author and illustrator. She recently illustrated The Way Champs Play, written by tennis champion Naomi Osaka. Kamala loves to travel and be immersed in the beauty of culture, architecture, and people around the world. She currently lives in Kerala. Follow her on Instagram @kamala_nair.
Copyright © 2023 Cracking the Cover. Unless otherwise noted, all books — digital and physical — have been provided by publishers in exchange for honest and unbiased reviews. All thoughts and opinions are those of the reviewer.