A WALK IN THE WOODS, by Nikki Grimes , Jerry Pinkney, Brian Pinkey, Neal Porter Books, Sept. 12, 2023, Hardcover, $18.99 (ages 4-8)
A boy mourning the loss of his father takes a walk in the woods and makes a life-changing discovery in A Walk in the Woods, by Nikki Grimes, Jerry Pinkney and Brian Pinkney.
"A week after the funeral
I stare in the morning mirror
Angry that my father's eyes
Stare back at me."
Confused and distraught after the death of his father, a boy opens an envelope he left behind and is surprised to find a map of the woods beyond their house, with one spot marked in bright red. But why? The woods had been something they shared together, why would his father want him to go alone?
Slowly, his mind settles as he sets off through the spaces he once explored with his dad, passing familiar beech and black oak trees, flitting Carolina wrens, and a garter snake they named Sal. When he reaches the spot marked on the map, he finds pages upon pages of drawings of woodland creatures, made by his father when he was his age. What he sees shows him a side of his dad he never knew, and something even deeper for them to share together. His dad knew what he really needed was a walk in the woods. —Synopsis provided by Neal Porter Books
A Walk in the Woods is a profoundly moving book about loss, love and moving forward.
Nikki Grimes' lyrical prose has a pondering, reflective feel that gives the reader room to pause and reflect.
Jerry Pinkney's tight pencil sketches are fascinating in their form. And son Brian Pinkney's use of watercolor and gouache is inspired. His bold use of color conveys movement and emotion. Paired together, readers are treated to a stunning visual experience unlike any other.
Author Nikki Grimes and illustrator Jerry Pinkney began working on A Walk in the Woods in 2019. The two corresponded several times a week. By the fall of 2021, Nikki had completed the manuscript, and Jerry had completed the tight pencil sketches for the book. Then Jerry passed away. Following the death of his father, Brian Pinkney was asked to finish the artwork. Brian found his life mirroring that of the boy in the book. "A Walk in the Woods has turned out to be a lasting gift my father bestowed on our family, and in the hearts of young readers," Brian says in his endnote.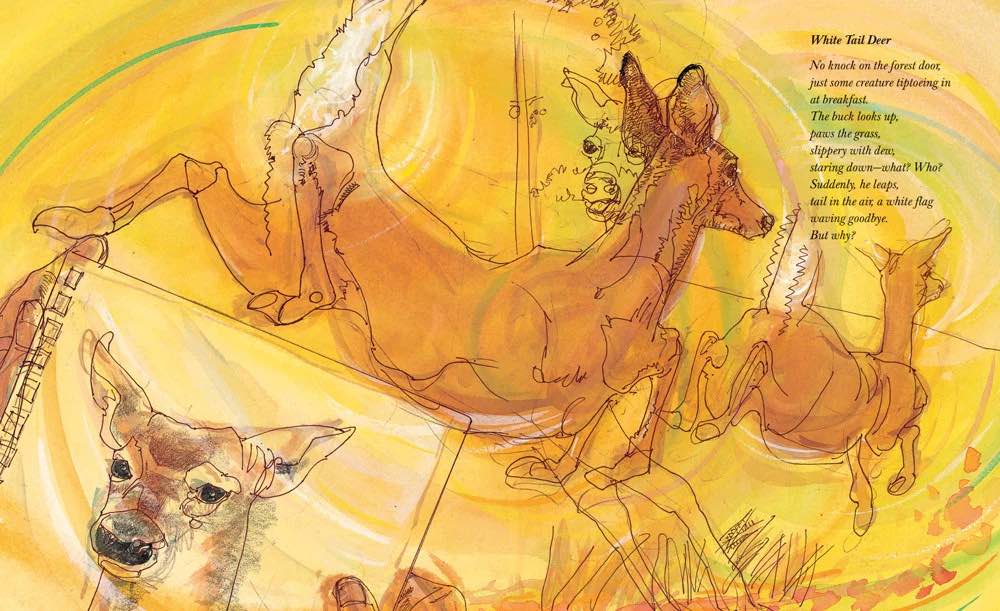 Copyright © 2023 Cracking the Cover. Unless otherwise noted, all books — digital and physical — have been provided by publishers in exchange for honest and unbiased reviews. All thoughts and opinions are those of the reviewer.