ENLIGHTENED, by Sachi Ediriweera, Atheneum Books for Young Readers, Sept. 26, 2023, Paperback, $13.99, Hardcover, $22.99 (young adult)
A prince seeks to find the cause of human suffering in Enlightened, a graphic novel retelling of the life of Siddhartha, by Sachi Ediriweera.
Prince Siddhartha lives in a beautiful palace in the heart of Kapilavastu. His father, the king, ensures that he has the best of everything—he just can't go outside. He is locked up away from the city, away from anything that might cause him pain. He knows nothing of illness, aging, sorrow, or death, yet Siddhartha feels the pain regardless, and it instills a burning curiosity to understand the world outside—and the nature of human suffering.
Based on the life of the real man who was known first as a prince, then as a monk, and now as the Gautama Buddha, Enlightened is about one boy's quest to learn the truth that underpins our endless struggle against suffering—and in understanding, break the cyclic existence that perpetuates it. —Synopsis provided by Atheneum Books for Young Readers
I remember reading Siddhartha, by Herman Hesse, in high school and thinking it was OK. It didn't exactly "sing" to me, but I do remember it. If I had read Enlightened instead, I think the outcome would have been different.
Enlightened, quite honestly, brings the material to life. In particular, the complexities of suffering and attaining enlightenment become accessible. And the overall story draws you in.
Author/illustrator Sachi Ediriweera achieves this with simple and engaging text and crisp linework. His choice to utilize blue watercolor-style backgrounds and single-color accents of brown and orange call attention to the action and eliminates distractions.
While Enlightened will most assuredly appeal to readers who are interested in Buddhism, it has a broader appeal than that. I can easily see the cover catching many a curious reader's eye.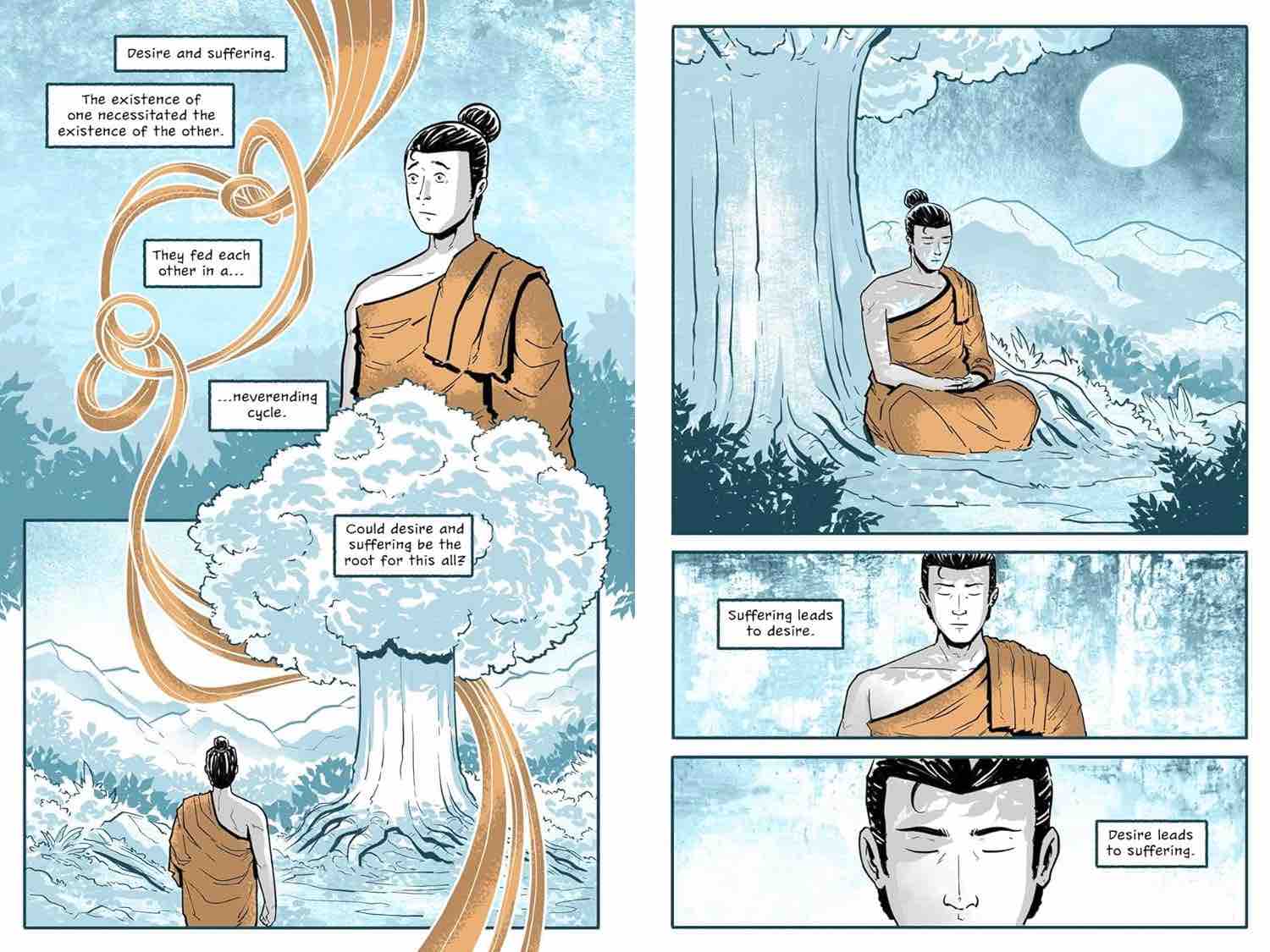 Copyright © 2023 Cracking the Cover. Unless otherwise noted, all books — digital and physical — have been provided by publishers in exchange for honest and unbiased reviews. All thoughts and opinions are those of the reviewer.