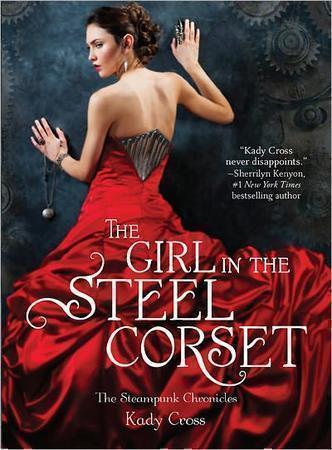 "THE GIRL IN THE STEEL CORSET (Steampunk Chronicles)," by Kady Cross, Harlequin, May 24, 2011, $17.99 (young adult)
If you've never read something in the steampunk genre, perhaps now is the time to start.
Steampunk is subgenre of science fiction and fantasy that is either set in or includes social or technological aspects of the 19th century and Victorian era — think steam — usually with some reconceputalization or rebellion — think punk.
The whole idea of steampunk is not as far out as it sounds, and if done right, it just works, as is the case with "The Girl in the Steel Corset," by Kady Cross.
The year is 1897. The place is England. Sixteen-year-old Finley Jayne is about to lose her job — again. Not that it's her fault, really. There's something inside her, making decisions for her. It likes to fight, and Finley can't control it.
So when a young lord tries to take advantage of her, it's no surprise that Finley fights back — and wins. No one would expect a Victorian girl to be able to knock out a full-grown man with one punch, but Finley's taking no chances and runs.
Griffin King isn't sure what Finley's running from, but he's determined to figure it out. The darkness inside her doesn't scare him; rather, he finds it intriguing. He sees it as a gift, something that makes her special, special like his dearest friend.
Griffin is a duke, and as such, he has a lot of resources at his hands, which is good, since he's an investigator of sorts. Along with Emily, a technical genius who has her own special abilities and an unrequited love for Sam, who is part robot; and Jasper, an American cowboy with a shadowy secret, Griffin is working to solve a series of crimes committed by a man known only as The Machinist.
The group is sure The Machinist is the mastermind behind several recent crimes by automatons. Griffin thinks Finley can help them solve the crimes, but some members of his team and even Finley herself has some doubts. It's a chance for Finley to finally fit in, to be part of something, but the Machinist has holds in places none would expect.
Imaginative automatons, velocycles (steam powered bicycles), personal telegraphs and computers of sorts combined with amazing abilities and magical organisms, make "The Girl in the Steel Corset" steampunk perfection.
But what makes "The Girl in the Steel Corset" an enjoyable book is that everything just works together. In Kady Cross' world, readers don't find themselves asking why something is the way it is, they just instinctively know it belongs. It takes a true artist to set up a world like that, making this book a strong contender for steampunk fans and novices alike.
Not everything in "The Girl in the Steel Corset" is perfect, though. There are a few parts that feel predictable, as does one particular key plot element. The ending, too, felt a little rushed. Neither of those "problems," however, were distracting enough to put down this book.
"The Girl in the Steel Corset" is fast-paced and action-packed. Here's hoping for an even better follow-up.
You can find out more about the steampunk genre at Kady's site and steampunk.com.