THREE TASKS FOR A DRAGON, by Eoin Colfer and P.J. Lynch, Candlewick, Oct. 3, 2023, Hardcover, $19.99 (ages 8-12)
Three Tasks for a Dragon, by Eoin Colfer and P.J. Lynch is a story of knights, quests, dark magic and a dragon.
Studious Prince Lir is next in line to become the Wolfhound King, but he can't ride a horse, lift a sword, or summon the fabled wolfhounds. So, his stepmother decrees that her own son will inherit the crown instead, sending Lir away on a seemingly impossible—and assuredly fatal—quest: to rescue the maiden Cethlenn from the once-fearsome dragon Lasvarg.
Rather than wage battle, Lir insists that Lasvarg, now decidedly past his prime, honor tradition by setting him three tasks to perform—starting with tackling the mold encrusting the dragon's cave (and his feet!). As Lir improves Lasvarg's life, he also grows closer to Cethlenn . . . as well as the wolfhound puppy strangely devoted to her. In time, they learn more of the dark magic that may be making pawns of them all—and how Cethlenn herself could be the key to breaking a spell that clouds the entire kingdom. —Synopsis provided by Candlewick
Three Tasks for a Dragon reads like a fairy tale/adventure of old. And that's not a bad thing. It's kind of epic. There's a power to Eoin Colfer's lyrical prose that draws you in and pushes the story forward. His characters are nuanced and unexpected and everything else you'd want them to be.
P.J. Lynch's mood-filled watercolor illustrations set in tones of oranges and blues add an extra dimension to this sweeping fantasy.
Three Tasks for a Dragon is a magical tale that feels fresh and familiar at the same time. It's a beautiful tale that children and grownups alike will enjoy.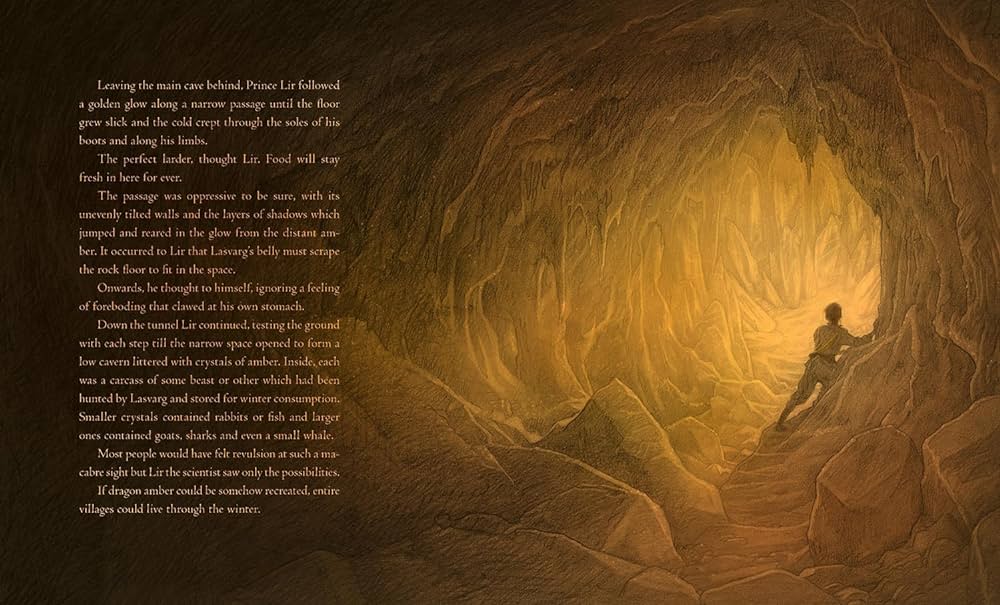 Copyright © 2023 Cracking the Cover. Unless otherwise noted, all books — digital and physical — have been provided by publishers in exchange for honest and unbiased reviews. All thoughts and opinions are those of the reviewer.