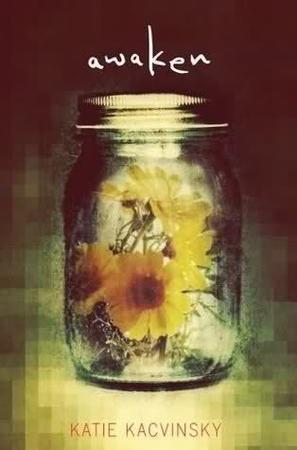 "AWAKEN," by Katie Kacvinsky, Houghton Mifflin Books for Children, May 23, 2011, $16.99 (young adult)
What if you never had to have face-to-face contact with the people you interacted with? That's the question posed in Katie Kacvinsky's book "Awaken."
Maddie lives in a world where everything is run by computers. There are mind readers so people don't even have to talk, chat rooms for almost anything and Digital School so kids can learn from the safety of their own homes.
There are no paper books and food is more about ease and nutrition rather than taste and enjoyment. People spend their whole days "connected" to devices. Even dating has gone digital with couples visiting the ocean or hiking a mountain, each from the comfort of their separate homes.
For Maddie, this style of living is normal. She gets out every once in a while to play soccer with a team, but other than that, she's OK with her digital life. But then she meets Justin.
Justin likes meeting people out in the open. He likes to physically see people and their reactions. People aren't meant to be alone, Justin says. They're built for interaction.
Maddie has never met anyone like Justin. Not only does she feel a buzz when she's around him, but she begins to feel something when they're apart, too. She starts thinking that maybe there's more to life than computers, that maybe she should be doing something more.
This new way of thinking has its consequences, though. Society and Maddie's parents in particular don't like the path Maddie is headed down, and they'll do anything to stop her.
The beginning of "Awaken" immediately draws in the reader, particularly fans of books and writing. Katie Kacvinsky's description of a writing in paper journal, an art now long forgotten, and reading a from a physical book, which has to be kept behind glass to protect it, goes straight to the heart. One can't help but be moved by the complete loss of the sensual parts — the feel, smell, rustle of pages.
And while "Awaken" is a dystopian tale that some will see as a cautionary tale about letting technology take over our lives, it's mostly about relationships and how we allow outside forces to affect them. There's Maddie's relationship with her friends, with her father, with her mother and with Justin. We also see how Justin relates to others, as does her father.
Kacvinsky has created complex characters living in a complex, or not so complex, world — depending on how you look at it. The world she's created is easy to place yourself in, as many of the technology developments are amped up versions of what we already know.
Though not the best book in the latest lineup of dystopian offerings, "Awaken" is among the strongest. Add this one to your summer reading list.