Learn how people throughout time explained what happens after death in An Atlas of Afterlives: Discover Underworlds, Otherworlds and Heavenly Realms, by Emily Hawkins and Manasawee Rojanaphan.
An Atlas of Afterlives sets out to explore and explain the many underworlds, otherworlds, heavens and hells believed in by cultures from across the world, throughout history. From paradise gardens to fiery kingdoms, from shadowy isles of the dead to ghostly galleons on an eternal voyage, these visions of eternity are fascinating examples of human creativity and storytelling.
Organized by continent, this book will take you on a journey to discover legendary places from different mythologies. Each illustrated spread invites you into a different realm of the dead, with deities, demons and other details drawn from historical sources ranging from ancient Egyptian scrolls to Chilean folklore.
Discover afterlives from all over the world, including:
The gloomy kingdom of Hades, ancient Greek god of the dead
Valhalla, mead hall of fallen Norse heroes
Duat, ancient Egyptian River of Death
Jannah, the beautiful Islamic garden of heaven 
Kakuriyo, the invisible realm of spirits in Japanese Shinto beliefs
The Gates of Guinee, the Voudou portal said to be hidden in New Orleans
The Lakota Trail of Spirits in the Milky Way
Kibu, island of ghosts to the Torres Strait Islanders of Australia
—Synopsis provided by Wide eyed Editions
An Atlas of Afterlives is one of those books that you can't help flipping through. From the gold embossed cover to the 96 pages of fascinating information, this book is worth the list price of $30.
This is the type of book you get for your kid, but spend time with it as an adult.
Author Emily Hawkins does a good job taking bigger subjects and making them accessible and digestible while maintaining interest. But the highlights really come in the art by Manasawee Rojanaphan, which is fantastic. Rojanaphan deftly captures the essence of each culture, really drawing you in.
The publisher's suggest age range for An Atlas of Afterlives is 9-12, but younger readers will appreciate the artwork, and older ones will love the stories. This is the second book in the Lost Atlases series — the first being An Atlas of Lost Kingdoms — and I'm excited to see what else the creators come up with.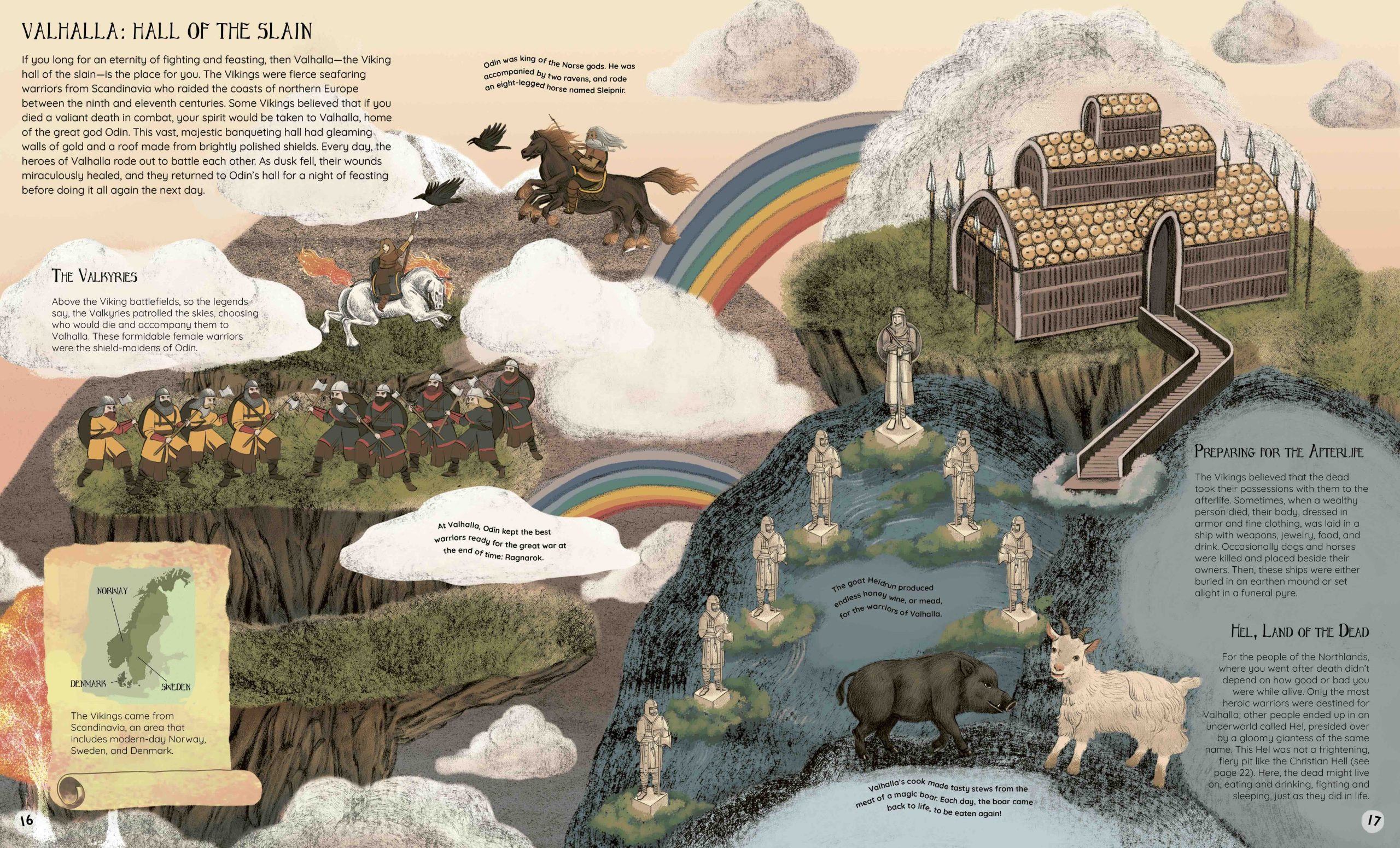 Copyright © 2023 Cracking the Cover. Unless otherwise noted, all books — digital and physical — have been provided by publishers in exchange for honest and unbiased reviews. All thoughts and opinions are those of the reviewer.