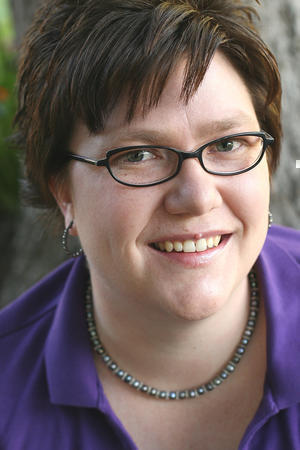 Elana Johnson says she wrote a lot of very bad narratives, using a lot of misplaced words, before she figured out how to craft a story.
"Every writer goes through a process of fine-tuning and figuring things out," the author of "Possession," a new young adult novel, told me in an email interview. "Even now, sometimes I feel like my writing is just word vomit, and I'm going to need to spend a lot of time cleaning up later."
Elana never planned on becoming a writer — she even took the AP English exam as a junior in high school so "I could be Language Arts-free as a senior." She began college with a major in chemistry education and ended up switching to elementary education, with an emphasis in physical science and a math minor.
"Writing was the farthest thing down the list," she said. "Seriously."
Now a technology specialist for kids in grades K-6, Elana writes to drain the emotional angst in her life. "It's like free therapy!" she said.
"Possession," Elana's debut novel, is the story of a 15-year-old girl (Violet) who struggles to learn what she believes in a society where she's always been told what to do, what to wear, what to eat, who to hang out with.
It's a darker novel, but Elana said that's to be expected given that mind control and brainwashing are not necessarily happy things. What's more important, she says, is that "Possession" makes readers feel.  "I am a huge fan of books that make me feel something," she said. "Good, bad, light, dark. I want to feel. I like broken characters who feel. So that might contribute to some of the darker feel."
In some ways "Possession" came very easily for Elana, who likes to draft really fast, getting the story out of her head as quickly as possible. She pounded out the first version of "Possession" in just 17 days.
Revision took a bit more time —about eight months off and on, and hardcore for another four. And several more revisions came over the next year before it sold to Simon & Schuster.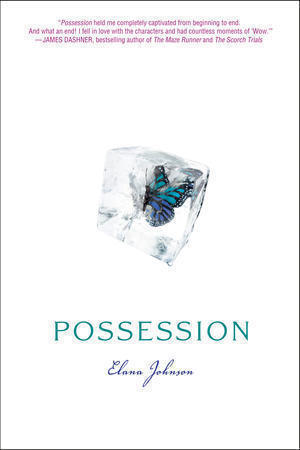 "Taking something that is 90,000 words and shaping it into something coherent is a huge challenge," Elana said. "There are a couple parts of the book that gave me huge fits. There are some simulations in the story, and I worked on those for a long time. Eventually, I just scrapped the whole section and rewrote it from scratch."
But along with writing challenges came rewards. "Vi's voice and character came very easily to me," Elana said. "She's sort of lost, but not OK with that. I think anyone, no matter their age, can relate to that. We often go through periods of our lives, searching for something or wondering if we're on the right track. Every time I read 'Possession,' I feel something different, but I can always relate to Vi."
In many ways "Possession" feels like it could be part series, and one is planned, just not in the traditional sense. Elana wrote the book as a stand-alone novel. She never even considered the possibility of series or sequel.
Since selling and working on the book, however, the idea of a sequel came up. "But I just can't do it," Elana said. "Vi's story is over for me. That's how it is."
So Elana wrote a companion instead. Tentatively titled "Fugitive," the novel does have some sequential elements — you will see some of the same characters that are in "Possession" — and it does take place in the same story world.
"Fugitive" is due to come out next summer from Simon Pulse. And, Elana said, the idea of a third book to make a trilogy is on the horizon.
Elana describes "Possession" as part dystopian, part science fiction and part paranormal. That, she says, sort of sets it apart from other books out on the market right now.
"I hope readers of "Possession" will open their minds and take from the book what they need at the time of reading," Elana said. "Every time I read the book, I get something different. I hope that's the same for readers."
Elana took a lot of time and care to answer all of my questions. Read a complete transcript of the Q&A, including the her favorite middle-reader and YA books.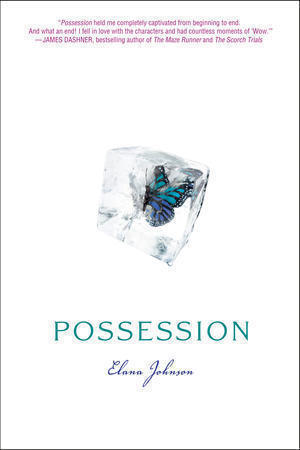 UTAH EVENTS

The "Possession" launch party is this Wednesday, June 8, from 7-10 p.m. at The King's English Bookshop, 1511 S. 1500 East in Salt Lake City. Click here for more details.

Elana will also be signing at the Barnes & Noble Bookstore at University Crossing, 330 E. 1300 South in Orem this Saturday, June 11, from 2-5 p.m. Click here for more details.
© 2011 – 2013, Cracking the Cover. All rights reserved. Unless otherwise noted, all books — digital and physical — have been provided for free by publishers in exchange for honest and unbiased reviews. All thoughts and opinions are those of the reviewer.