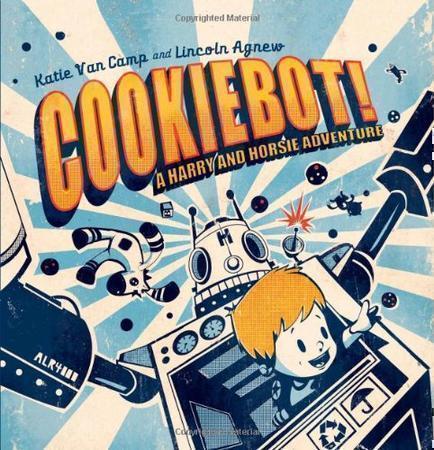 "COOKIEBOT!: A Harry and Horsie Adventure," by Katie Van Camp and Lincoln Agnew, Balzer + Bray, May 31, 2011, $16.99 (ages 3-6)
It's been a busy day of block building for Harry and Horsie, so busy that it's time for a snack. Not just any old snack will do — Harry and Horsie want cookies.
There's only one problem, the cookie jar is on top of the fridge, way out of reach for Harry. Never fear, Horsie has a solution: build CookieBot, a super-tall amazing robot that will make cookie-grabbing a cinch.
CookieBot has other ideas, though. Soon the robot is out of control. He wants cookies. Lots and lots of cookies. It's up to Harry and Horsie to stop CookieBot before he eats all the cookies in the whole city.
Can our heroes stop this metal menace from snarfing up the city's sugary deserts? You'll have to read the book to find out.
"CookieBot!" is a spectacular nod to pop art comics. Bold, graphic elements play up this imaginative adventure that you can just picture on the big screen. And lively text evokes the feeling of voiceover magic. Kudos to both Katie Van Camp and Lincoln Agnew for capturing the essence of a time gone by.