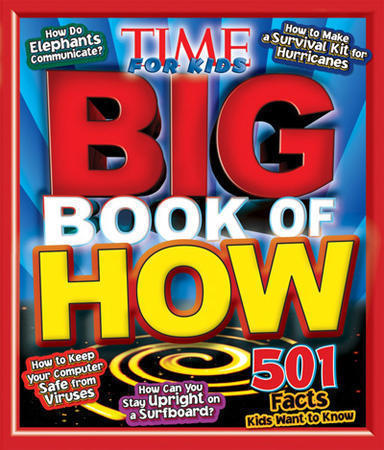 "TIME FOR KIDS BIG BOOK OF HOW," by Editors of Time for Kids Magazine, Time for Kids, June 7, 2011, $17.95 (ages 8-12)
Have you ever found yourself faced with a "How?" question? "The Big Book of How" addresses those question head on.
From "How were the Egyptian pyramids built?" to "How do submarines work?" a plethora of more than 500 facts are tackled in collection of questions and answers.
"The Big Book of How" is divided into 11 chapters featuring such topics as animals, being prepared, sports, buildings, science, transportation, home technology, food, space, the human body and going green. Hands-on activities and experiments are offered at the end of each chapter.
Within the chapters, each topic is introduced with a brief background necessary to understanding both the main question and its answer. Diagrams and photos also help the answer become clearer. And factoids and information boxes help further understanding.
"The Big Book of How" isn't a book most people will read from cover to cover. Rather it's one that young readers will most likely flip through, stopping on areas of interest and exploring from there.
Bold color and accessible design help make "The Big Book of How" enjoyable while still being educational. And the questions asked are compelling enough that older readers and adults will enjoy them, too.
"The Big Book of How" is also a good choice for reluctant readers — small sections of text and lots of pictures will appeal to those with even the shortest of attention spans.