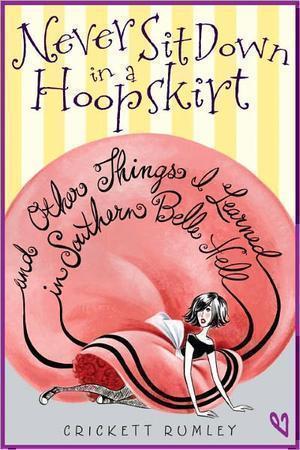 "NEVER SIT DOWN IN A HOOPSKIRT AND OTHER THINGS I LEARNED IN SOUTHERN BELLE HELL," by Crickett Rumley, Egmont, June 14, 2011, $8.99 (young adult)
"There she is, Miss America."
Or perhaps, "There she is, Miss Magnolia Maid."
The last thing Jane Fontaine Ventouras wants to be a part of is the annual Magnolia Maid Pageant, but after being expelled from 13 boarding schools in the past five years, she doesn't really have a choice.
Jane is more of an anti-belle — think sarcasm and tattoos — than pageant girl material, but her grandmother thinks it's a good idea, and Jane wants to make her happy. And in Bienville, Ala., the Magnolia Maid Pageant is what makes her happy.
Jane doesn't expect to make it onto the Magnolia Court, but it looks like the pageant judges are looking for something different this year — a bit of modern mixed with Southern charm.
Not all the local girls, or moms, are on board with this year's changes, though, and they'd like nothing better than to ditch Jane and her new friends. All Jane wanted to do was escape, but she can't ignore a challenge, even if that does mean learning to glide in front of locals while wearing a huge, ruffled dress a la Scarlett O'Hara.
"Never Sit Down in a Hoopskirt and Other Things I Learned in Southern Belle Hell" by Crickett Rumley is laugh-out-loud funny. Who hasn't seen "Gone With the Wind"? And who hasn't wondered what it would be like to walk around in one of those dresses? The book's cover is a great setup for that.
But this book is more than a pageant experience. It's also an exploration of individual growth. And it's not just Jane that experiences change. Crickett's book is smart without being in your face about it. Her voice is strong and her wit and sarcasm hit just the right notes.