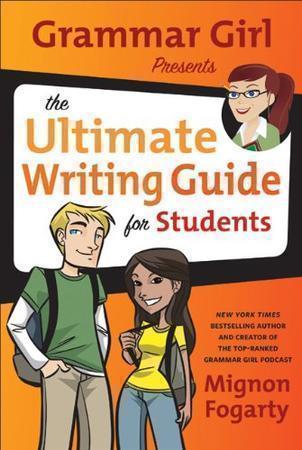 "GRAMMAR GIRL PRESENTS THE ULTIMATE WRITING GUIDE FOR STUDENTS," by Mignon Fogarty, illustrated by Erwin Haya, Henry Holt, July 5, 2011, HB $19.99, PB $12.99 (young adult)
Nothing excites a copy editor like a new book on grammar, especially one that clarifies particular parts of speech or usage that people commonly struggle with.
Confession: In my other life, I am a copy editor. Now, because of that confession, you're sure to find some mistakes. I humbly ask your forgiveness.
Now back to the business at hand.
Because of my grammar geekery, I was extremely happy to receive an advanced copy of "Grammar Girl Presents the Ultimate Writing Guide for Students," by Mignon Fogarty (aka Grammar Girl). But, as much as I love grammar, reading a book about it can be dry. My solution — take Grammar Girl's book to work and test out its usefulness while editing my co-workers' writing.
"The Ultimate Writing Guide for Students" is divided into an introduction, five chapters, an appendix, grammar at a glance, glossary and index, among other things. The five chapters focus on parts of speech, crafting sentences, understanding punctuation, quick tips on "dirty" or confusing words, and wisdom about writing as a whole.
Pop quizzes are scattered throughout to reinforce the explanations, and Grammar Girl offers easy and fun memory tricks to help with rules.
My favorite section of the "Ultimate Writing Guide for Students," is Grammar Girl's "Quick and Dirty Tips." Listed in alphabetical order, these entries range from "affect versus effect" and "farther versus further" to "it's versus its" and "lay versus lie." These entries get to the heart of the matter quickly and are easy to understand. And, as always, Grammar Girl's wit makes finding answers to sticky questions much more enjoyable.
Unfortunately, my ARC doesn't have an index, which after using this book, I really missed. I'm sure writers will fully utilize it in their completed copies.
My one complaint is the binding. This may seem trivial to some, but I would prefer a spiral binding for greater usability. I hate having to use another book to hold my reference book open. When I purchase my own, finished copy, I will most likely get it in paperback so that I can get it spiral bound at Kinko's.