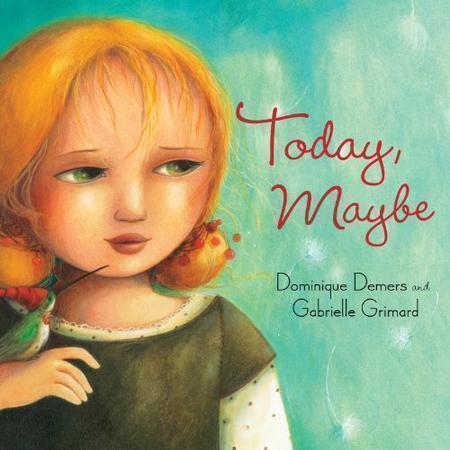 "TODAY, MAYBE," by Dominique Demers and Gabrielle Grimard, Orca Books, April 1, 2011, $19.95 (ages 4-8)
"Today, Maybe," by Dominique Demers and illustrated by Gabrielle Grimard, is perhaps one of the most imaginative and beautifully executed picture books so far of 2011.
It is the story of a little girl who is waiting for someone, who, she does not know. But she knows he is a friend and will one day appear. Until that time, she and her little bird live in a little cottage in the middle of a vast forest. The little girl has learned to care for herself and can make tea and bread-and-jam.
One day, three thieves arrive at the girl's door. They want to take something, so they decide to take her. The girl is able to persuade them to take a big pot of jam instead. Next comes a wolf who wants to eat her, as does a prince who wants to marry her and a witch who wants to turn her into an elephant. Each time, the little girl persuades her visitors to go on their way because, "I am waiting for someone."
None of her visitors are the person she has been waiting for. Weeks and months pass, yet the little girl remains hopeful. Then, one mild morning in spring, things begin to feel different. A scratch at her door later in the day confirms it, and when the girl opens her door she learns that true friendship was worth waiting for.
The above synopsis doesn't do "Today, Maybe" full justice. The lilting text has a sophistication to it that's as comforting as a cup of hot chocolate. And young readers will love nods to familiar fairy tale characters while enjoying a new, delightful tale.
The illustrations in "Today, Maybe" are top notch with great attention to detail paired with just a touch of whimsy. The expressive looks on each character's face are spot on, and the muted tones are warm and welcoming.
"Today, Maybe" is a definite must when adding to your home library.