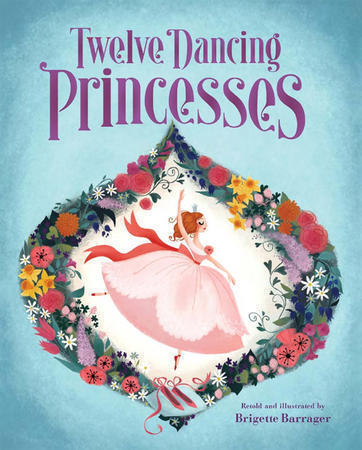 "TWELVE DANCING PRINCESSES," by Brigette Barrager, Chronicle Books, May 4, 2011, $16.99 (ages 4-8)
There have been many versions of "Twelve Dancing Princesses," gracing picture, middle-reader and young-adult books. Each version has its own take on the tale, and the newest by Brigette Barrager is no different.
Once upon a time, in a kingdom far away, lived 12 princesses. Named after flowers, each princess is far more beautiful than her namesake. But these charming princesses also have a problem — they're always tired. Having become concerned by his daughters' sleeping habits, the king offers a reward to anyone who can solve their problem.
Scientists, doctors, detectives, fortune-tellers and philosophers descend on the palace in hopes of claiming the prize, but all of their research just makes the princesses wearier.
There has to be a solution, decides Pip, the royal shoemaker. He makes a pair of the softest, quietest shoes possible and sneaks into the princesses' room at night while they should be sleeping. What he finds is a surprise — the sisters are dressed in their finest gowns and sleepwalking through a hidden trapdoor.
Pip follows the sisters through a forest of gold, silver and diamond trees, across a dreamy lake to an island ballroom where the princesses dance all night. As the sisters are leaving, Pip decides to try breaking the spell by kissing Princess Poppy's hand. She and her sisters abruptly awaken and hurry up the stairs, which are beginning to crumble. Pip has solved the mystery, and the king grants him his wish — Poppy's hand in marriage.
Barrager's retelling of the Grimm Brothers' "Twelve Dancing Princesses" is simpler and lighter than many of its counterparts. Her retro-feeling illustrations, however, lend themselves well to this beginner's version, and younger readers, particularly girls, will find themselves falling in love with this book. There's a dreamlike quality throughout with graceful lines and pastels suited perfectly for this princess tale.