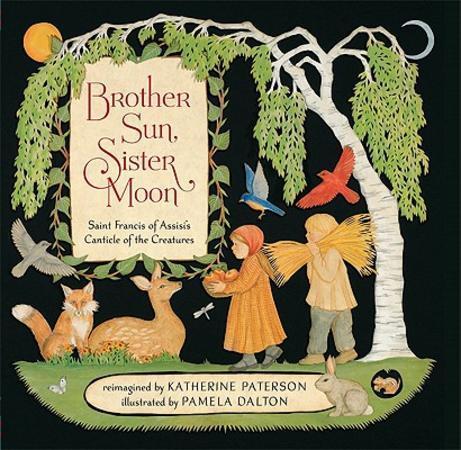 "BROTHER SUN, SISTER MOON," by Katherine Paterson and Pamela Dalton, Chronicle Books, June 1, 2011, $17.99 (ages 4-8)
One of the most revered religious figures in history, St. Francis of Assisi is known as the patron saint of animals. He loved creatures and nature and urged men to respect both.
In "Brother Sun, Sister Moon," by Katherine Paterson and illustrated by Pamela Dalton, one of St. Francis' hymns of praise, "Canticle of the Creatures" is reimagined.
First written in 1224, the hymn celebrates creation. Here, Paterson takes the Umbrian text and turns it into a poem true to St. Francis' original intent.
"Brother Sun, Sister Moon" is a song of praise to God, who "by your power and out of your love have created all things and called them good." Brother Sun, Sister Moon, Brother Wind, Brother Air, Sister Water, Brother Fire and Sister Earth are honored. As are "the ones among us forgive those who have wronged them" and "those who must bear in this life sickness and trial."
One cannot help but feel thankful as they read the text. It perfectly illustrates the beauty that surrounds us. And the accompanying illustrations aren't too shabby either. In fact, they're beautiful.
Each of Dalton's amazingly intricate illustrations is cut from one continuous piece of paper. They are so complex that they stand alone, and they work perfectly in concert with Paterson's text.
A nice addition to the book is the translation of St. Francis' "The Canticle of the Creatures." This is one book you will not only want to own, but share with visitors to your home as well.
Brother Sun, Sister Moon