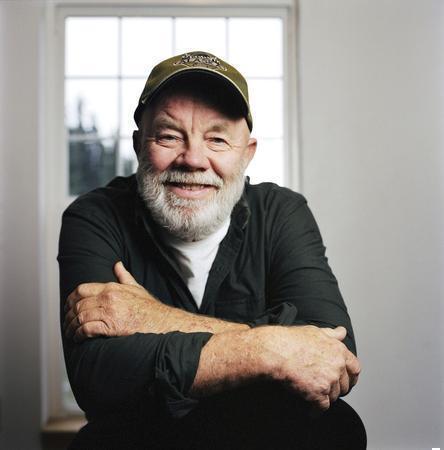 Author Gary Paulsen writes every day.
He carries his laptop or his notebook and a pen with him and makes time to write wherever he is, whatever he's doing, even if he's on his sailboat "kicking around in the blue part for a while," as he was during his email interview with Cracking the Cover.
Writers need to "read like a wolf eats," Gary said. "And write every day. No excuses. Everyone can spare five minutes a day to sit down with your writing."
Gary — who has penned more than 200 books, including "Hatchet," "Dog Song" and "The Winter Room" — says he probably works harder now than he did 20 years ago.
"I can't not write," he said, "but it takes everything out of me when I work in a wonderful way. The dance with words and the way the hair on the back of my neck raises when it works right is what I live for."
In July, Gary released his latest book, "Flat Broke: The Theory, Practice and Destructive Properties of Greed." It's the continuation of "Liar, Liar." Kevin, Gary says, "is 14 and tragically wrong about almost everything. He's completely self-confident, but always misguided."
After "Lawn Boy" came out, Gary received a lot of letters saying, "It can't possibly be that easy to get rich as a kid." That's where Kevin came in. "I thought Kevin would make a good counterpoint to Lawn Boy's incredible success," Gary said.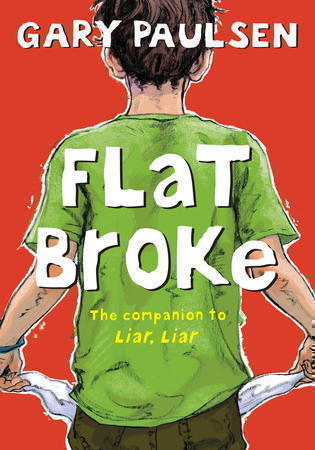 "Flat Broke" won't be the last time readers hear from Kevin, either. He'll be back in "Crush" and "Vote," for which publication dates have not yet been released.
"He's a fun character and I like being in his mind and world, which are so different from my own," Gary said. "I am, for example, writing this in the cockpit of my boat, between throwing up from the diesel fumes as I'm trying to bleed the air bubble from my fuel line."
Ideas for Gary's books come from many places, and "frequently, I've been thinking about them for years before I ever sit down and type the first word," Gary said. "So I'm never quite sure how long it takes me to finish a book. ('Flat Broke') felt fast, Kevin's stories and voice are very quick to come to me."
Gary is usually working on two or three books at a time, though he says he's currently working on five or six books and kicking around a bunch of other ideas. Currently on his slate is a book about the animals in his life; a book he's writing with my son; something he's not sure what it is but it's been eating away at him for years; and an idea that he originally wanted to do 18 years ago when writing "Sisters/Hermanas" — "I think I finally figured out how to handle the idea so we'll see, it's in the very early stages, and I'm not sure where it's going to lead yet."
Of all the different books out there, Gary's seem to resonate with readers on a personal level. Though he doesn't remember particular titles, he remembers the same thing happening to him during his own childhood. "Opening the book and turning the pages and, hours later, looking up surprised that I was in an old easy chair behind the furnace in our basement rather than on the Western plains or on the ocean or in the woods or wherever the book had taken me."
That's what Gary wants for his readers. He hopes they get a "good story that takes them away from wherever they are. Books saved me as a kid, gave me an escape from my horrible childhood and, if I have any hopes when I write, it's that other readers can get as lost in the pages as I did."
Read the complete transcript of Gary's interview with Cracking the Cover.