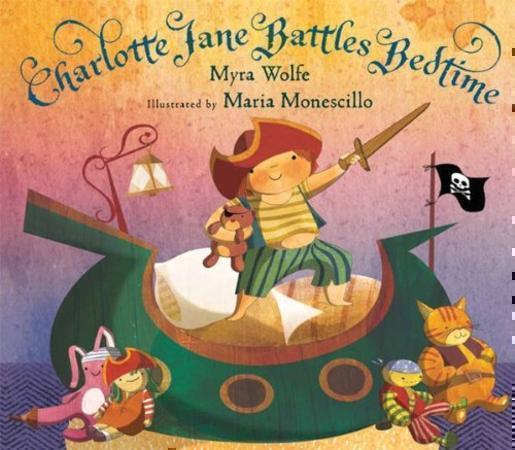 "CHARLOTTE JANE BATTLES BEDTIME," by Myra Wolfe, illustrated by Maria Monescillo, Harcourt, Sept. 6, 2011, $16.99 (ages 4-8)
Charlotte Jane the Hearty has lost her formidable oomph. No one knows where it has gone.
Charlotte Jane has had oomph from the day she came howling into the world with the sunrise. Her first words came early, she relished swashbuckling lessons and treasure hunts and Fantastic Feats of Daring.
The only thing Charlotte Jane has never felt was oomphworthy is bedtime. She began going to bed later and later and later, until one night, she didn't go to bed at all.
Now Charlotte Jane's oomph is gone. Nothing, not breakfast or swashbuckling or treasure hunting will bring it back. An extensive search proves it's not in the closet or bathtub or fridge. Charlotte's parents have looked in the garden and the neighbor's recycling bin, and it's nowhere to be found. Except … what if, maybe … well what if it could be found in Charlotte's feather bed? Rip-roaring dreams may just be the solution Charlotte Jane has been looking for.
"Charlotte Jane Battles Bedtime" is an action-packed bedtime story that will take young readers on an adventure to dreamland.
Whimsical watercolor illustrations bring Charlotte Jane to life and bring a touch of humor — her stuffed bear with an eye patch, her ship-shaped house and wooden sword — to this swashbuckling drama. And the broad expanse of her dreams is fully textured and imagined, three full-page spreads with just eight words between them.
Author Myra Wolf's bold text is well paced and laced with just the right amount of pirate vocabulary. It's not hard to picture Charlotte Jane's adventures being acted out in homes around the world.
"Charlotte Jane Battles Bedtime" is a great alternative to the more sedate offerings in the bedtime story genre.