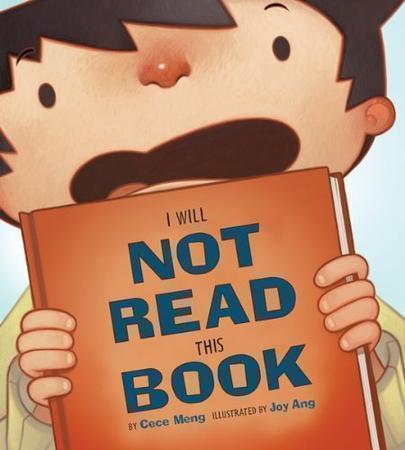 "I WILL NOT READ THIS BOOK," by Cece Meng, illustrated by Joy Ang, Clarion Books, Sept. 6, 2011, $16.99 (ages 4-8)
You can't make me read this book! In this case me is a little boy who has a lot more excuses to not read a book before bedtime than anyone could possibly have to read a book before bedtime.
The boy has to floss his teeth, wash behind his ear, feed his fish, sip some water, scratch the tip of his nose, clean under his bed… You know what? He's changed his mind. He's not going to read the book after all. Reading is hard and he doesn't read fast and some of the words are unfamiliar.
The boy will not read this book even if you hang him upside down by one toe over a cliff while tickling his feet. Even if you add in a rainstorm and lightning and sharks below, he won't read it. If a dragon comes and blows smoke in his eyeballs, he still won't read it. No. Not. Ever.
However, if you drop him, he might be persuaded to change his mind… but you'd better be prepared to catch him.
"I Will Not Read This Book" is pitch perfect for anyone who has ever dealt with a reluctant child. Much of the reluctance comes from doing things on their own, and as we see in this book, once someone the boy loves has someone to read with him, the reluctance goes away.
Author Cece Meng's text is perfect. And as the boy's threats grow stronger, the tone is just right. Illustrator Joy Ang's images pair perfectly with Meng's words, building with each line and adding humor throughout.