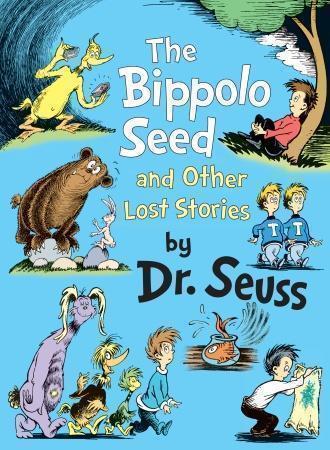 "THE BIPPOLO SEED AND OTHER LOST STORIES," by Dr. Seuss, introduction by Charles D. Cohen, Random House Books for Young Readers, Sept. 27, 2011, $15 (ages 6-9)
Books by Dr. Seuss are classic. They have been passed on from generation to generation and will continue to spark imaginations for many years to come.
Dr. Seuss wrote and illustrated 44 books for children. And when he died in 1991 fans the world over mourned his loss. No one expected to see new work from him again. So it came as a surprise earlier this year when Random House announced the publication of "The Bippolo Seed and Other Lost Stories," by Dr. Seuss.
Though the stories are not completely new, "The Bippolo Seed and Other Lost Stories" contains seven rarely seen stories by Dr. Seuss that were originally published in magazines between 1948 and 1959.
"The Bippolo Seed" is the first tale in this collection. It starts a young duck named McKluck and a scheming cat, whose advice leads to some very bad luck.
Next is "The Bear, the Rabbit, and the Zinniga-Zanniga." Here, a very smart rabbit is saved from becoming a bear's dinner with a single eyelash.
"Gustav the Goldfish," a whale of a tale about a goldfish that grows exponentially and "Tadd and Todd," a story of twins who get into trouble trying to look different, are next in line.
Fantastic creatures follow a boy home in anticipation of a tasty meal in "Steak for Supper" and strange spot plagues a young man whose mother warned him to stay out of the dirt in "The Strange Shirt Spot."
The concluding story, "The Great Henry McBride," is about a boy whose imagination runs wild as he tries to decide what to be when he grows up.
Each of these tales is a rhythmical delight with the tongue-twisting text we've come to expect from Dr. Seuss. The illustrations are wacky, playful and colorful, but there aren't as many as readers are used to with Seuss' other books. That means there's lots of block text, and that may a bit discouraging for younger readers. The good news, however, is that Seuss' writing evokes images on it's own and each of these tales is sure to spark imagination.
An introduction to the collection traces the history of all seven stories and Seuss expert Charles Cohen adds his expertise on the recurrence of themes throughout Seuss' work. This section is solid text. And while interesting, it will most likely be skipped by young fans and appreciated by their parents later on.