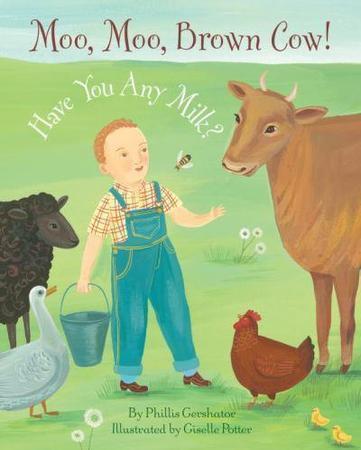 "MOO, MOO, BROWN COW, HAVE YOU ANY MILK?" by Phillis Gershator, illustrated by Giselle Potter, Random House Books for Young Readers, June 28, 2011, $16.99 (ages 2 and up)
With the familiar "Baa, Baa, Black Sheep" nursery rhyme used as a jumping point, "Moo, Moo, Brown Cow, Have You Any Milk?" combines clever rhymes with comforting rhythms to introduce younger children to the many contributions made by farm animals to everyday life.  Written in two parts, this picture book explores the connection between animals and a young boy before sending the main character – and possibly the listener – off to a dreamy good night's sleep.
For children who enjoy repetition and patterns in picture books, "Moo, Moo, Brown Cow, Have You Any Milk?" provides an excellent occasion for learning to tell the story on their own. Bright and warm images throughout the book provide clear opportunities along the way for younger children to identify animals and point out the animal's different jobs. Older children will enjoy the chance to learn more about already familiar animals, as well as the personable characteristics the animals take on in the illustrations.
"Moo, Moo, Brown Cow, Have You Any Milk?" is an enjoyable story to add to the nightly routine of bedtime, as well as an exciting offering for children who love to hear about animals.
***This guest review is by Jamie Wood, a mother of three who enjoys brainwashing her children to read as many books as they can in one day. She does this by sitting on the couch and telling them she can't talk now because she's reading a book. So far all has gone well, and they are happily enjoying reading time together.