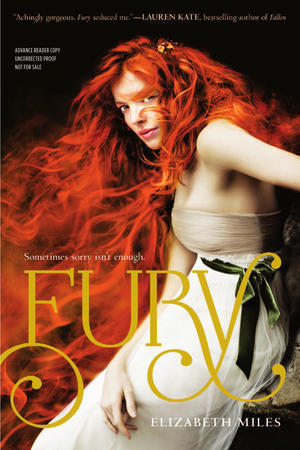 "FURY," by Elizabeth Miles, Simon Pulse, Aug. 30, 2011, $17.99 (ages 14 and up)
Hype can be a good or bad thing. And living up to it can be even more daunting than being recognized in the first place. That's why I — along with a number of other reviewers — approached Elizabeth Miles' "Fury" with some trepidation.
Hell hath no fury like a woman — or three — scorned.
It's winter break and though school is out, things in the town of Ascension, Maine, are hopping.
Em has liked Zach for as long as she can remember, and it seems like he's begun to notice her, too. The only problem — Zach has a girlfriend and she just happens to be Em's best friend, too.
Chase only cares about his social life and facade, which is made harder since he's from the "wrong side" of town. The stress of keeping up appearances is starting to weigh on him. And there's a secret he's been keeping that could be his undoing.
As Em and Chase being to navigate these choppy waters, three beautiful, mysterious girls move into town, and their actions are anything but innocent.
Liking or not liking a book comes down to personal taste, and "Fury" was not to my personal taste for a number of reasons.
First, I found nothing to like about any of the characters, not one. You have to be a strong writer to carry readers when all of your characters have little merit. Miles is a strong writer and she sets scenes well. She even makes her characters believable, but when they're that believably annoying and just plain bad, it's hard to move forward.
Second, the premise, Furies messing with people's lives, is interesting, but they don't show up that much, and when they do, some of their behavior is downright blech. Yes, they're the Furies, but it left me with a bad taste in my mouth.
Third, "Fury" felt more like a setup for a series and less like a standalone novel. That's not to say that it needs to feel like a standalone, but spending at least half the novel preparing for the next, fails to drive the current story forward, leaving readers flailing before they can ever get started.
"Fury" is not a book I can recommend, and I am not alone.
Michelle at That's What She Read said, "Fury contained too little stand-alone plot to be an engaging or effective read."  She continues, "What makes it worse is that none of the characters in Fury are all that likable. They are self-absorbed and superficial."
And while Christy at — The Reader Bee is looking forward to the next book; she says "Fury" left her with mixed emotions. "I thought it was an intense read, and I was completely hooked on the story, but it also left me feeling very confused"
However, many other reviewers found "Fury" had plenty of merit.
YA Book Shelf called it "One of the creepiest reads of the year!" And Bookish said "It was sexy, full of tension, fast-paced and enticing."
"Beautifully captivating yet eerie, chilling, and undeniably haunting," said I Eat Words and The Crooked Shelf said "'Fury' is a must-read for all YA paranormal fans."
Whether you go on my recommendation or that of someone else, it should be noted that "Fury" is for more mature young adults and is not appropriate for readers under the age of 14.
You can read more reviews of this book on "Fury's" Goodreads page.