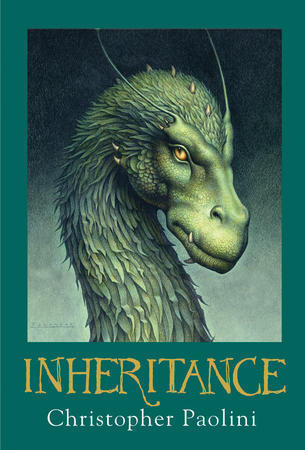 "INHERITANCE," by Christopher Paolini, Knopf Books for Young Readers, Nov. 8, 2011, $27.99 (ages 12 and up)
Christopher Paolini is known the world over, but when he wrote his first book at the age of 15, he had no idea he was fated to become a literary legend.
His parent-published book, "Eragon," caught the eye of editors at Random House, and the first edition of "Eragon" was published in 2003 by the company's young-adult imprint, Knopf.
Overnight, Christopher went from selling "Eragon" from the trunk of his family's car to becoming a best-selling author. In six months, more than 1 million copies had been sold. His ensuing novels, "Eldest" and "Brisingr" both debuted at No. 1, breaking sales records in the process.
Now, eight years since "Eragon" was released, "Inheritance," the final book in the Inheritance cycle has debuted at No. 1, earning the highest first-day sale in 2011 of any fiction or non-fiction, adult or children's title published this year in the United States and Canada.
All the success is a feat to be sure, but how does "Inheritance" stack up among it's predecessors?
The Inheritance Cycle follows Eragon and his dragon, Saphira. The two are linked together, able to hear each other's thoughts and share magic
It was as a 15-year-old farm boy that Eragon discovered Saphira's egg — one of the last three dragon eggs in existence. The egg was in the possession of the evil Galbatorix until stolen by his foes, the Varden.
After Saphira hatched Galbatorix sent his minions to capture the duo, killing Eragon's uncle in the process. But Saphira and Eragon escaped, and set off in search of revenge. The village storyteller, Brom, and Murtagh, a young man harboring secrets, joined them on their quest.
Eragon's pursuits lead him to the Varden and later to the elves, who train him to become a Dragon Rider in preparation for a showdown with the empire and Galbatorix, who was once a Dragon Rider himself.
"Inheritance," as one would expect, brings readers the final showdown between not only Eragon and Galbatorix, but also Eragon and Mutagh, who has become Galbatorix's puppet. Both stand in the way of freedom.
Eragon and Saphira have trained for this eventuality and still feel unprepared. Not only are they warriors, but they've had to become politicians of sorts, and pleasing all of the allies has become difficult.
When the time for the final battle comes, there will be no second chances. Galbatorix has been patient, but he won't stop until Saphira and Eragon are under his control.
For those readers who may need a little refresher on what happened in previous episodes, a synopsis, or history, is offered at the beginning of "Inheritance." It's a helpful addition and it keeps that information from bogging down the first chapters of the book. At the end of the novel, readers will also find guides on pronunciation and languages used throughout the text.
Like its predecessors, "Inheritance" was written for young adults and therefore flows a little differently than typical fantasy novels. That's not to say it's not complex, rather it lies somewhere between the "Harry Potter" series and "The Lord of the Rings."
Throughout the Inheritance cycle, Christopher's writing has matured. Like Eragon and Saphira, Christopher has become skilled in his field. Confidence shines through in his easy-flowing prose, and his more detailed descriptions fill out the text.
"Inheritance" differs, too, because of the increased amount of action. While there are still plenty of introspective moments, there are more, violent battles — seen from both Eragon and his cousin Roran's perspectives. Roran has earned a name for himself as well, and a larger focus on his battles adds strength to the human perspective.
Saphira doesn't feel as present as she has in the past, though it doesn't feel as though that's the case. There are other, spoiler-type events that account for this throughout the book.
Without giving too much away, Christopher could have ended his novel in a particular place, but chose not to. There were pieces of the puzzle he wanted to spell out for readers and others he wanted to leave in flux. Some might see this decision as odd or wrong, as it slows the pace of the final chapters considerably. However, when you write an epic tale such as the Inheritance cycle, some of this should be expected. Ending with a climax adds little to the overall cohesiveness of the tale and leaves readers with unanswered questions.
"Inheritance" may not be everything all readers want, but it appears it's what the author wanted, and he should be commended. Christopher has spent some 12 years of his life dedicated to the Inheritance cycle, and it shows. His story is compelling, full of action and appeals to readers of all ages and gender. How many authors can say that?