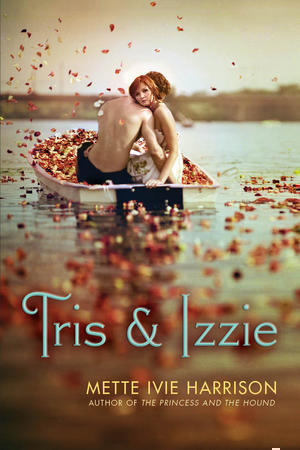 "TRIS & IZZIE," by Mette Ivie Harrison, Egmont, Oct. 11, 2011, $16.99 (young adult)
The medieval tale of Tristan and Isolde, which is both a romance and tragedy, has been retold and re-imagined for centuries. The plot, however, usually follows the same path — a love triangle for the ages.
But not all retellings are equal. Such is the case of Mette Ivie Harrison's "Tris & Izzie," which has grand imaginings that don't quite seem to work.
Izzie loves Mark and Mark adores Izzie. They are the perfect couple: popular, beautiful and skilled in the teenage art of "hanging out." Flanked by Izzie's best friend, Branna, and a group of basketball stars, the two seem unstoppable.
Everyone is happy but Branna, who is in love with someone, but she won't say with whom. Izzie's determined to make Branna's life better and decides to slip her a love philtre (potion). And who better to set Branna up with than the new guy, Tristan. He's hot and athletic and very attentive.
Everything's going to plan when a mix up forces Izzie to drink the philter meant for Branna. Now Izzie's in love with Tristan: not what she planned at all. And that's not the worst of it — Tristan's not from around here and he's got some strange ideas about supernatural creatures, including an enormous, evil serpent that's out to get Izzie.
I really wanted to like "Tris and Izzie." I'm a big fan of Mette's "The Princess and the Hound" books, but here it felt like the story ran away from her.
At first, Izzie comes across as an overconfident snob. And though it's doubtful Mette intended her to be off putting, her personality just never completely rings true. All the characters feel very one-dimensional, though there is some growth toward the end.
Perhaps if Mette had limited the magical elements to the love philtre and focused more on the characters instead of evil creatures this contemporary retelling would feel more cohesive, the characters more relatable and likeable. But then, the book probably wouldn't have been the tale Mette wanted to tell.
Some sloppy editing throughout made the book as a whole feel disjointed, as if it was rushed to print when what it really needed was another going over. If "Tris and Izzie" were Mette's first book, the problems could be understood and maybe even overlooked, but it's not up to the standard Mette has set with her other books, and that's a disappointment.