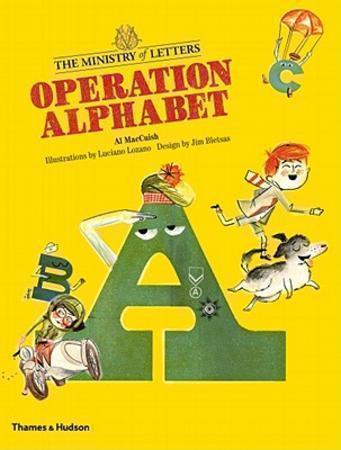 "OPERATION ALPHABET: Ministry of Letters," by Al MacCuish, illustrated by Luciano Lozano Thames & Hudson, Oct. 24, 2011, $19.95 (ages 4-8)
Once upon a time there was a little boy named Charlie whose mum took him to a strange place called school. Poor Charlie; he loves to run and play, not sit in a desk all day. Charlie finds the alphabet strange and confusing. And try as he might, he can't make no sense of it.
Luckily for Charlie, England has a Ministry of Letters. No not the kind of letters that you mail, but the kind of letters that you use to spell. The Ministry of Letters is where all the words in the world start their lives. And it's from the same place that letters coordinate missions to help children learn the alphabet. Only the queen, prime minister and spies know of the ministry and they aim to keep it a secret.
When two ministry agents spot Charlie having alphabet troubles, they immediately dispatch a Special Alphabet Service (SAS) team. But it's going take all the team's cunning to make it aboard trains and past angry cats in time to prepare Charlie for his test.
"Operation Alphabet" is an educational adventure children will only recognize as fun. It's a great way to introduce children to letters and words and reading. As the story progresses, they will learn to recognize letters alongside Charlie, who is a likable and relatable character.
This amusing concept plays out with vibrant, witty text and charming artwork reminiscent of illustrations from the 1950s and '60s. All of the letters have personalities, which really plays to their roles as special agents, and makes this book a blast. For more fun check out the Ministry of Letters' welcome video and orchestra.
At 64 pages, "Operation Alphabet" is about twice as long as traditional picture books so parents of younger, more active children may want to split reading it into two sessions. Children who have been exposed to school already will probably have more patience and will likely be more engaged.