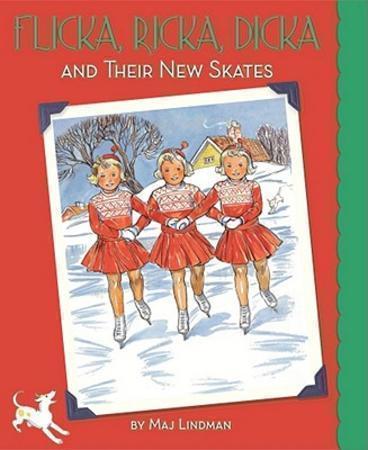 "FLICKA, RICKA, DICKA AND THEIR NEW SKATES," Updated Edition with Paperdolls, by Maj Lindman, Albert Whitman, Aug. 1, 2011, $14.99 (ages 5 and up)
It's Christmas morning in Sweden and Flick, Ricka and Dicka can't wait to open their presents. Under their tree are three pairs of skates, one set for each girl.
With skates in hand, the girls and their dog set off for their aunt and uncle's house. Near the house is a frozen pond and the girls are excited to try it out. It looks perfect, but Uncle Jon warns them to stay away from the other shore where the ice is thin and they could fall through.
Flicka, Ricka and Dicka have an enjoyable day as they race and play follow the leader. They even make friends with Bertie, a little boy who lives in the area. The new friends happily play together until Bertie sees their dog, Mike, and starts to chase him over the ice. The pursuit is on until the boy nears the other side of the pond and the ice cracks with Bertie and Mike tumbling into freezing water. Bertie can't get out alone, and it's up to the three sisters to save the day.
First published in 1950, "Flicka, Ricka, Dicka and Their New Skates" has an innocent charm to it that is missing in its counterparts of today. It serves as a nice transition from the buildup of receiving presents to the appreciation of them after the holidays.
Though the tale is more than 60 years old, it's still relevant. Parents and grandparents will love revisiting characters from their own childhoods and children will relate to the excitement of trying out new gifts and the adventures that can come seemingly out of nowhere.
A special bonus to this book is the addition of paper dolls found inside the back cover. Little girls will love playing with these sweet characters. Most of the dolls and clothes punch out easily, however there are a few items, including the dog Mike, that will require adult supervision as they're cut out with scissors. Also, please keep in mind there are two versions of this book available. One does not include the paper dolls. If you want them, make sure you get the updated version. You can find them through the above link.