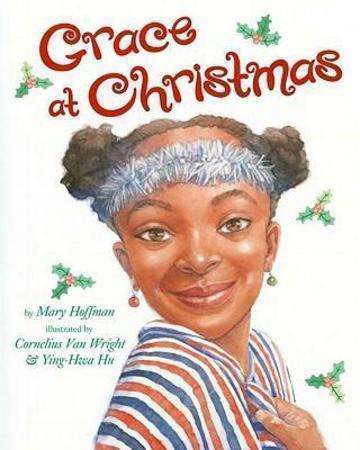 "GRACE AT CHRISTMAS," by Mary Hoffman, illustrated by Cornelius Van Wright & Ying-Hwa Hu, Dial, October 13, 2011, $17.99 (ages 3 and up)

Like every child, Grace has been looking forward to Christmas.  And she has especially been looking forward to the many traditions that usually make up her holiday season.  But when Grace's Ma and Nana announce that there will be visitors this Christmas, Grace gets worried that the Christmas season won't be quite what she has hoped for all year.  Not only does she have to give up her bedroom and sleep on the floor in Nana's room, she also has to make friends with a quiet, lonely girl who doesn't seem much interested in making friends with her.  Grace can't help wondering if this Christmas will be any fun with all the changes and strangers that are headed her way.
Grace's Christmas is not just another rehashing of the Christmas season, but a unique story told by a well-developed character with real feelings and real experiences. While readers will enjoy the fun traditions that Grace's family takes part in during the Christmas season, they will also have a chance to think about how to feel the Christmas spirit when not everything goes according to plan — and how to spread that holiday spirit to strangers and new friends.  This book works well for older children who are ready to move beyond the basic story of Santa and presents, and talk about the feelings and relationships that can be impacted by the Christmas season.
"Grace at Christmas" delivers a fun and interesting story — complete with a real ballerina — while also providing a great jumping point for discussing real issues that children might be experiencing. For those interested in getting to know Grace better after enjoying "Grace at Chrismas," Mary Hoffman's character has many other books to her name. These include both picture books and chapter books.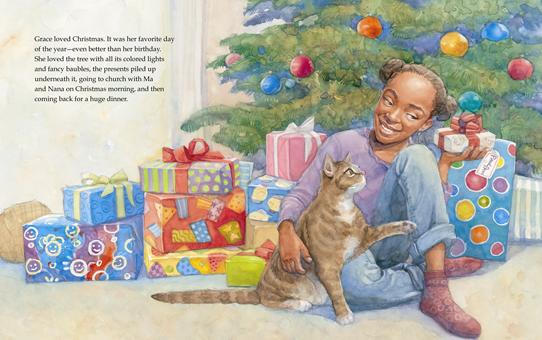 © 2011 – 2017, Cracking the Cover. All rights reserved. Unless otherwise noted, all books — digital and physical — have been provided for free by publishers in exchange for honest and unbiased reviews. All thoughts and opinions are those of the reviewer.