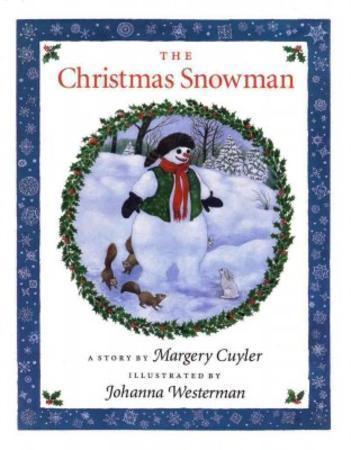 "THE CHRISTMAS SNOWMAN," by Margery Cuyler, illustrated by Johanna Westerman, Sky Pony Press, Oct. 1, 2011, $12.95 (ages 4 and up)
Christmas is just around the corner and Kevin and Sally are helping put the finishing touches on their family Christmas decorations. But the two are tired of being inside and decide it's time to build a snowman. The two put on their warmest clothes and head outside.
Kevin and Sally loose no time getting to work, and soon there's a tall man made of snow dressed in mittens, an old vest and a raccoon hat. All they need is a name — Mr. Snow.
Days pass and Mr. Snow stands tall in the middle of the field. One night, however, the children are surprised to see Mr. Snow making snow angels, sledding and skating on the pond. The next morning, Mr. Snow is back exactly where he's supposed to be. It must have been a dream, the children decide. Though they decide to check that night just in case. But the weather warms up, and Mr. Snow starts to melt. The only way to save Mr. Snow — if he really is alive — is with Santa's help.
"The Christmas Snowman" has an old-fashioned feel to it, in both innocence and charm. Johanna Westerman's attractive drawings have a timeless elegance that pairs nicely with Margery Cuyler's sweet tale. While there's nothing too dynamic to this tale, it's simplicity stands on it's own. No bells or whistles needed here.
© 2011 – 2017, Cracking the Cover. All rights reserved. Unless otherwise noted, all books — digital and physical — have been provided for free by publishers in exchange for honest and unbiased reviews. All thoughts and opinions are those of the reviewer.