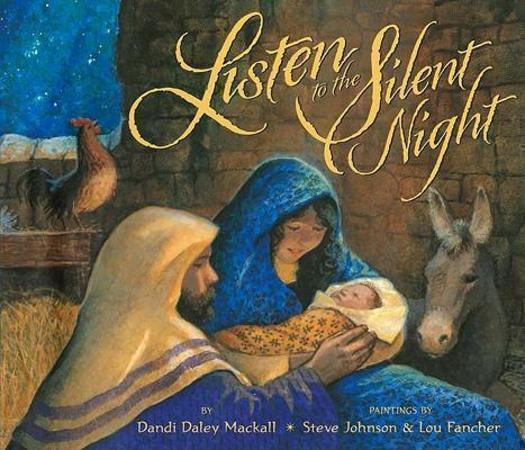 "LISTEN TO THE SILENT NIGHT," by Dandi Daley Mackall, Lou Fancher and Steve Johnson, Dutton, Oct. 13, 2011, $16.99 (ages 3 and up)
"In our hearts, find a silence in the middle of the noise,
With the bustling of our Christmas and the clattering of toys.
Help us slip into the silence, filled with hallelujah joys
On not such a silent night."
Many think of the night of Jesus' birth as silent, peaceful. But, as author Dandi Daley Mackall points out in "Listen to the Silent Night," Jesus' birthday was full of sound.
As Joseph and Mary travel to Bethlehem, they hear the who, who, who of an owl and the flip, flap, flap of Joseph's sandals. Horses neigh and growing crowds search for their own lodgings. Joseph's rap, tap, tap sounds on the inn door and barn animals noisily welcome Mary to their home. Wise men travel in the desert and sheep baa on the hill. Angel wings rustle as a wondrous message is spread and a shout rings out as Baby Jesus makes his presence known.
Mackall looks at the Nativity in a beautifully simplistic and natural way. Her lyrical prose adds an almost hush to the noises that surround the night. The reverence with which she tells the story is rare and near perfect. Illustrations by Lou Fancher and Steve Johnson elegantly tie the story together into a harmonious whole. If you don't already have it, this is one book you'll want to add to your Christmas collection.
© 2011 – 2017, Cracking the Cover. All rights reserved. Unless otherwise noted, all books — digital and physical — have been provided for free by publishers in exchange for honest and unbiased reviews. All thoughts and opinions are those of the reviewer.