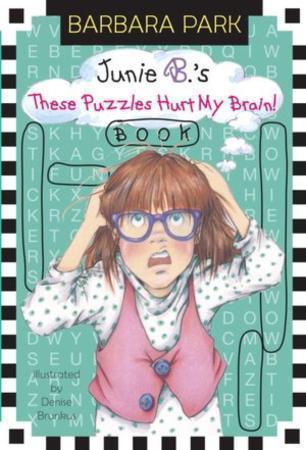 "JUNIE B.'S THESE PUZZLES HURT MY BRAIN! BOOK," by Barbara Park, illustrated by Denise Brunkus, Random House Books for Young Readers, May 24, 2011, $5.99 (ages 6 and up)
The hardest part about reviewing "Junie B.'s These Puzzles Hurt My Brain! Book" was extracting the volume from my six year old's hands once I'd let her see it.  After supplying herself with a pencil, she became quickly entrenched in the book's pages, and was more than unwilling to return it to me so that I could take a look at what was inside.
With 219 pages of puzzles – ranging from crosswords, to hidden pictures, to letter scrambles, to mazes – this book can provide days of entertainment (and quiet for you!).  Each puzzle comes complete with its own signature Junie B. introduction, and many even refer to Junie B. books your child may have read.  The majority of the puzzles were easy enough for my six year old to do herself (she is a confident reader), while a few were hard enough that they provided fun for both her and Dad.
If you're looking for a last minute stocking stuffer to keep your resident Junie B. fan busy while you take a nap Christmas afternoon, or while you make a long drive to Granny's, this is a great choice.
© 2011 – 2017, Cracking the Cover. All rights reserved.