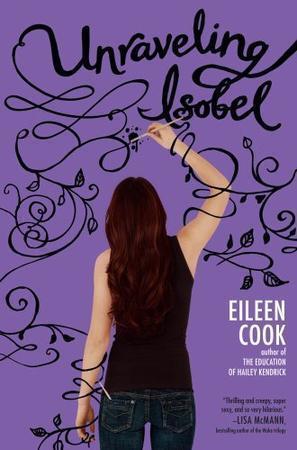 "UNRAVELING ISOBEL," by Eileen Cook, Simon Pulse, Jan. 3, 2012, $16.99 (young adult)
Up until three months ago, Isobel's life was going along pretty well. Things weren't perfect, but Isobel was happy. Then her mom met Dick (Richard) on the Internet and Isobel's life got turned upside down. After a whirlwind romance, Isobel finds herself with a stepfather and a less-than-friendly stepbrother.
Dick's family has owned a Gothic mansion on Nairne Island since like the beginning of time, and he's not about to move away now, so Isobel's packed off to the middle of nowhere — where the few people who live there have known each other their entire lives.
There's something off about the Dick and his mansion in particular. Sure Isobel doesn't want to be there, but her new home is beyond creepy. And Dick's first wife and only daughter died just seven months ago. It didn't take him long to replace them. Ick. The only place Isobel feels somewhat comfortable is in an attic bedroom far from the rest of the house's inhabitants.
But on the first night in her new home, even her bedroom becomes dangerous. Isobel is sure she's seen a ghost. That or she's really losing her sanity, which is a distinct possibility because it happened to her father years ago. Either way, Isobel's life is unraveling, and if she doesn't take control soon, there might be nothing left to save.
"Unraveling Isobel" is dark but never heavy-handed. Author Eileen Cook's prose has a sardonic tone to it that works well with Isobel's character and her fears of losing her mind. Paranormal elements flow smoothly throughout, organically intertwining with Isobel's life and mind.
Pacing has a lot to do with "Unraveling Isobel." Eileen allows readers to just get to know Isobel before bringing in paranormal elements. It's enough to keep readers guessing along with Isobel where she stands mentally. Isobel's growth as she works through the mystery is rewarding for the reader and adds depth to the story.
"Unraveling Isobel" goes beyond the formulaic paranormal read. As with most YA novels, there is a love interest element here, but it feels secondary to Isobel's own self-discovery. This is a fast read with an driving story line YA fans will eat up.