"ELLRAY JAKES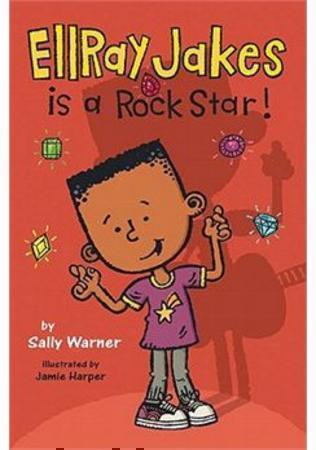 IS A ROCK STAR!," by Sally Warner, illustrated by Jamie Harper, Viking Juvenile, September 15, 2011, $14.99 (ages 6 and up) available in paperback Feb. 2, 2011.
EllRay Jakes is nothing special.  He's not tall, his dad's not rich, and no one cares what he's been up to over the weekend.  It's pretty difficult being the ordinary kid at school, so EllRay decides he needs to do something about it.  First, he tries to convince his parents to buy an ATV, but when that doesn't work out, EllRay decides that borrowing parts of his dad's rock collection will be the key to his success.  And he's right!  Everything works out as planned, and the kids at school loves the rocks.  But EllRay doesn't stop there, soon he's given away his dad's rock collection – being cool is just too fun – and that's when the real trouble begins.  How will EllRay get the rocks back without making school ten times worse than it was before?
Sally Warner's quick and humorous writing is spot-on for her age market.  Chapters are short enough to encourage independent reading, and EllRay's character is a friendly, funny person to be around.  Additionally, readers will enjoy figuring out how to get EllRay's dad's rock collection back along with him — and laughing at the silly escapades he must live through to make it all happen.  My own daughter was driven to read the last few chapters – and to see how it all came out in the end.
Despite these positives to Warner's novel, my biggest problem with this book — as a parent — was its subject matter.  Jealousy and comparison of material wealth are problems my daughter has never considered.  It hasn't occurred to her to care what kind of car her friend's parents have — and I didn't like that this book introduced the topic as a serious issue that children should be concerned about.  Meanwhile, statements about teenagers hating their parents, and other allusions to childhood angst cliches similarly bothered me.  I don't really want books giving my daughter ideas of things to be upset about or unsatisfied with at this young age, and I was glad we were reading the book together so that I could discuss EllRay's faulty logic with her.  At her age, the idea of an unreliable narrator is way beyond her comprehension.  For books she reads on her own, I would rather she just read about funny, adventurous children and the funny, adventurous things they are doing — rather than reading about how they are trying to keep up with the Joneses.  Of course, if these types of problems are already coming up in family discussions, "EllRay Jakes is a Rock Star!" would be a great book to provide discussion points about what really matters in life, and what doesn't.
© 2012 – 2017, Cracking the Cover. All rights reserved.