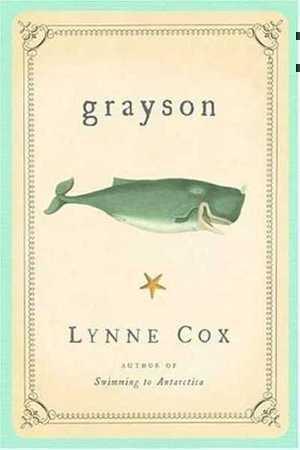 GRAYSON, by Lynne Cox, Harcourt, 153 pages, $13, (nf)
It's a whale of a tale if ever there was one — a teenage girl becoming surrogate mother to a lost baby gray whale.
At 15, Lynne Cox swam across the English Channel, breaking both men's and women's world records. A practiced swimmer, Lynne was used to encountering marine life, just never quite like this.
One morning, 17-year-old Lynne noticed a different, charged energy in the water during a routine swim. She was attuned to the ebb and flow of the ocean and knew something was wrong. She was some 200 yards from the shore, alone in the dark. Panic set in. What could spark such turmoil?
Lynne knew she needed to calm herself down and decided to finish out her training session. It wasn't until the sun began to rise that she realized she had a swimming companion — a baby gray whale.
The whale had somehow been separated from its mother while swimming up the coast from Mexico. When he saw Lynne, he latched on to her.
Lynne knew that the baby whale would follow her wherever she went. Returning to the shore was not an option. She also knew without another feeding from its mother, the whale would lose strength and could starve to death.
Lynne could not allow her own fatigue or the water's cold 52-degree temperature to hold her back, choosing to stay with Grayson ("grace in the water" and the gray's son) until he was reunited with his mother.
What followed was an exhausting journey to find Grayson's mother. It was a massive task, one Lynne could not ignore.
"Grayson" recounts the true events from that summer morning.
Lynne writes with vivid detail, using descriptions that make the reader feel as if they're in the water swimming beside the baby whale.
"Grayson took a big breath and dove five feet down, past a cluster of clear moon jellies," she writes. "Grayson swam by purple jellyfish that were larger, like large Jell-O salad molds, and they were beautiful, graceful swimmers. They moved like opening and closing umbrellas."
Communication with Grayson was not easy, Lynne writes. "More than anything, I wanted to talk to him, and I wished I could understand what he was saying. It was like going to a foreign country and not being able to speak the language. It was frustrating, wanting to somehow make a connection …."
Despite the troubles communicating, Grayson gave Lynne a gift toward the end of their swim. "He trusted me enough to let me touch him. We were from two different worlds — two different beings, with two different lives, and yet somehow we understood each other."
"Grayson" is an easy and fun read for all ages. Remarkably sincere and simply honest, it has all the ingredients for a modern-day fairy tale.
*Originally reviewed March 16, 2008. Revisited Feb. 24, 2011.