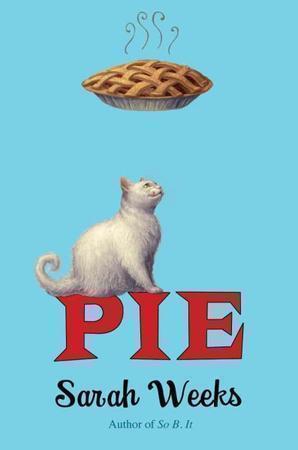 "PIE," by Sarah Weeks, Scholastic Press, October 1, 2011, $16.99 (ages 8 and up)
Alice's beloved Aunt Polly has passed away unexpectedly, changing everything in Alice's world.  Aunt Polly understood Alice better than anyone else — especially better than her mother, who never seems to understand anything at all.  And now that Aunt Polly has left her top-secret — and very famous — pie recipe to a cat, the entire town is in an uproar.  Will the very thing that made Aunt Polly so loved — her wonderful pies, and the love that went in them — be what tears the town apart in the end?  Or can Alice solve the mystery of Aunt Polly's will in time to bring peace back to the town of Ipswitch?
The beginning of this book is slow-moving, and a lot of time is spent reliving Aunt Polly's death — a truthful reaction to death, though slightly morbid for an 8-year-old reading about the mystery of a pie crust recipe.  Additionally, Alice's relationship with her mother seemed slightly disturbing to me as I read the dialogues between mother and daughter with my own little girl before bed.  Her mother's selfishness and apparent distaste for Alice left me with a very uncomfortable feeling.
Apart from these points, my daughter loved this book.  She loves mysteries, and she enjoyed trying to solve the mystery concerning Lardo the cat along with Alice and her friend Charlie.  She even began to recognize the mannerisms of the characters, and was able to guess who was speaking from the words they used — an important skill when spying with Alice and Charlie.  She has since gone back to read some of her favorite chapters, and is very excited to try some of the pie recipes included in the book.  (If I could just get to the kitchen!)
© 2012 – 2017, Cracking the Cover. All rights reserved.