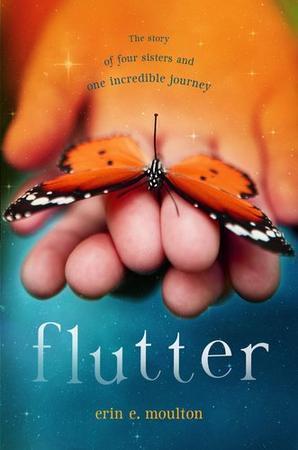 "FLUTTER: The Story of Four Sisters and One Incredible Journey," by Erin E. Moulton, Philomel Books, May 12, 2011, $16.99 (ages 8 and up)
Maple's Mama is due to have a new baby, which will make four Rittle sisters in all.  But when Mama goes into labor early, and little Lily arrives dangerously small, Maple's life seems to be falling to pieces.  Armed with her mother's stories of the local Wise Woman, and her father's map and compass, Maple and her sister Dawn secretly head off into the wilderness in hopes of finding a miracle for their family.  There they experience danger and adventure while learning that the best miracles are made with the love of our own families.
Moulton's relatively short debut novel is the perfect adventure story for the middle-aged reader.  While parts of Maple's adventure are scary and dangerous, nothing too overwhelming takes place.  Meanwhile, Maple's relationship with her sister Dawn feels very true to life: love and sibling rivalry woven tightly together.  With a slight dip into magic, this book is a fun, enjoyable read for the independent reader.  It would also make a great before-bedtime family read for those wanting to emphasize the importance of family relationships.
© 2012 – 2017, Cracking the Cover. All rights reserved.